Karni Sena Becomes The Butt of Jokes As The Protests Against 'Padmaavat' Escalate
Somebody fix this country.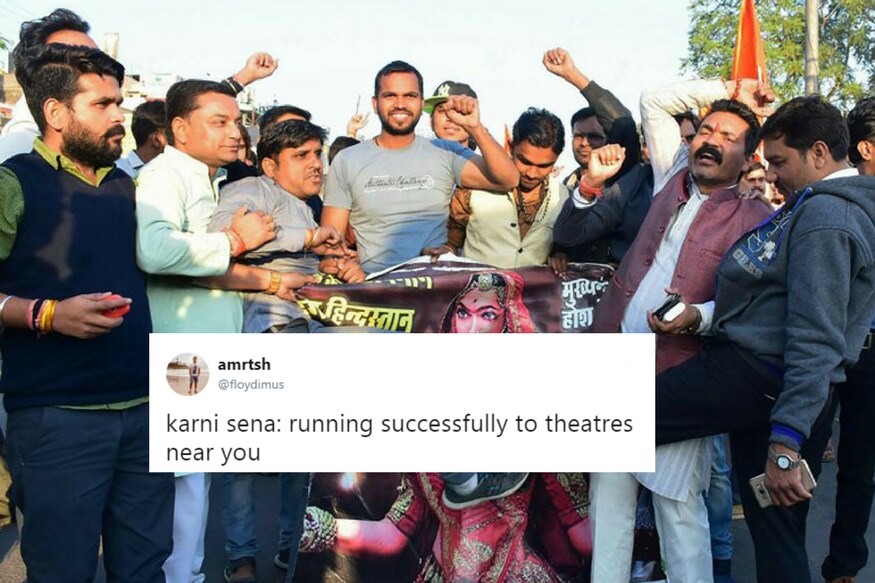 Protesters kicking the a film poster of Bollywood film 'Padmaavat' during a protest against the screening of the movie at Jyoti Chowk in Bhopal. (Image: AFP)
Karni Sena has become a national embarrassment, to say the least.
Sanjay Leela Bhansali's most controversial venture Padmaavat sees a pan-India release on January 25. The magnum opus has been embroiled in controversy since its inception. While various Hindu and Rajpur fringe outfits have raised objections, the Supreme Court of India gave a green signal to the makers and asked the government to not ban the film in any state.
However,
protests escalated on Wednesday
after the goons attacked a school bus of GD Goenka School in Gurugram. In a video that has surfaced, the protesters can be seen hurling stones at the bus near Sohna Road on Wednesday afternoon.
Parvesh Kumar, the bus driver, told
News 18
that around 10-15 school kids as young as 4-5 years old were on the bus at the time of the attack. The attendants in the bus said that there were cops nearby but they failed to control the situation.
Twitterati came together and condemned the shameful act.



Just got a message from son's school which is closed tomorrow as a precautionary measure because a bunch of goons unleashed violence in the name of hurt pride. Shame on you Karni Sena.


— Rituparna Chatterjee (@MasalaBai) January 24, 2018
Video of school bus attacked today in Gurugram by anti-Padmavati cowards. This is the aukat of groups like the Karni Sena: attackers of little kids. May the men responsible for this never be able to walk again. pic.twitter.com/4ZFKvJboKc — Shiv Aroor (@ShivAroor) January 24, 2018



Attacking a school bus is not an agitation. It is terrorism. The people who did it are terrorists. Please refer to them as such.


— Farhan Akhtar (@FarOutAkhtar) January 25, 2018
If you want to see grown ass men attack school kids over a movie and watch me not condemn them, come to India https://t.co/SfFAikbfS2 — Mahima Kukreja (@AGirlOfHerWords) January 24, 2018



Children of my country shiver with fear and cry....as karni Sena attacks a school bus....The elected Government looks the other way..The opposition party diplomatically reacts...aren't u all ashamed to trade our children's safety ..for ur vote bank politics..#justasking


— Prakash Raj (@prakashraaj) January 24, 2018
School ke bacchon par attack kar rahe ho. Jauhar rehne do sharm se mar jao. — pnkj (@AskThePankazzzz) January 24, 2018



Dear Karni Sena members if you have any political ambitions then forget about it because you've already collected a lot of bad PR for yourself. How dare you attack innocent children?


And now pls look at your foolish self in the mirror and chant-

"Jaisi Karni waisi bharni."

— Ayushmann Khurrana (@ayushmannk) January 25, 2018
Fixed it. pic.twitter.com/b8OgeFcGBq — pinku (@LEDtvn) January 24, 2018
¯_(ツ)_/¯



Mann ki jwala hai mat tatolo, jauhar ki jwala bahut kuch jala degi. Roko Padmavati ruk gayi, #Padmaavat ko bhi roko, Jal jaayega desh. Mat karo yeh paap.: Lokendra Singh Kalvi, Rajput Karni Sena pic.twitter.com/1excJVAj3P


— ANI (@ANI) January 24, 2018
Jo bhi ho raha hai dukhad hai, galat hai, par ab mann ki jwala ko sadkon pe dhadhakne se koi rok nhi sakta, main bhi nhi: Lokendra Singh Kalvi, Rajput Karni Sena #Padmavaat pic.twitter.com/ZCzbH0gIMS — ANI (@ANI) January 24, 2018
According to
reports
, Karni Sena activists accidentally torched their own member's car during a protest against the release of the movie, making the Internet collectively go, "Jaisi karni waisi burny..."
And then Twitter did what it had to do. Crack jokes against the fringe group.



2018: rajputs won their first war against kids in a school bus


— 🐿 (@prtxt) January 24, 2018
Maybe if Karni Sena enrolled into JNU some action might be taken against them — Tanmay Bhat (@thetanmay) January 24, 2018
#Padmaavat is the biggest suspense movie ever. You never know until the end of the movie who will die - Khilji, Ratan Singh, Padmavati or the audience.

— Bollywood Gandu (@BollywoodGandu) January 25, 2018



Loved the climax in #Padmaavat when everyone was worried about Karni Sena waiting for them outside the multiplex.


— Trendulkar (@Trendulkar) January 25, 2018
Watching #Padmaavat in 3D "Wow! This war scene looks so realistic" "Oh Wait! No! The Karni Sena has entered the theatre" "Bhaago" — Atul Khatri (@one_by_two) January 25, 2018



karni sena: running successfully to theatres near you


— amrtsh (@floydimus) January 23, 2018
"Jo bachhon ki school bus pe hamla kare - wo Rajput." pic.twitter.com/LIlMTe43Pv — Aisi Taisi Democracy (@AisiTaisiDemo) January 24, 2018



*Man goes to a multiplex on 25th*


Karni Sena - Kounsi movie dekhne aaya hai?

Man [lying] - Tiger Zinda Hai

Karni Sena - Maaro Saale Ko

Man - Par kyun?

Karni Sena - Salman Khan ne hamaare Rajasthan ka hiran maara tha

Man - FML

— SAGAR (@sagarcasm) January 19, 2018
Borrowed money from a Rajput and set caller tune of #Ghoomar song. Ab wo bichara call bhi nahi kar sakta #Padmavat — OFFICE OF PAPPU (@0FFICE0FPAPPU) January 20, 2018



Don't watch #Padmaavat in 3D. An arrow flying in your direction might be an actual arrow by Karni Sena.


— Shuchi Singh Kalra (@shuchikalra) January 25, 2018
Friend - Padmavat dekhne chalega *Thinks of karni sena* Me - pic.twitter.com/nCsHQflL6Y — शिवम. (@Oye_Protein) January 25, 2018
Yes, please.



Somebaady faacking fix this country


— pnkj (@AskThePankazzzz) January 25, 2018
Read full article
Countdown To
Elections Results
To Assembly Elections 2018 Results