Kartarpur Corridor May Finally be the Answer to Encourage Religious Pilgrimages Between India & Pakistan
The Kartarpur Gurudwara in many ways evades the issues of border conflict. But whether it sets a precedent for other religious places, remains to be seen.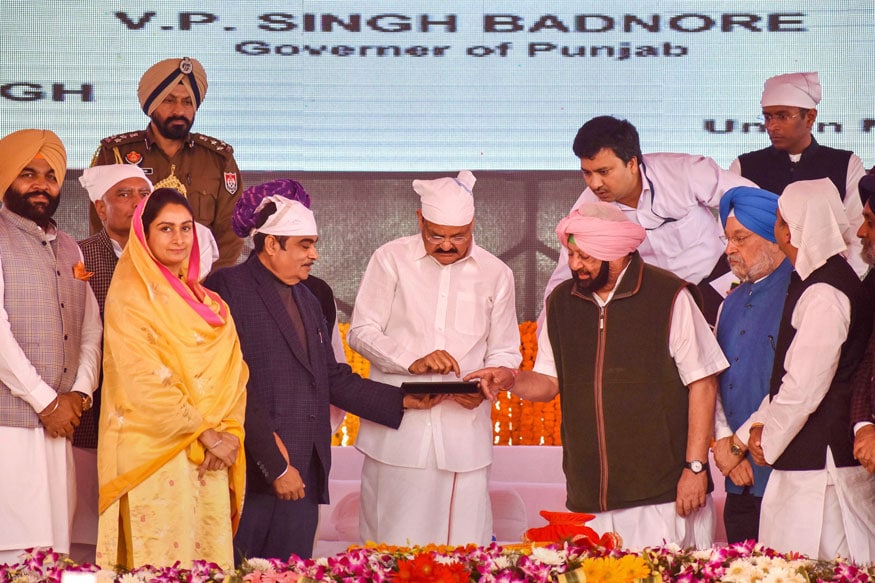 Gurdaspur: Vice President Venkaiah Naidu, Union Transport Minister Nitin Gadkari, Punjab Chief Minister Capt Amarinder Singh with others during foundation stone laying ceremony for Gurdwara Kartarpur Sahib Corridor, at Dera Baba Nanak, in Gurdaspur, Monday, Nov. 26, 2018. (Image: PTI)
The foundation stone of Kartarpur Corridor was laid down by both India and Pakistan within two days of each other. Kartarpur Sahib is the only Gurudwara in Pakistan in which Muslims are allowed to enter. The place holds special significance for Sikhs because their founder, Guru Nanak, lived the last 18 years of his life there. It is also the place where the Sikh community's second Guru, Bhai Lehna, later named Angad, hailed from.
Ravindra Singh Khurana, Ex-Vice President, Shiromani Gurdwara Parbandhak Committee (SGPC) believes that the opening of the Kartarpur Corridor is a great step from a religious point of view.
"In our ardas it is said that every place where a Sikh Guru has spent time should be open to anyone who wants to visit it," Khurana said.
"Although the revenue through it will be Pakistan's-- through this the message of Guru Nanak of love and brotherhood is spread. His message 'aval allah noor upaya kudrat de sab bande ek noor te sab jag upjeya kaun bhale kaun bande'," he added.
Located on the banks of river Ravi, Kartarpur has no habitation around it. There used to be a railway station named 'Darbar Sahib Kartarpur' which was 117 kilometers from Lahore. Indians who were only two kilometers away from the border had to see the final resting abode of the Nanak through binoculars placed at a Gurudwara in Gurdaspur, on the Indian side of the border. Now, the visa-free entrance will let them physically visit the holy place.
Though many people are happy that this border is opening up, many feel that the decision is leaving them out. This is because Kartarpur isn't the only religious place that has been cordoned off by partition.
I am so touched today. My Sikh neighbors in London just sent me choolay batooray and halwa in celebration of #KartarpurCorridorOpening we welcome all Sikh brothers and sister, uncle jees and aunties to Pakistan. Jee aya noon. 🙏

— Zee زِي (@ZeeMa1ik) November 28, 2018
Navjot jee asi vi Delhi dey mazaran tey matha tekna hai... saday wastay vi bohay kholo Twadi taan eid ho gai sadi kadon honi? We want open borders for all not just a particular sect or religion — m.waseem (@_mwaseem_) November 27, 2018
Katas Raj, also known as Killa Katas, holds major significance for Hindus in India. The temple is situated around a natural pond believed to be created by a teardrop of Lord Shiva. Legends claim that when Shiva was carrying the dead body of his wife Sati, one teardrop fell in this area and created the pond. It is believed that another teardrop fell in Ajmer, Rajasthan. It is also believed that the Pandavas lived in Katas for 12 years.
Katas Raj was a popular destination for Hindus before Partition. Believers from all over the country used to visit the holy to celebrate Shivratri, a major Hindu festival. But the war between India and Pakistan in 1965 barred Indian pilgrims from visiting the temple,up till 1984.
It was only in 2005 when LK Advani, then BJP President, was invited to the inauguration of the restoration work in Katas Raj that the temple regained the spotlight. The following year, 300 Hindus from India visited the temple for Shivratri. After that, 2,000 Pakistani Hindus visited the temple so as to keep the tradition of Shivratri alive in the temple.
In 2015, then Pakistan high commissioner to India Abdul Basit also sent holy water from the pond to Advani. But things changed in February 2018. Pakistan refused visas to 173 Katas Raj temple pilgrims. The Pakistan  Foreign Affairs Ministry in Islamabad issued a statement stating that it was India who refused to clear the pilgrims' passage.
Kartarpur is a big initiative by the government of Pakistan. Congratulations to current Govt of PTI and Sikh brothers. Now please move on to Katas Raj Mandir.#KartarpurCorridorOpening #PakistanZindabad #katasRajMandir @iamhamzaabbasi @sherryontopp @ImranKhanPTI @OfficialDGISPR

— emran rao (@rao_emran) November 28, 2018
@ImranKhanPTI asi vi Katasraj,shardapeeth dey mandir tey matha tekna hai... saday wastay vi banhey kholo.@sherryontopp Twadi taan eid ho gai sadi kadon honi? We want open borders for all not just a particular sect or religion.#KartarpurBorderOpening #KartarpurCorridor — Rohit Rajput,रोहित राजपूत,روہت راجپوت (@RohitRajputLive) November 28, 2018
Tucked away in a corner of the narrow Bheem street of Anarkali Bazaar in Lahore is a temple dedicated to Valmiki. Valmiki wrote the Ramayana, on the banks of the river Ravi in present-day Pakistan. According  to Haroon Khalid in his book 'A White Trail - A Journey Into the Heart of Pakistani Minorities', "the temple serves a small community of Balmiki Hindus in Lahore, numbering only in a few hundreds. But most of them are Christians on paper."
Sita was said to have given birth to Luv and Kush in Valmiki's ashram, after being banished by Lord Ram. Lahore and Kasur were named after Luv and Kush respectively. In 1992, the temple was demolished in the aftermath of Babri Masjid demolition. The idols of Krishna and Valmiki were smashed and the building was set on fire.
Pakistani author and anthropologist Haroon Khalid said that the Valmiki temple is not as popular among Pakistani Hindus as the Katas Raj or Hinglaj. "These two are arguably the most famous Hindu pilgrimages in the country. The Valmiki temple in Lahore is a small local temple, popular among the people of the area," he said.
As far as Hindus from India visiting temples in Pakistan, Khalid said that the "upper caste Hindus might be skeptical of visiting Valmiki's temple, which has essentially been the temple of 'untouchables' for generations".
"I think [access to] Valmiki's temple in Lahore might be quite difficult [for Hindus from India] because it is deep within Lahore, unlike Kartarpur Sahib which is on the border. From both the countries' perspectives, it is easier to have a visa-free corridor on the border, impossible in the context of Lahore. This would require a liberalization of visa regime which should be the ultimate goal," he added.
It isn't just Pakistan that's cordoned off holy spaces. India has done the same.
Situated in the municipal council of Gurdaspur district is the birthplace of Mirza Ghulam Ahmad, the founder of the Ahmadiyya movement. In 1984, Pakistan passed the Anti-Ahmadiyya Amendment, which banned Ahmadis from calling themselves Muslim.
In the book, 'Purifying The Land of the Pure,' author Farahnaz Ispahani wrote that under General Zia Ul Haq's martial law, a presidential ordinance in 1984 was passed, which barred Ahmadis from performing the azan (call to prayer) as well as stopping them from describing their places of worship as 'Mosque' or ' Masjid'. But, once as they cross the border to India to celebrate the annual festival of Mirza Ghulam Ahmad in December, the Ahmadis are again considered Muslims.
In 2016, India issued over 5000 visas to Ahmadis but security concerns prevented the adherents from attending. Over 6000 Ahmadis had attended the same conference the year before.
"I would like for India to extend the same courtesy to people who would like to come and visit the Sufi shrines in India," said historian and author, Rana Safvi.
She further stated, "There are sufis from India who want to visit Data Ganj Bagh and other shrines in Multan and Sindh; they should also be allowed. It shouldn't be like that only non-Muslims should go to Pakistan and Muslims coming to India. It should be anyone irrespective of their religion. If the religious shrine or the religious person that has devotion towards is in another country, one should be allowed to go and visit it."
Pilgrims seeking passage to participate in the death anniversary celebration of Hazrat Khwaja Nizamuddin Auliya in Delhi, a major Sufi shrine in New Delhi, face similar challenges. In the last days of December 2017, 192 Pakistani pilgrims were denied visas, despite Nizamuddin Auliya being included under Protocol on visits to Religious Shrines between India and Pakistan. The protocol states that "visits from one country to the other shall be allowed without discrimination as to religion or sect."
The significance of religious sites like Nizamuddin Auliya to people on both sides of the border is not lost on popular culture. The shrine has been featured in major Bollywood movies like Rockstar and Bajrangi Bhaijaan.
"The opening is a major achievement, just imagine, the thing we weren't able to see to pay homage now we can. And you always have more curiosity to see things you cannot. It's going to be 550 years of Guru Nanak Anniversary in 2019 and it isn't just the Sikhs but other community as well who are inclined towards Guru Nanak," Khurana said.
The Kartarpur Gurudwara in many ways evades the issues of border conflict. But whether it sets a precedent for other religious places, remains to be seen.
Get the best of News18 delivered to your inbox - subscribe to News18 Daybreak. Follow News18.com on Twitter, Instagram, Facebook, Telegram, TikTok and on YouTube, and stay in the know with what's happening in the world around you – in real time.
Read full article