Kerala Tourism Took a Dig at UP Over Taj Mahal Row and People Are Loving It
The post was shared both on the official Facebook and Twitter handles of the Kerala Tourism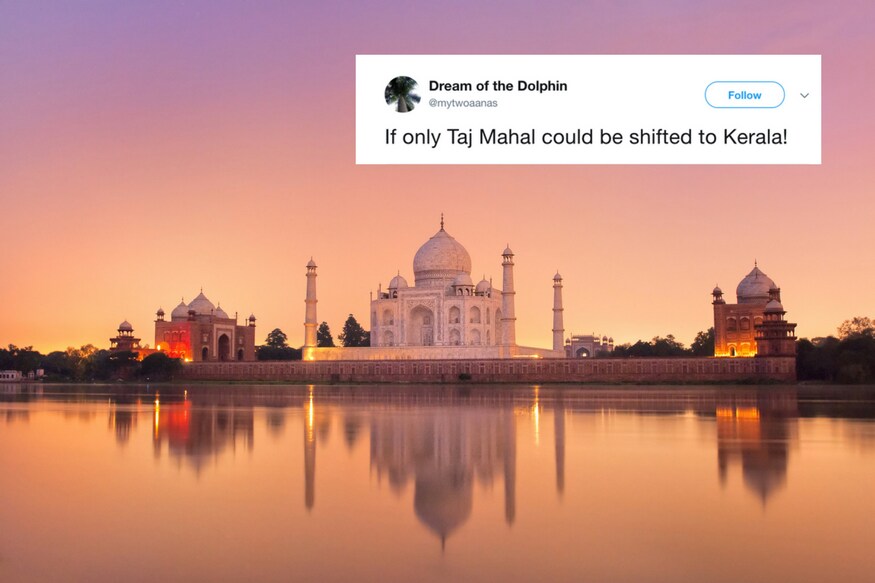 The post was shared both on the official Facebook and Twitter handles of the Kerala Tourism
Kerala's Tourism Department has "saluted" the Taj Mahal for "inspiring millions to discover India" in what many see as an attempt by Kerala government to troll the Yogi Adityanath government in Uttar Pradesh. This comes at a time the Uttar Pradesh government is under criticism for leaving the Mughal-era monument out of its tourism booklet. BJP MLA Sangeet Som went as far as to call the Taj Mahal a "blot on Indian culture".
Read all about the ongoing political debate centred around the Taj Mahal here.
The post was shared both on the official Facebook and Twitter handles of the Kerala Tourism and reads: "God's Own Country salutes the #TajMahal for inspiring millions to discover India. #incredibleindia."
God's Own Country salutes the #TajMahal for inspiring millions to discover India. #incredibleindia pic.twitter.com/TXqSXQ9AYQ

— Kerala Tourism (@KeralaTourism) October 18, 2017
At the time of writing, the tweet has received over a thousand retweets. On Facebook the post has been shared close to 300 times and has generated a lively debate. People were quick to acknowledge not just the 'sick burn', but also the political opportunism therein:
The burn though 😂

— Dipshekhar Das (@das_dipshekhar) October 19, 2017
Please send some burnol to BJP office in Kerela and to Dongi Adityanath.

— Aa gaye achche din. (@RoflMessi) October 19, 2017
A number of people came out in clear opposition to politics in the name of what is India's most loved monument:
The monument of love in the north gets a distant promoter from south! Kudos to @KeralaTourism https://t.co/gDLHdfvtqe

— MJ Vijayan (@mj_vijayan) October 19, 2017
While a certain CM chose to ignore its importance, here we have my dear Kerala giving Taj Mahal due respect. https://t.co/b26wbGvkhj

— Parasu of Happyness (@ajayparasuraman) October 19, 2017
As an Indian, I am proud of our rich heritage & #TajMahal symbolises it. Kerala salutes Taj Mahal which inspire millions! #KeralaLeads https://t.co/UsWuCHUpN4

— Kadakampally (@kadakampalli) October 18, 2017
One individual even (and perhaps rather wistfully) wondered if the 'poetry in stone' maybe could be in fact relocated to Kerala:
If only Taj Mahal could be shifted to Kerala!https://t.co/j7C8EZLy2H

— Dream of the Dolphin (@mytwoaanas) October 19, 2017
In the end, while the Indian public is taking sides and expressing their opinion on the ongoing political debate around the Taj, one truth remains: the Taj is and will be a symbol for India. This is what a Taj-lover had to say:
Get the best of News18 delivered to your inbox - subscribe to News18 Daybreak. Follow News18.com on Twitter, Instagram, Facebook, Telegram, TikTok and on YouTube, and stay in the know with what's happening in the world around you – in real time.
Read full article