Kolkata Metro 'Deletes' its Facebook Comment Justifying the Couple Assault, Claims it Was a Fake Post
Metro Rail spokesperson said the screenshot circulating was a 'fake post' and added that the matter would be probed.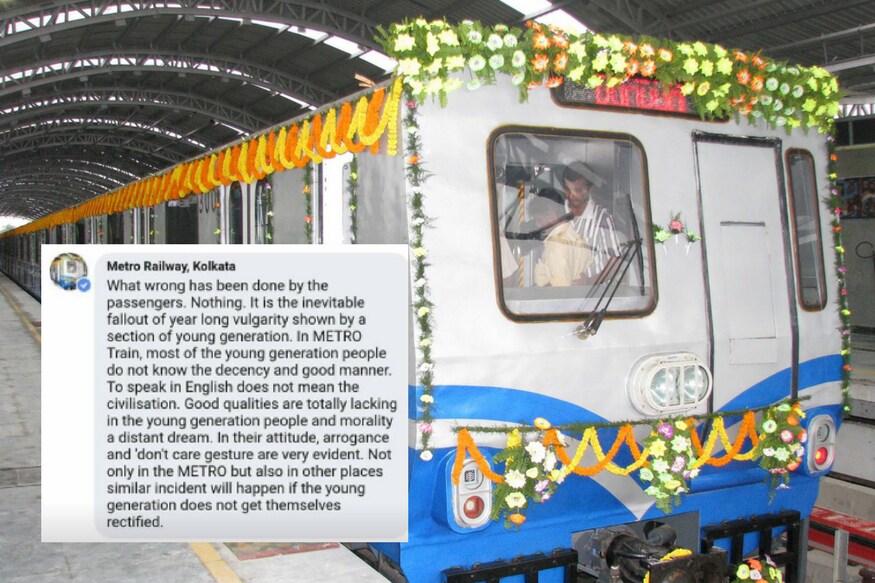 Image credits: @metrorailkolkata/ Comment screenshot Sayak Sengupta
A young couple was allegedly thrashed by co-passengers at Dumdum metro station on Monday in Kolkata for standing "too close" to each other inside the metro compartment. The boy had said that he had rested his hands on the girl's shoulder while trying to guard her against the packed crowd inside.
Social media outrage followed after the photo of the alleged attack went viral across platforms.
Responding to the incident, Kolkata Metro Railway took to its official Facebook page to inform the angry netizens that they were enquiring into the incident and also stated that they were against moral policing.
"Dear commuters, we are trying to enquire into an incident which has allegedly taken place y'day at Dumdum Metro stn. No complaint has been lodged by anyone as yet .However we are trying to get to the bottom of it....... But we would like to make one thing very clear... that Metro Rly IS AGAINST MORAL POLICING," the official page wrote.
However, the comments section on their post told a different story.
An alleged comment by Kolkata Metro Railway justifying the attacks in respone to their original post caught the eye of several Facebook users.
Though the comment was deleted shortly later, the damage had been done.
"What wrong has been done by the passengers. Nothing. It is the inevitable fallout of year-long vulgarity shown by a section of young generation. In Metro train, most of the young generation people do not know decency and good manner. To speak in English does not mean civilisation. Good qualities are totally lacking in young generation people and morality a distant dream. In their attitude, arrogance and 'don't' care gesture are very evident. Not only in the Metro, but also in other places similar incident will happen if the young generation does not get themselves rectified," the comment read.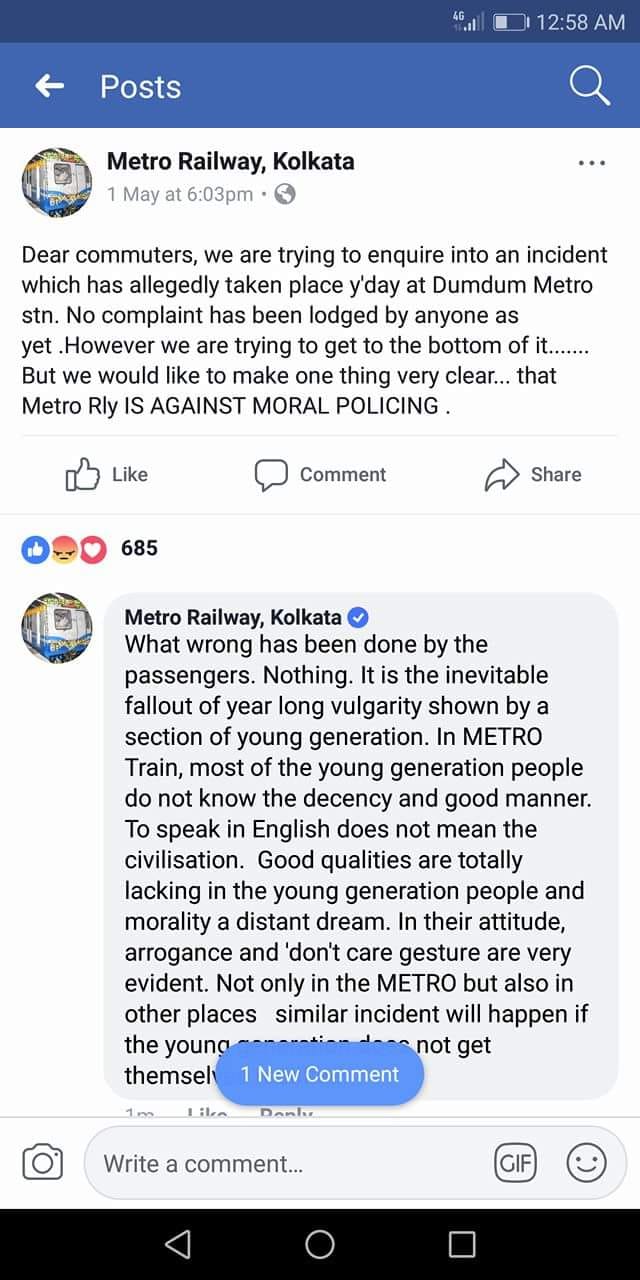 Screenshot credits: Shubhadeep Banerjee / Facebook
Armed with screenshots of the problematic comment, several others responded to Metro's post.
"Save your excuses. We all know that you're not going to do anything about it. Might as well have kept mum about the whole incident. The post itself is hypocritical (not to mention the comment you made and deleted right after). You really didn't need a complaint to track the people who beat up two innocent individuals who were well within their rights to hug in public. This way you just showed your outdated ridiculous malicious mentality in front of your passengers," wrote one user.
Calling it a "fake post", Metro Rail spokesperson Indrani Banerjee said that the matter would be probed.
"We had made only one post on May 1 and that mentioned that we are against moral policing and trying to inquire into the incident even in the absence of a formal complaint. I think, someone either got access to our official Facebook account or had made a fake post regarding the comment supporting the passengers who thrashed the couple, Indrani Banerjee was quoted by
Times of India.
On Wednesday, a
large number of youths gathered
in front of the Tollygunge Metro Station in Kolkata and offered free hugs to protest against the incident.
Protesters raised slogans against acts of moral policing while holding placards and banners that read, "I Love Kolkata…We do believe in 'Moral' but not in 'Moral Policing," and demanded stern actions against those who were involved in the incident.
Read full article
Countdown To
Elections Results
To Assembly Elections 2018 Results