'Last Supper, But For Feminism' Viral Photo From Brett Kavanaugh Hearing Compared To Renaissance Painting
The viral picture is, perhaps, a poignant moment in the Brett Kavanaugh case.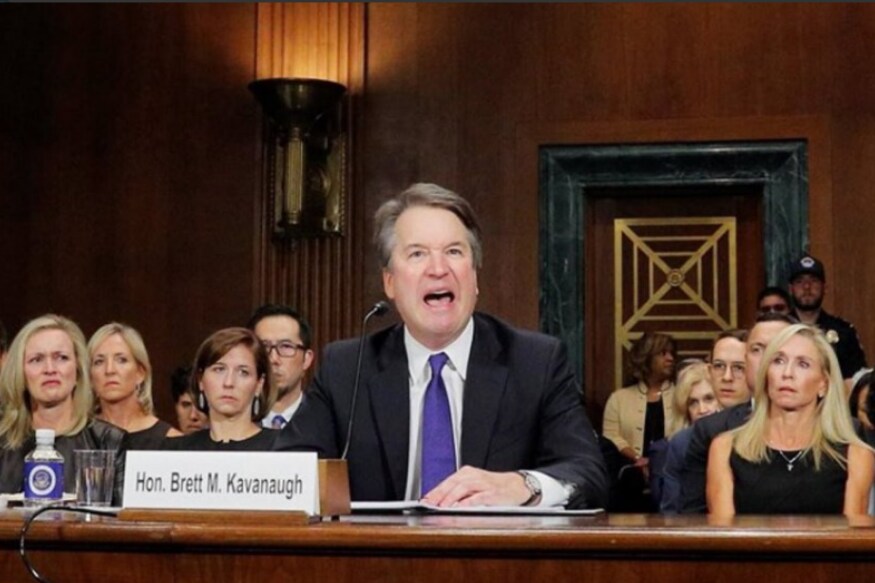 The viral picture is, perhaps, a poignant moment in the Brett Kavanaugh case.
If you haven't been living under a rock, Brett Kavanaugh is a name you must have come across recently because it has been all over the news. And if you are on social media, there is a high chance you have seen a photograph of him from his court hearing - one where the women in the background look annoyed and disgruntled.
Brett Kavanaugh has been accused of sexual assault - on several counts. On Thursday's hearing, one of the accusers, said she was one hundred percent sure that he had assaulted her.
The picture, which has been going viral, was taken during the testimony of Kavanaugh.
every woman in this pic tho pic.twitter.com/6Y2SvY4YlU

— Gustavo Luis (@verygooster) September 27, 2018
Here is some background on the women in the picture. According to Business Insider, Kavanaugh's parents, Everett and Martha Kavanaugh, sat on the left of the photo. The pair has been supportive of Kavanaugh and were at his confirmation hearings, which took place before the allegations went public. In his prepared opening statement, which he did not read on Thursday, he called his mom one of his "judicial heroes." Laura Cox Kaplan, a friend of Kavanaugh, sits beside them. Her Twitter account shows her vocal support for Kavanaugh. Her husband, Joel Kaplan, Facebook's public policy chief, is behind her, with the blue tie. Kavanaugh's wife, Ashley, is to his left. She entered the hearing on Thursday holding hands with her husband and has appeared with their daughters at press conferences since the allegations went public. She also appeared beside him in a Fox News interview where he denied ever sexually assaulting anyone. Suzanne Mattan, a school friend of Kavanaugh, is to his right. Mattan told Fox News in September that she first met Kavanaugh in high school when they became friends. She said that "the allegation is something that is completely opposite of the Brett that I knew then and the Brett that I know now." Zina Bash, a former clerk for Kavanaugh, is to her right. Bash also previously served as special assistant to the president for regulatory reform, legal, and immigration policy.
Kavanaugh prides himself on taking on a gender imbalance in the legal profession by hiring female clerks, and mentioned it during the hearing. Therefore the reactions of the women sittinh behind Kavanaugh, who were all allies, have caused much talk. 
Some people pointed out, "that those (that) sat behind Kavanaugh were his friends and allies and that, rather than acting disgusted with what he said, they were likely mirroring the anger that he expressed during his speech."
However, most on Twitter believed differently.
Going through some replies I'm gonna add this: 1) yeah I did watch the ENTIRE hearing today so sit down 2) the women behind Kavanaugh being his family doesn't change that he demonstrated without fail why he should never sit near the Supreme Court and the GOP is manipulative trash

— Gustavo Luis (@verygooster) September 28, 2018
You know how sometimes the camera just captures the moment perfectly? This is one of those moments. https://t.co/gaIIT7WnGP

— Plutoburns (@Plutoburns) September 27, 2018
It's like the last supper but for feminism. https://t.co/jDZqArzmSZ

— ana marie cox (@anamariecox) September 27, 2018
#BrettKavanaugh should smile more. pic.twitter.com/Ozu6J2OwvY

— Khary Penebaker (@kharyp) September 29, 2018
I don't know who she is and I don't know who she supports, but the expression on the face of the woman sitting behind #BrettKavanaugh right now says a lot. pic.twitter.com/x5SgzeZmAK

— Reeeebs (@NotShallow) September 27, 2018
brett is too emotional to be a supreme court justice pic.twitter.com/J8DlpQnaUA

— Ziwe (@ziwe) September 27, 2018
Whether he's guilty or not, Kavanaugh's aggressive and unstable performance today under duress disqualifies him in my mind from being nominated to a lifetime appointment in the highest court in our country.

— Padma Lakshmi (@PadmaLakshmi) September 27, 2018
This is a brilliant piece of photojournalism.

Look at the women's faces.

A picture paints a thousand words.#BrettKavanaugh #BrettKavenaugh #BrettKavanaughHearing #SupremeCourt #Trump pic.twitter.com/O8CE3BkTut

— Lord Godolphin #FBPE (@lord_godolphin) September 28, 2018
People on Twitter have also mentioned how he was never really investigated, and that should have been done instead of the testimony.
I feel like twitter could investigate #BrettKavanaugh in less than a week.

— Angelica Ross (@angelicaross) September 28, 2018
It's already abundantly clear that the rumors that Brett Kavanaugh is an aggressive, angry drunk are true. #KavanaughHearings

— Nick Jack Pappas (@Pappiness) September 27, 2018
People have also started a #IBelieveHer campaign on Twitter, to show support for the accusers.
Get the best of News18 delivered to your inbox - subscribe to News18 Daybreak. Follow News18.com on Twitter, Instagram, Facebook, TikTok and on YouTube, and stay in the know with what's happening in the world around you – in real time.
Subscribe to Moneycontrol Pro and gain access to curated markets data, trading recommendations, equity analysis, investment ideas, insights from market gurus and much more. Get Moneycontrol PRO for 1 year at price of 3 months. Use code FREEDOM.
Read full article