Lucky Ali Singing 90s Kids' Favourite Song in 2020 is Giving Internet All The Feels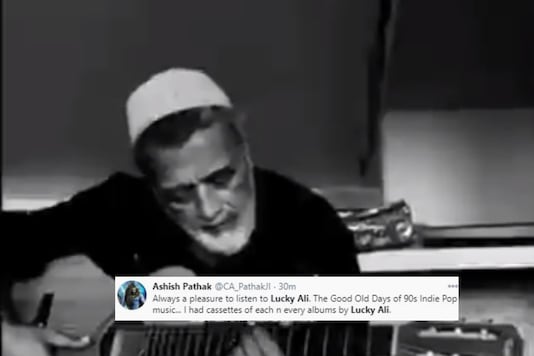 'O Sanam' is from his debut album 'Sunoh', which became immensely popular and firmed his position as a singer in the Indian music scene.
Last Updated: November 13, 2020, 17:11 IST
FOLLOW US ON:
Musician Lucky Ali has enthralled us with his melodious voice and tunes for the longest. O Sanam, EK Pal ka Jeena, Aa bhi Jaa and so many more melodies in his voice actually trigger the nostalgia, particularly among the 90s kids. Ali even acted in films like Sur. However, he hasn't been seen for a very long time.
But now he has made an appearance on Twitter in a video clip where he is singing his famous song O Sanam. While it is great to see Ali after such a long time, it is also true that the musician has grown visibly old with white beard and skull cap. His minute long music video surfaced on Twitter on Friday where he was seen singing his song O Sanam while playing the guitar.
O Sanam is from his debut album Sunoh, which became immensely popular and firmed his position as a singer in the Indian music scene.
The video instantly went viral on Twitter and his fans are just reminiscing the good old days that were made even more beautiful with his soulful voice. While those sentiments are high, some of his fans are sad that their favourite singer is growing old. But so are we--fact of life! *sigh*
Here are some of the reactions on the viral video:
Lucky Ali's music was a craze in 90s era and has been evergreen favourite for his fans. Singers have come and gone, but Lucky Ali is the good luck charm to many that remains. Road trips, Night outs, romantic dates, a heartbreak, his music has solace for every mood. Ali's father, Mehmood, was Bollywood actor Mehmood who appeared in numerous films in comic roles.
WIth his album Sunoh, Ali made his debut on the Indian music scene and was established as a singer. With this album, he won many of the top awards in Indian music, including the Best Pop Male Vocalist at the 1996 Screen Awards and the Channel V Viewers Choice Award in 1997. It stayed on the MTV Asia Charts in the top three for 60 weeks.
Next Story