GET Stock

Quotes


Ma, Murti, Mamata: Bengal Pandals Model CM's Idols in Durga Avatar
Taking fandom to another level.
Taking fandom to another level, a club in Chakdaha, a town in Nadia district of West Bengal, has depicted the state's chief minister Mamata Banerjee as Goddess Durga. Much like the Goddess, this idol of Banerjee's has ten hands, but instead of weapons it depicts all the development work that she has carried out in her first tenure across the state.
The idol, much like the leader, is dressed typically in a white saree with blue border. She stands with folded hands, while her other, ten hands, point towards various schemes that the government has implemented in the state over the years. Made of fiber glass, the idol is placed in front of the states map which serves as the backdrop, highlighting all the districts.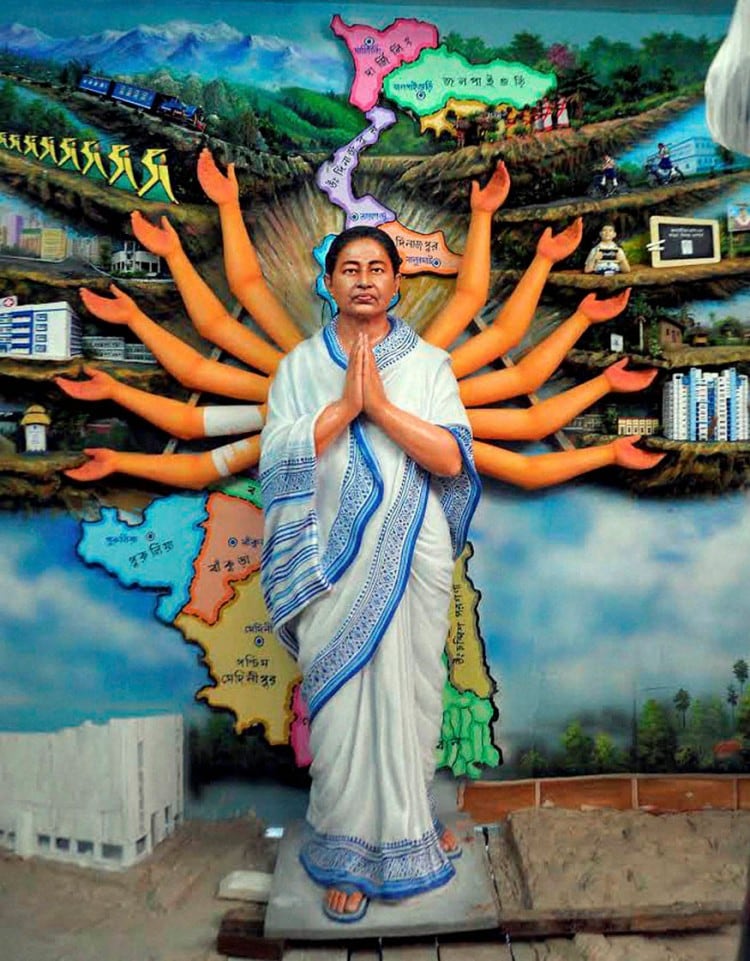 West Bengal Chief Minister Mamata Banerjee shown as Devi Durga at a pandal for the upcoming community Puja in Nadia district of Bengal on Monday. PTI Photo
The idol has been placed inside the pandal, right behind the main Durga Idol. The organizers of Prantik Club told The Hindu that they considered Ms Banerjee a 'human goddess' and were happy to worship her alongside Durga.
Inaugurated on 4th October, the idol, needless to say, has been drawing a lot of attention and creating massive buzz on social media as well.
Soon durga puja will be renamed as Mamta Paju...bolo bolo Mamata Mai ki jai...this is why we call Bengal as #wastebengal https://t.co/wZhvv2VYSw

— Krishnangshu Sarkar (@krishind07) October 5, 2016
Meanwhile, another idol in Kolkata has Ms Banerjee part of the main installation. A woman, bearing close resemblance to the politician can be seen seeking the blessings of the Goddess with arms stretched out right near her feet. This idol, too, is dressed in a white and blue bordered saree. The idol can be seen at the Bhawanipore Durgotsav Samity Pandal, reports Times Of India.
Statue of Mamata Banerjee included in idol of Durga in Bhowanipur durgotsov someity in kolkata padmapukur area. pic.twitter.com/IA5SBaHccG

— sugata banerjee (@bsugataES) October 4, 2016
Also Watch
Read full article