Madonna, Scarlett Johansson, Ashley Judd Slam Trump at Women's March
In an early indication of the strong opposition the newly inaugurated Republican may face in office, more than a million women across the globe marched against Donald Trump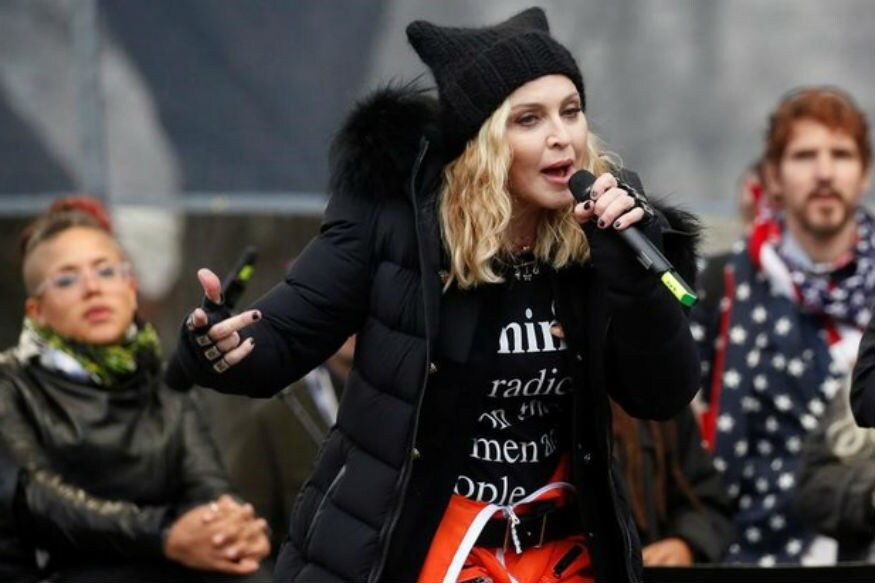 Madonna on stage at the Women's March in DC Courtesy: Reuters
In an early indication of the strong opposition the newly inaugurated Republican may face in office, more than a million women across the globe marched against US President Donald Trump, who has allegedly angered many Americans with comments seen as demeaning to women, Mexicans and Muslims
In Washington DC, hundreds of thousands turned out to stand up for gender equality, healthcare for women and other issues thought to be threatened under Trump's presidency.
Wearing pink knit hats to evoke comments by Trump that triggered outrage among many, unexpectedly large number of women filled long stretches of downtown Washington around the White House and National Mall.
Hundreds of thousands more women thronged New York, Los Angeles, Chicago and Boston to rebuke Trump on his first full day in office.
Around the world, women marched in sympathy and shared outrage in hundreds of cities, drawing a total turnout that organizers estimated at more than 4 million.
The Women's March on Washington appeared to be larger than the crowds that turned a day earlier to witness Trump's swearing-in on the steps of the U.S. Capitol. No official estimates of the crowd size were available, but the demonstrators appeared to easily exceed the 200,000 organizers had expected.
In the USA Scarlett Johansson and Emma Watson are among the famous faces to have joined the protesters.
Scarlett Johansson addressed President Donald Trump directly from the podium, saying, "I didn't vote for you but I respect the fact that you are the president. But before I support you, I ask you to support me." She asked him to ensure that her daughter gets to grow up with the same ones his daughters enjoy.
Madonna, Ashley Judd, Alicia Keys were among the speakers and performers at the Women's March on Washington, which also included Amy Schumer, America Ferrera and Janelle Monáe.
Express Yourself...............So you can Respect Yourself. 🎤🎼🎹🎸🗣On Stage at the Women's March In D.C. 🏃‍♀️🏃‍♀️🏃‍♀️🏃‍♀️🏃‍♀️🏃‍♀️🏃‍♀️🏃‍♀️ pic.twitter.com/p7cEGSNFrK

— Madonna (@Madonna) January 21, 2017
With My Girl Amy at the Women's March in D.C. We Go Hard or We Go Home. 💪🏻🏃‍♀️🏃‍♀️🏃‍♀️🏃‍♀️🏃‍♀️🏃‍♀️🏃‍♀️🏃‍♀️🏃‍♀️🏃‍♀️🏃‍♀️🏃‍♀️🏃‍♀️🇺🇸 pic.twitter.com/st68AeZ3HQ

— Madonna (@Madonna) January 21, 2017
"I am a very nasty woman!" Ashley Judd proclaimed on the stage. "Like Susan, Eleanor, Amelia, Rosa, Gloria, Hillary and Michelle," ticking off the names of feminist icons.
Thousands of women from Kentucky marched, we hugged & cried & cheered. There is room for us all in our Commonwealth. https://t.co/Mf0Y6X4Xkm

— ashley judd (@AshleyJudd) January 22, 2017
I'm in tears. This is incredible and empowering. Thank you @AshleyJudd for also touching on white supremacy & the inequality faced by WOC ❤️ https://t.co/K3JSnDmNlQ

— Jamie Righetti (@JamieRighetti) January 21, 2017
Sisterhood 🌟🌟 #WomensMarch #WhyIMarch #WomensRightsAreHumanRights #WeAreHere pic.twitter.com/AGs1Esay2m

— Alicia Keys (@aliciakeys) January 21, 2017
Emma Watson asked for barricade to be removed so she could greet marchers.
Emma Watson asks for barricade to be removed so she can greet marchers. This is something you don't see every day. #WomensMarchOnWashington pic.twitter.com/Fq41r1KEOI

— Julian Routh (@julianrouth) January 21, 2017
Michael Moore told the crowd as he encouraged them to run for their local offices: "This is no time for shy people! Shy people, you have two hours to get over it!"
US President Donald Trump's general election opponent, Hillary Clinton, who attended the presidential inauguration Friday, sent a message of thanks to the protesters over Twitter:
Thanks for standing, speaking & marching for our values @womensmarch. Important as ever. I truly believe we're always Stronger Together.

— Hillary Clinton (@HillaryClinton) January 21, 2017
'Hope Not Fear'
Indeed.
And what a beautiful piece by Louisa Cannell. #womensmarch 👊👊🏻👊🏼👊🏽✨ pic.twitter.com/7h3Bzx79nB

— Hillary Clinton (@HillaryClinton) January 21, 2017
| Edited by: Gurleen Nagpal
Read full article
Countdown To
Elections Results
To Assembly Elections 2018 Results