Man Loses His Wallet on a Flight, Gets it Back With a Surprise Inside
We hear a lot of bad but not enough good. Here's some daily dose of good for you.
Handwritten notes are truly special. Not only do they feel more personalised than digital texts, they also remind you that you were worth the extra effort. And for Hunter Shamatt, who received one after losing his wallet, couldn't have asked for more.
Hunter was recently on a Las Vegas-bound flight to attend his sister's wedding when he realised that he had misplaced his wallet somewhere along the way.
His mom Jeannie Shamatt revealed in a Facebook post that it contained $60 in cash, a $400 paycheck, debit card, and an identification card. With his sister's wedding approaching, Hunter decided to borrow money from his parents for the weekend.
"It kind of sucked. I was anxious not having my ID," Hunter told Washington Post. "It being Vegas and all, I figured it was gone forever," he added.
Once they realised the wallet was indeed missing, his family contacted the Frontier flight to see if someone had turned it in. Unfortunately, no one had, and so the family "feared the worst."
Then, a week after his sister's wedding, a package made its way to Hunter's mail; it contained his wallet, along with a handwritten note.
It read:
"Hunter,
Found this on a Frontier flight from Omaha to Denver — row 12, seat F wedged between the seat and wall. Thought you might want it back. All the best, (initials)
P.S. I rounded your cash up to an even $100- so you could celebrate getting your wallet back. HAVE FUN!!!"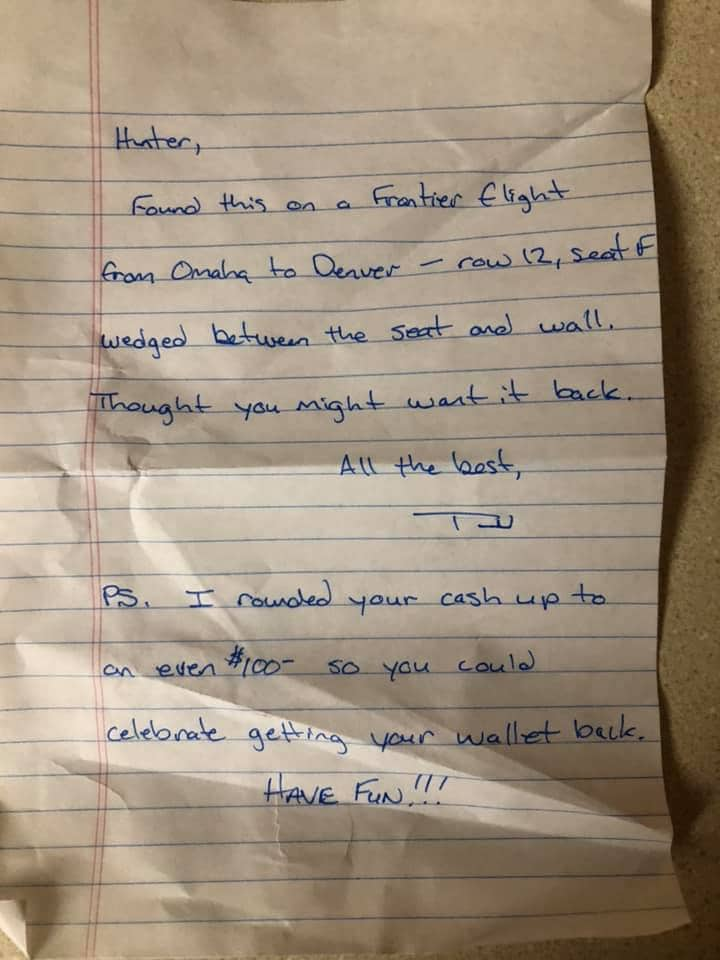 Wanting to know who the stranger behind such a kind gesture was, Hunter's mom Jeannie took to Facebook and posted some clues she had gathered from the package.
"On the envelope a return address out of Omaha from Applied Underwriters. We would love to thank the individual personally if we could find him or her. Please help share this post so we can find this amazing person," Jeannie wrote.
The post went viral with thousands of shares and a co-worker of Todd Brown's, the man who found the wallet, connected the dots.
After receiving the wallet and a successful search for Brown, Jeannie believed that the world was not as grim as it's being made out to be.
"I try to teach my children to do the right things in life, help people when you can regardless of the out come. This story is more about restoring faith in people than anything. Everything in the wallet we could of replaced. We hear a lot of bad news but not enough good news. I personally want to thank Todd Brown and his wife for restoring faith that there are amazing people out there," Jeannie wrote in a post.
As for Hunter, he was a happy man.
"It really meant a lot that he would go out of his way and do that for a complete stranger. I'm still paying off school loans and I got truck loans to pay off so it really helps out," he told KSFY.
Get the best of News18 delivered to your inbox - subscribe to News18 Daybreak. Follow News18.com on Twitter, Instagram, Facebook, Telegram, TikTok and on YouTube, and stay in the know with what's happening in the world around you – in real time.
Read full article