Man Who Destroyed Trump's Walk of Fame Years Ago Reportedly Offers Bail to New Vandal
It seems no one likes Donald Trump's Hollywood Star.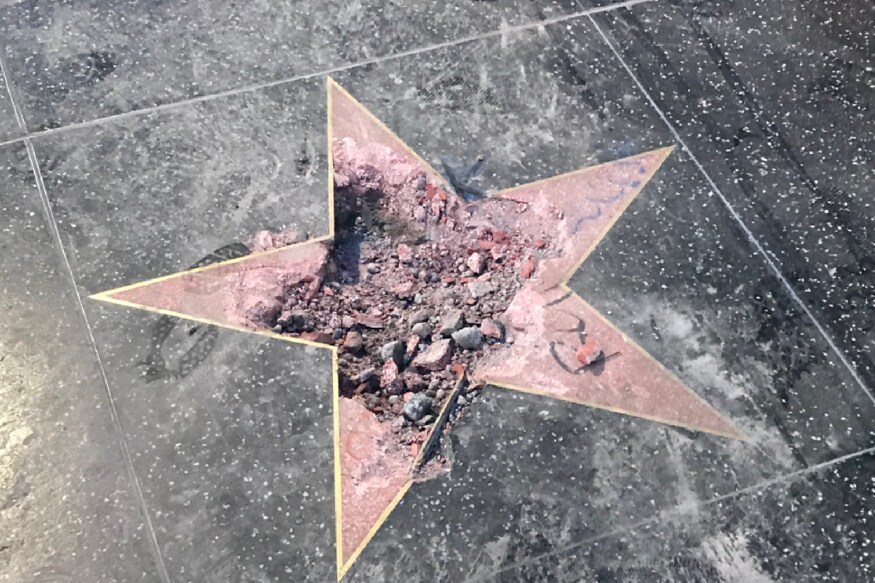 Image credits: @TheRyanParker / Twitter
The man who recently vandalised Donald Trump's Star on the Hollywood Walk of Fame has reportedly been offered a bail by the man who had destroyed the star years ago, TMZ reported.
Austin Clay, probably miffed with the Prez, took the matter in his own hands on Wednesday by completely decimating Trump's star with a pickax. He later surrendered to the police.
"A pickax was used in vandalizing the star" embedded in the sidewalk near Hollywood Boulevard and Highland Avenue in Los Angeles, at about 3:30 a.m." Sergeant Ray Brown of the LAPD said.
Donald Trump's star completely destroyed along the Hollywood walk of fame. pic.twitter.com/b1bpLhmG2X

— Ryan Parker (@TheRyanParker) July 25, 2018
After vandalising the plaque, Clay "called the police and said he had vandalized Donald Trump's star and basically called on himself and said, 'See you soon,' reported The Los Angeles Times.
CAUGHT YOU!! Donald J. Trump's Hollywood Walk of Fame star didn't stand a chance against its latest attacker ⛏ pic.twitter.com/HYLKn5zDSk — TMZ (@TMZ) July 26, 2018
But Clay has found a support in James Otis. Otis, who attacked Trump's star in 2016, also with a pickax, has stepped in to bail Clay out by paying $20k.
According to TMZ, Otis is a heir to the Otis Elevator Company, one of the largest elevator and escalator companies in the world.
Installed in 2007, Trump's Hollywood Star has been subject to frequent vandalism ever since he took the post of U.S. President in 2016.
His plaque was once covered with a backwards swastika.
Someone vandalized Donald Trump's Hollywood Walk of Fame star
A picture I took of Donald Trump's star on the Walk of Fame in LA a few months ago pic.twitter.com/FnuKhRY7n4 — Khalid (@WorldOfK_) March 10, 2016
Trump's star in Hollywood is covered with resistance stickers h/t @latimes instagram pic.twitter.com/oLRi1oy1Kw

— Saba (@saba_h) June 11, 2017
In another instance, someone had painted a mute symbol on Trump's Star. The star also had a service dog poop on it. Yep.
Read full article