Manless Amazon Delivery is Magical: A Day in Life of Delhi's 'Even Cargo' Woman
27-year-old Seema is one of the first women who was trained by Even Cargo, a startup that offers delivery services for e-commerce companies.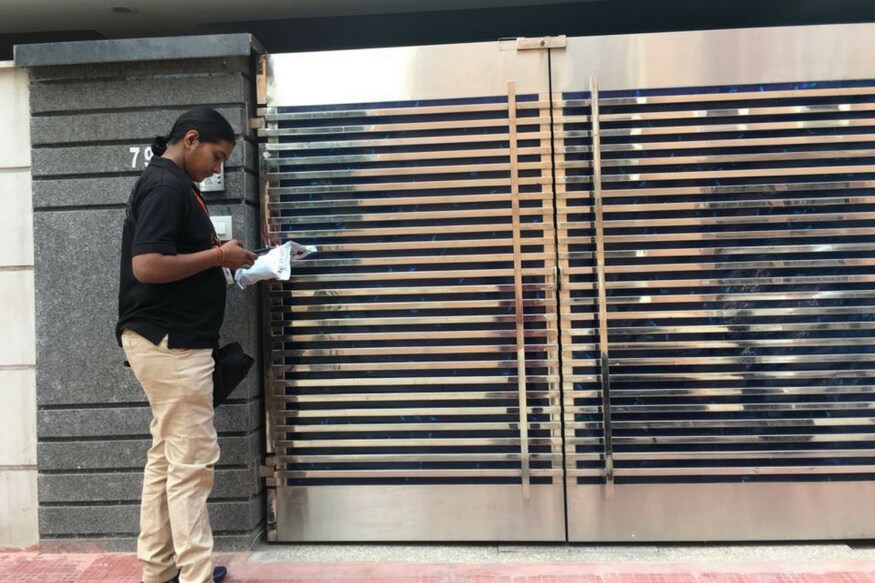 27-year-old Seema is one of the first women who was trained by Even Cargo, a startup that offers delivery services for e-commerce companies.
By the time I reached Amazon's warehouse in Karol Bagh, Seema has already left with her first round of parcel. An hour after, at 9:30 am, she returned to fill up her massive blue coloured bag, again. As soon as she parked her scooter, one of the other delivery staff greeted her. "Ho gaya kaam? (Is your work done?)" he asked. Seema smiled and just shook her head. Her day has just begun.
The 27-year-old is one of the first women who was trained and employed by Even Cargo, a startup that offers delivery services for e-commerce companies. All of its half a dozen delivery personnel are women.
Yogesh Kumar, the company's founder, started the business in May 2016 with the idea that he wants women from underprivileged backgrounds to work in logistics and ferry packages, in turn, breaking into the male bastion.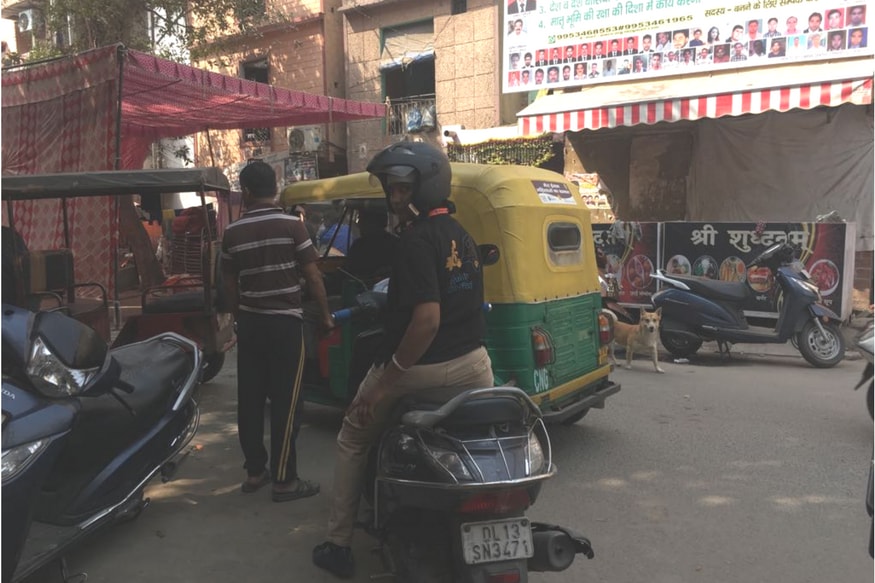 When I ask Seema if I should hop on to her two-wheeler, she asks me to wait for two-minutes. She has a paper in her hand with addresses scribbled on it. The paper is too tiny for all the addresses to fit in. So she starts writing on her palm. "But what if the sweat wipes it away?" I ask. "Don't worry, I have another long sheet with the addresses in the bag. Having it on my palm just makes it easier," she added.
We start our ride. In what seems like a very exciting ride for me as we go through Karol Bagh's bylanes, is a regular day for Seema. She has been going from door-to-door to deliver packages for the last 18 months.
Our first stop is the residential complex where police officers live.
"The company makes sure that we are only sent to safe routes," she said. The e-commerce company with the help of the Delhi police have charted out the routes and pin codes that are safe for women. And, these are the only places they work out of. However, that isn't any indication that Seema delivers less packages than her male counterpart. Every day, on an average, she delivers 45-50 packages.
The hardest part, for Seema, is to carry the heavy bag with all the couriers in high-rise buildings with no elevators. "We can't leave the bag behind. So we have to carry it," she said. The bag usually weighs around 20 kilos.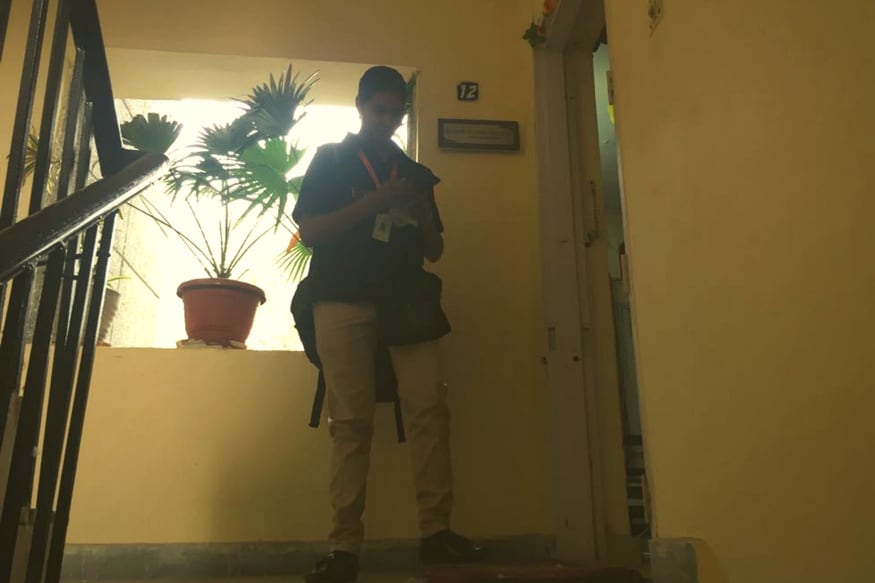 The 27-year-old makes somewhere between Rs 12,000 and Rs 15,000 every month, depending on the number of packages she delivers six days a week. The company that has hired her reimburse their petrol slips at the end of the month.
As we continue with our ride, I try helping Seema locate the address. Seema pretty much proves me a failure. She takes a glance at the milestone that says 122-144, and knows we have to be on the parallel road. "When I first joined the company, the men at the warehouse would often suggest that I won't be able to do 'their' work. They kept repeating that girls are not good with directions," she said. In a couple of weeks, Seema had broken that stereotype and proved it to be a myth. "I was delivering more packages than many of these men. They would be surprised and often ask me, kaise kar leti hai tu? (How do you manage to do it?)" she said.
Seema then goes on to tell me about the time when her father kept trying to convince her to get married. He doesn't do it anymore. "We come from Haryana—in our community, they don't believe that women should work. And I am the youngest daughter. So they wanted me to get married. They were worried," she remembers the time when she had to throw a tantrum and cry for days to reject the proposals.
While Seema's parents don't bother her with the marriage question anymore, the neighbours often walk up to her father with their advice—"You should ask your beti (girl) not to behave like a mard (man)."
"But, my father calls me beta," Seema said, quite pleased that she can be the 'son' in her family.
Seema had to drop out of school after her 10th board exams for financial reasons. But she has just picked up books again. "I have enrolled in an open school. I want to finish studying till 12th," she said. She has more ambitions. Seema has just written her exam for a post in the Delhi police, she's waiting for the results.
She has an hour before she has go back to the warehouse. There's a new joinee who Seema needs to train. "I have just been promoted. Now my boss sends everyone here, so I can train them. They have complete faith in me," she said.
She takes me to a narrow gali. The two sides of the lane are filled with houses that are almost stuck to each other. A cable wire that has clothes hanging on it comes in between Seema and her scooter ride. She hits the brakes. "Arey bhai, ye hatao na," she tells a man standing there. The man, without saying anything, moves the clothes line away and folds his hands and bends down a little. I am not quite sure if that was a gesture of saying 'sorry'.
While talking about Seema and her work, her bother-in-law keeps describing her as 'Dabangg', a reference to the movie in which Salman Khan plays the role of cop who deals with corruption. Seema's father Nahar Singh, a retired MCD sweeper, tells me that he is "very proud" of his daughter but often worries when she returns home late. Throughout the conversation, Seema's Uncle's daughter Santosh keeps coaxing her to find her a job as well. "What was the point of my education? I am still at home, while you are taking over the world," she tells Seema.
Santosh can't stop talking about how Seema is quite an inspiration for her. "Once this guy on the street said something nasty. Seema got off her scooter and yelled at him. He apologized and left," she laughs remembering all the times her younger sister have 'taught' the men the 'right' lessons. "A lot of the girls in our neighbourhood want to be like Seema," she said.
Sharp at 1 pm, Seema tells me that we need to leave now. I hop on to her scooter for the last ride. "I was supposed to learn riding on the Parliament route today. But then you came, so that didn't happen," a visibly upset Seema tells me. I apologise for coming in between her and her new adventure at work. "But this was fun. You took care of my bag," she smiles at me and takes off to train the new joinee, someone who will probably aspire to become like Seema too.
#BeingAWoman is a special series to celebrate womanhood in today's India on the occasion of International Women's Day 2018.
Get the best of News18 delivered to your inbox - subscribe to News18 Daybreak. Follow News18.com on Twitter, Instagram, Facebook, Telegram, TikTok and on YouTube, and stay in the know with what's happening in the world around you – in real time.
Read full article