"A detective is born, not made," reads Rajani Pandit's 'about me' on her
website
.
With her father working in the CID, Rajani had learned the art of a thorough investigation at a very young age. In fact, she was only 22 when she cracked her first case.
Born and brought up in Maharashtra, the 50-year-old
desi
Sherlock Holmes claims to have busted more than 80,000 cases since she first donned the detective's hat. Sharing her journey with
Humans of Bombay
-- a page that catalogs real-life stories, Rajani, considered India's first lady detective - narrates how it all started and why a particular case in her investigative career is etched in her memory.
"I was in college when I solved my first case. I worked part-time in my first-year as an office clerk. A woman who I worked with told me about the thefts in her house. She had her eyes on her new daughter-in-law, but had no proof," she said.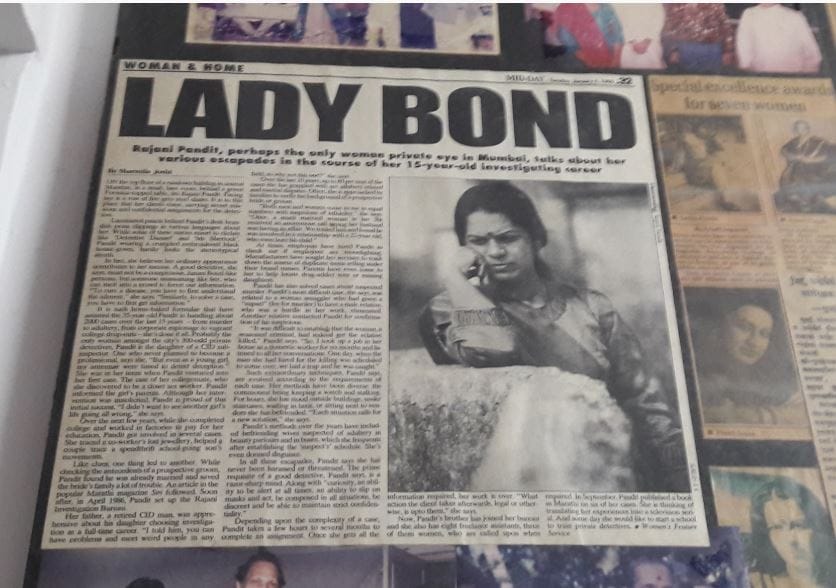 Image credits: Rajani Pandit
Inspired by her own investigative officer father, Rajani was keen on taking up her first case. "So I offered to investigate. I set up a watch across the street. I found out that this lady's son was actually the thief. When questioned, he admitted to the thefts… after that, my career took off! I was 22 years old when I started," she further added.
With no Internet and social media back in the day, Rajani turned into a full-fledged detective with the help of word of mouth. Despite knowing the dangers that revolved around the job, the detective decided to "marry" her job.
"It's a tough job, my parents didn't even know until much later! Once my dad found out, he reminded me of how dangerous this profession is – but if he could do it, so could I! So I continued with my investigations. I was married to my job. I just never had the time or desire to start a family."
But what catapulted her to 'fame' and grabbed the media eyeballs was when she solved a murder mystery by going undercover as a maid for six months. The case also happens to be her 'toughest one'.
"My toughest case was gathering proof for a murder investigation. Both the husband and the son were murdered, but with no proof as to who did it. For 6 months, I went undercover as a maid to live with the woman who was suspected of being the murderer," she revealed.
"When she fell sick, I took care of her and gained her trust slowly. But once, during pin-drop silence, my recorder made a 'click' sound. And that's when she started doubting me. She refrained me from going out at all."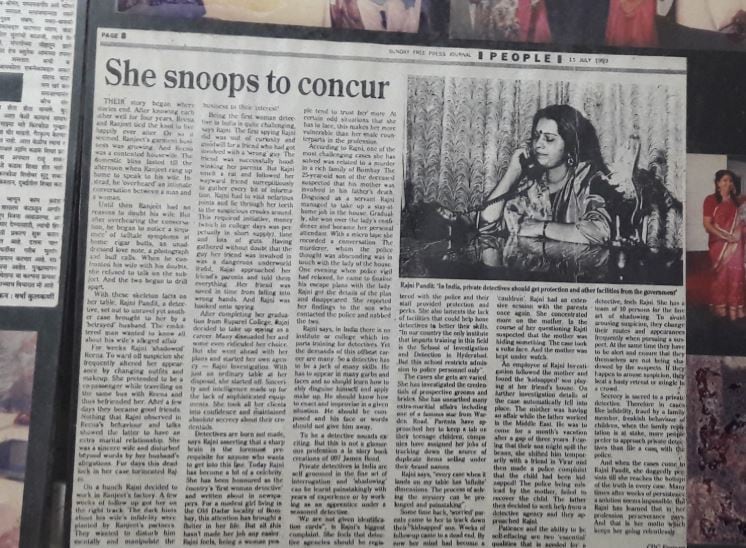 Image credits: Rajani Pandit
With nowhere to go, Rajani devised an escape plan - the day the hitman came to her "owner's" home.
"Then one day, the hitman who she hired, came to pay her a visit. That's when I knew it was my chance. So I cut my foot with a knife and told them that I had to go out to get bandaged. I ran out, went to an STD booth and called the client to come home with the police. They were both arrested that day!"
You can read the post here: