Meghan Markle Doesn't Remove Price Tag of Her Dress on Royal Visit, Internet has Field Day
Tonga is the only sovereign constitutional monarchy in Oceania that retains its own royal family, while the region's other constitutional monarchies, like Australia and New Zealand, recognise Britain's Queen Elizabeth as their head of state.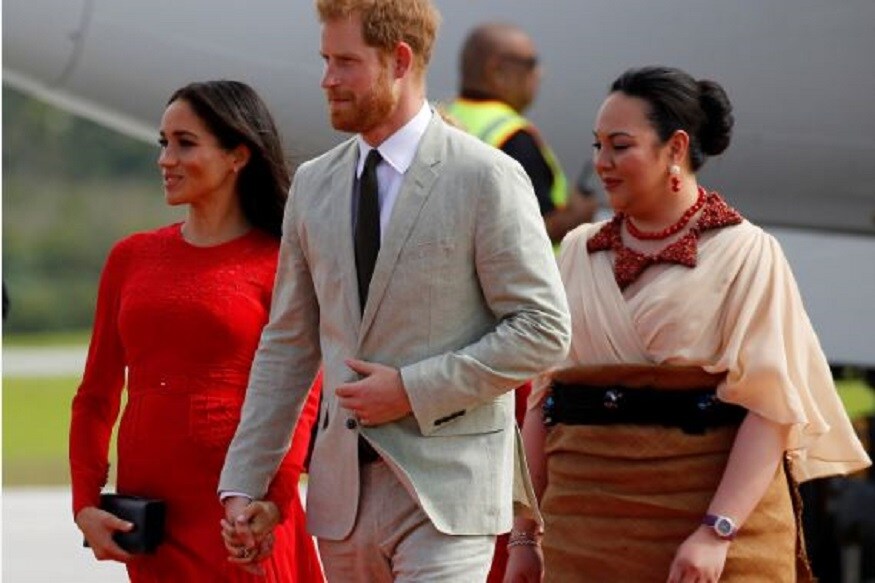 Britain's Prince Harry and Meghan, Duchess of Sussex, are welcomed by Tonga's Princess Angelika Latufuipeka as they arrive at Fua'amotu airport on the main island Tongatapu in Tonga October 25, 2018. REUTERS/Phil Noble
A Tongan princess welcomed Britain's Prince Harry and his wife Meghan on Thursday when they arrived in the tiny South Pacific nation, before driving into the capital as thousands of schoolchildren cheered and waved flags along the way.
Princess Lātūfuipeka Tukuʻaho, the eldest daughter of King Tupou, shook hands and curtseyed to greet Harry, clad in a beige linen suit, and Meghan, who wore a long-sleeved red dress in the colour of the Tongan flag, with a label visible at the hem.
🇹🇴 Hello Tonga! #RoyalVisitTonga pic.twitter.com/5OygU3uumT

— Kensington Palace (@KensingtonRoyal) October 25, 2018
"How do we love thee, Meghan? Oh let us count the ways," said one Twitter user, Talita Kefu of San Mateo in California, in a message on the social network.
"Thank you for donning our national colors."
How do we love thee Meghan, oh let us count the ways😍😍😍thank you for donning our national colors♥️ #royalvisittonga🇹🇴 https://t.co/2qM2wAGTZO

— Talita Kefu (@talitaolaheofa) October 25, 2018
Dancers in woven skirts and necklaces crafted from red flowers and feathers in their hair sang and clapped to welcome the royal couple to the Polynesian kingdom, made up of 170 mostly uninhabited islands. Red-and-white balloons and streamers dotted the route of their motorcade into Nuku'alofa, the capital, while schoolchildren in red and white uniforms waved small plastic British and Tongan flags and cheered excitedly.
A warm welcome for The Duke and Duchess of Sussex at the start of #RoyalVisitTonga🇹🇴! pic.twitter.com/NYHaF3Dbp1

— Kensington Palace (@KensingtonRoyal) October 25, 2018
However, the most attention was garnered by a small slip of paper. Meghan's stylist apparently forgot to remove the price tag of her red dress, and the internet was quick to notice and thereafter, natually, comment.
And they have landed in Meghan looks radiant in that red dress despite news of the tag still hanging from the dress

— (@Desiderium5) October 25, 2018
oh meghan the tag ! vitaliaa !! you're still gorgeous ❤️❤️ pic.twitter.com/igEOIPHLRz

— Maggie S (@MaggieSikivou) October 25, 2018
More colour!! An excellent red on Meghan, by Self Portrait (modified from maxi to midi) and another outing for the navy Manolos. I like the pleats. Not a word about the tag! #RoyalVisitTonga pic.twitter.com/j8jpKSenay

— Meadhbh McGrath (@MeadhbhMcGrath) October 25, 2018
What was that tag or label hanging off HRH Meghan's hem? We all have wardrobe malfunctions at some point. Loved the dress though

— lucyJ (@LucyJ5709) October 25, 2018
Please Emily tell Meghan tag left on bottom if red dress. Goodness me..

— Potter63 (@pottery281) October 25, 2018
(Agency inputs: Reuters)
Read full article
Countdown To
Elections Results
To Assembly Elections 2018 Results