Melania Trump Hosted a Movie Inside White House for Kids and Still Got Trolled, Here's Why
Time to hire better photographers, Lady Trump?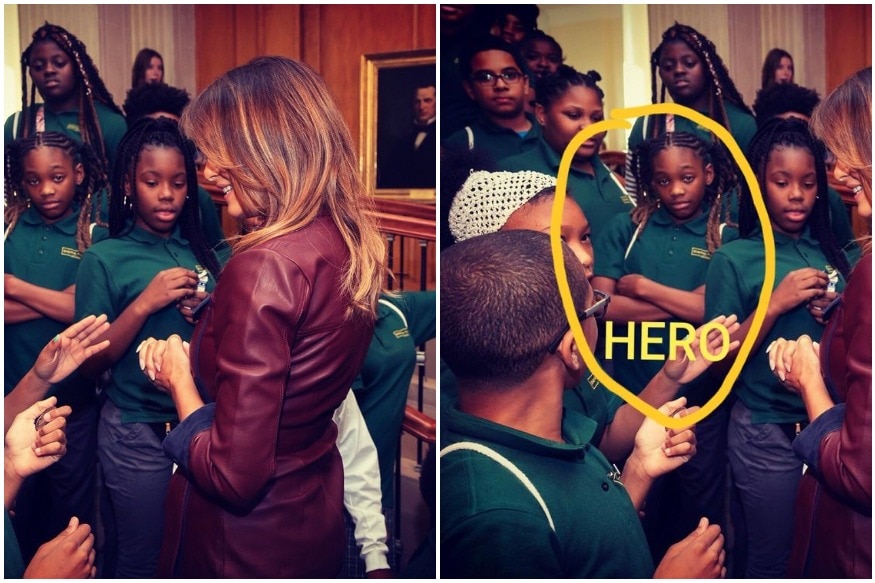 Time to hire better photographers, Lady Trump?
However much she seems to try, First Lady of the United States, Melania Trump, just doesn't seem to catch a break, ever. Recently, the FLOTUS was trolled once again on social media after a photograph of her interacting with school students went viral.
Trump had been meeting with about 30 sixth-grade students from the Digital Pioneers Academy in the White house on October 25 as part of her 'Be Best' campaign. The event was also in commemoration of the National Bullying Prevention Month and Trump was possibly trying to win some brownie points with relation to her own anti-bullying campaigns. The children spent time inside the White House and even watched a film, 'Wonder', in the White House theatre.
Trump later tweeted about the interaction, thanking the children for the great time she had.
However, as with all things, the image soon started going viral because of the expression on a kid's face in one of the photos. In the photo, the DPA students are seen crowding around Trump to shake her hand. However, the mystery student in question can be seen standing with a surly, bored face.
While the little's girl's listless expression may have escaped Trump, nothing can slip through the eyes of the Internet. In no time, Twitter was full of reactions and memes featuring the bored girl.
— Cassi Garcia (@cnote_g2014) October 24, 2018
Shorty in the middle with her arms crossed is a whole mood https://t.co/3zwkT3hUoz

— Matthew A. Cherry (@MatthewACherry) October 24, 2018
Tell me you've seen the photos from this event! This is my fav. Little girl in the middle. pic.twitter.com/NHQlc9NZ1y

— ‍♀️Bunicula‍♀️ (@BuniculaTv) October 24, 2018
Photo from Melania Trump's Twitter. Editorial comment mine. #BeBest #MAGA pic.twitter.com/3vIKhhEove

— The Derek Denton (@theDerekDenton) October 28, 2018
We see you in the middle honey - and we TOTALLT get it. Yes baby, yes.

A total and complete M-O-OOOOOO-OOOOOOO-D https://t.co/aAq2wXdaqy

— BabanaJama Mama (@gettingconfetti) October 25, 2018
Earlier this year, the FLOTUS had been heavily trolled after she wore what many called an 'inappropriate' jacket with the words "I don't really care, do you? " printed across the back while she visited immigrant children who had been separated from their parents while crossing the border and being held in Detention Centers in the US.
Get the best of News18 delivered to your inbox - subscribe to News18 Daybreak. Follow News18.com on Twitter, Instagram, Facebook, Telegram, TikTok and on YouTube, and stay in the know with what's happening in the world around you – in real time.
Read full article