Melania Trump's Unannounced Visit to the US Migration Center is Turning Heads for All the Wrong Reasons
The Empress's Clothes failed to impress.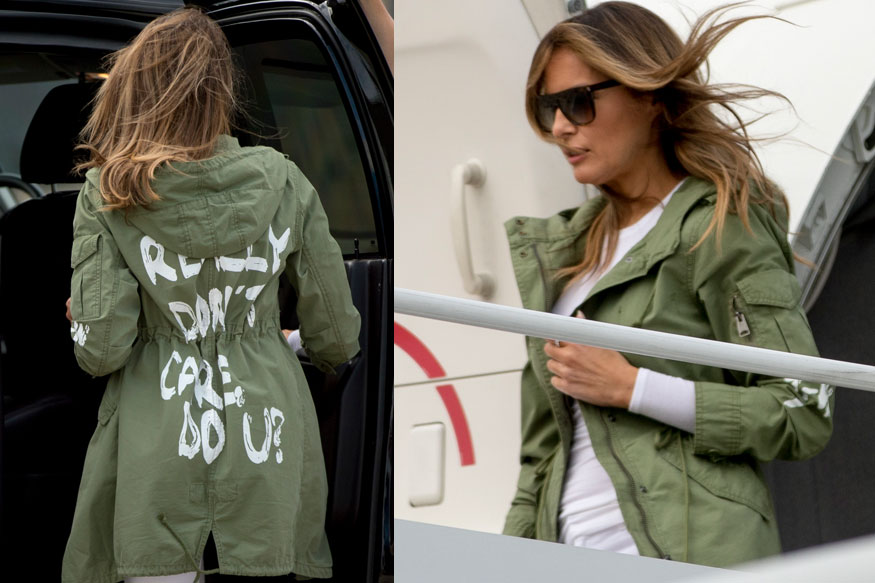 The Empress's Clothes failed to impress.
The Trump administration has been in the eye of an international storm over its highly debated 'zero-tolerance' immigration policy that was forcibly separating children from their migrant parents trying to illegally enter the US and sending them to detention centres.
After several reports, accounts and a particular audio recording of small children wailing at a US immigration facility led to huge outcry, the POTUS finally decided to end the horrific practice.
And just when the world thought that the Trump clan has peaked at their penchant to stir a mess, Melania Trump's wardrobe happened.
Again.
The First Lady drew a storm of flak when she made an unannounced visit to meet the migrant families being detained at the U.S.-Mexico border wearing a jacket with the words '"I really don't care. Do u?" printed in white graffiti-style lettering."
The jacket Melania Trump wore to visit caged immigrant children. pic.twitter.com/fPLeiIU9zc

— Diane N. Sevenay (@Diane_7A) June 21, 2018
Yes. Let that sink.
In what can mildly be termed as a faux-pas of presidential proportions, the US First Lady was seen in the airport en-route to the the detention facility sporting the olive green jacket with the contentious wording. 
Thankfully, Melania's special jacket, which is part of ZARA's Spring-Summer 2016 collection, disappeared as she walked into the housing facility clad in a cream military-style jacket with white jeans and sneakers.
But while the world was speculating whether the former model was trying to send a message by wearing this provocative jacket when departing for a trip to the border, she doubled-down by wearing it on her return trip too. Soon after, Donald Trump tweeted this: 
"I REALLY DON'T CARE, DO U?" written on the back of Melania's jacket, refers to the Fake News Media. Melania has learned how dishonest they are, and she truly no longer cares! — Donald J. Trump (@realDonaldTrump) June 21, 2018
When the internet took notice of Melania Trump's jacket on Thursday, her communications director quickly responded by saying there was no "hidden message."
"It's a jacket. There was no hidden message. After today's important visit to Texas, I hope the media isn't going to choose to focus on her wardrobe," the First Lady's Communications Director Stephanie Grisham said in a statement.
Not to anyone's surprise, Twitter was appalled. And the outcry has been insurmountable.
There is no hidden message on Melania Trump's jacket. It's clear as day. No one with half a conscience would ever wear such a jacket to visit children brutally abused by Trump's racism.#KeepFamiliesTogether #resist #trump #melania

— Dr. DaShanne Stokes (@DaShanneStokes) June 21, 2018
#IReallyDontCareDoU The American Presidency has been forever diminished & desecrated by the #Trumps. I will never again give #Melania, an insufferable twit & pathetic excuse for a "First Lady," the benefit of the doubt. She's a total disgrace. "Just a jacket," my ass. cc: @FLOTUS — lAmTheResistance (@Brklygrad) June 22, 2018
I no longer feel sad for Melania Trump. Turned out she's also an asshole with a slightly smaller brain than Eric... #savethechildren #FBI #DumpTrump #Melania

— Daniel Lindholm /Composer (@dropkickmonk3y) June 22, 2018
Is she f'ing kidding? Can this family be any more unfathomably tone-deaf & insensitive? This is what @FLOTUS wears traveling to the center of one America's darkest chapters since civil rights & Japanese internment camps? WTF is wrong w/these people? #Trump #Melania https://t.co/Sxb0rBJazl — Andy Ostroy (@AndyOstroy) June 21, 2018
It looks like @flotus is saying she doesn't care about the detained children. I was hopeful that #Melania was standing up to you and taking a humanitarian lead. The jacket is disheartening. I hope she will speak for herself and explain this to us in her own words.

— Melanie (@MelaniePesola) June 22, 2018
And now, the trolling:
can't believe Melania wore this jacket to visit the border kids pic.twitter.com/hqnFmXjnMC — Drug Ford (@torqpenderloin) June 21, 2018
I made my own jacket. 💅🏼#MelaniaTrump pic.twitter.com/MBhGOqpWME

— Charlotte Clymer🏳️‍🌈 (@cmclymer) June 21, 2018
I want a jacket with a pic of Michael Cohen scowling on the front and the back says "Says who?" — Allahpundit (@allahpundit) June 21, 2018
#ItsJustAJacket pic.twitter.com/yCL6e9tk4W

— Kendall Breitman (@KendallBreitman) June 21, 2018
"It's a jacket. There was no hidden message." pic.twitter.com/LsI6drOnWw — Rachel Paige (@rachmeetsworld) June 21, 2018
Since Melania Trump's jacket said "I really don't care"...

I set up https://t.co/GL1FF0KpBs

Click the link and it'll take you to a site where you can donate to 14 awesome groups helping immigrants all at once. Feel free to RT if that's your jam. pic.twitter.com/TPc4y4ZUfh

— Parker Molloy (@ParkerMolloy) June 21, 2018
While the notoriously private former model has always attracted eyeballs with her controversial sartorial tastes and cryptically loaded wardrobe choices (the instantly-iconic white hat for the French state visit, and the pussy bow blouse she donned after the "Access Hollywood" all sent a clear message), the First Lady might just have overstepped her bounds this time.
Read full article
Countdown To
Elections Results
To Assembly Elections 2018 Results