GET Stock

Quotes



Mermaid Thighs & #ThighsForJeaux - Body Positive Movements That Are Inspiring Women
After mermaid thighs, #thighsforjeaux has been taking the Internet by storm.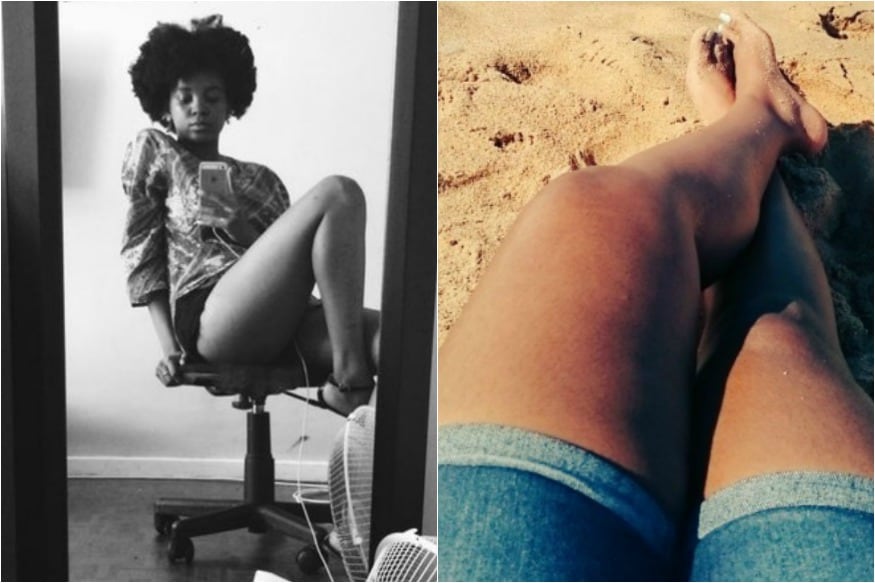 (Photo: Twitter/ @Mijeaux / @PearlPillay)
In the world of social media, things trend everyday and a lot of it is filled with negativity and pessimism.
There are trend-setters and then there are trend-followers. And of late we have seen the trend of body shaming taking over the Internet. Every now and then we see posts on Twitter and Facebook where people are sharing their opinion on body-shaming, or narrating an incident that they witnessed or have been victim to.
News related to trolling and demeaning a woman's body because it does not conform to the fake standards set by the world etc have been heard innumerable times in the past year and a half.
And because of this dangerous trend, where we make someone feel degraded for being fat or not being in shape, we need body-positivity now more than ever.
Just a couple of weeks ago we saw that the thigh-gap-busting 'mermaid thighs' trend was taking the internet by storm.
Mermaid thighs is a trend which is aimed at making people feel normal about their body type. Some people's thighs don't touch naturally while others strive hard at the gym, take supplements, or even at times get their images photoshopped to give an impression that they have toned thighs and that they are among the fuller frames whose thighs touch each other.
And while the natural looking people are bold and beautiful, the latter one's must be pitied.
Mermaid thighs aimed to make everyone feel good about how they look, whether or not they have thigh-gap.
And now, soon after the mermaid thigh trend was losing its sheen, another body-positive trend seems to be emerging. Body-positive hashtag #ThighsForJeaux is going viral.
#ThighsForJeaux initially gained popularity in March this year after a South African Twitter user @Mijeaux created the hashtag and tweeted a photo of her own thighs. The idea was to send out a message to women that they shouldn't be uncomfortable about their body-type and that they should embrace their thighs, regardless of the society's rigid standards.
I took this on the first day of #ThighsForJeaux pic.twitter.com/A28fkINZo1

— thigh ambassador✨ (@Mijeaux) January 8, 2016
@Mijeaux, whose name is Mixo, was inspired to start the hashtag because of "how often people are judged for showing their thighs, especially if their thighs are deemed imperfect by societal standards," she told Marie Claire South Africa.
"I wanted to use the hashtag to problematize these attitudes towards our bodies"
In her interview, Mixo was also quoted saying, "in the hot summer weather, no one should feel like they have to hide their bodies or be restricted by the opinions of others regardless of what they look like."
The campaign went massively viral in South Africa, and after it gained momentum across the globe, Twitter user @Mijeaux renamed herself Thigh ambassador on Twitter.
Everyone was extremely inspired by her initiative and soon users from around the world started sharing photos of their bare thighs - unedited and without using any filters or airbrushing them.
Let me post my pics and go ke. #ThighsForJeaux. Bless you, @Mijeaux ❤ pic.twitter.com/coAgRbldUI

— Count Fapula (@mbongomuffin) September 1, 2016
#ThighsForJeaux pic.twitter.com/NetKXe7hii

— Yung Lefitwa (@NovaTruly) September 1, 2016
Summer thighs ☀️✨ #ThighsForJeaux pic.twitter.com/pTqXq8vtEx

— 💫 (@PhozieQue) September 1, 2016
#ThighsForJeaux my submission. ✌🏾️🚶🏾 pic.twitter.com/6qooiuL6ql

— Keamogetswe (@1KEA_M) September 1, 2016
Thighs for dayz so wonderful; Beauty in all of us. #ThighsForJeaux @mijeaux pic.twitter.com/jeOUGRsVbm

— Laura D (@lauradouglassd) September 4, 2016
Busy day at the office. Obvs. #ThighsForJeaux @Mijeaux ❤ pic.twitter.com/KxEWlomxG2

— Caster SemenYASS* (@PearlPillay) July 20, 2016
The hashtag has taken over the world and a lot of people have come out in it's support.
It is nice to see women taking their body positively and shunning all the negativity that has been coming their way all this while.
Also Watch

News18 Reel Movie Awards: Ratna Pathak Shah Bags Best Actor (Female) Award
Read full article