#MeToo: This Mahalaya, Let Women be Empowered to Slay the Evils of Misogyny
It's time for women to collectively shed the intra-animosities among them and invoke their own inherent 'shakti' as a collective weapon of non-cooperation.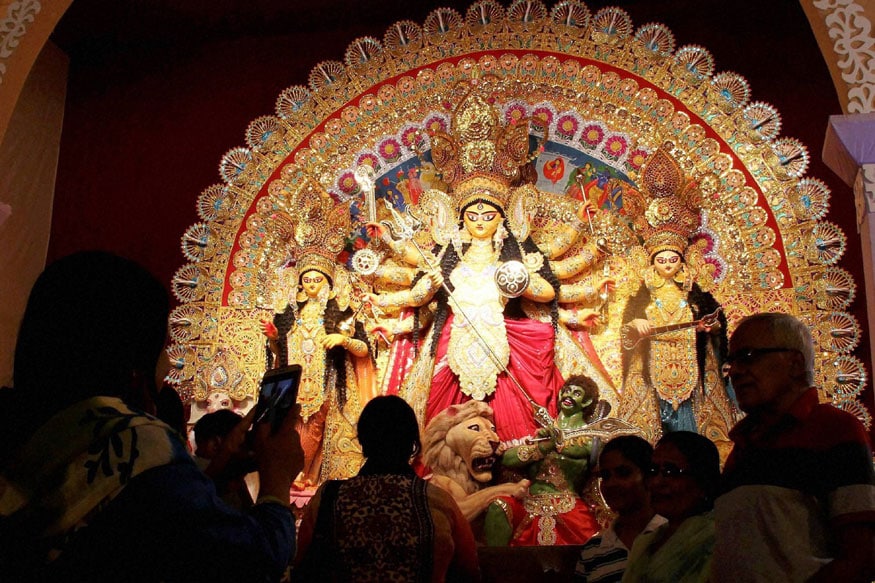 Image only for representational purposes.
In the wee hours of Monday, before sunrise, Goddess Durga quietly began her descent from heaven to the mortal sphere, thus marking the advent of 'Devi Paksha,' - the hour of the goddess. Every year, the auspicious day of Mahalaya symbolizes the dawn of feminine power and wisdom.
In Bengali households, a woman who displays exemplary strength and is unafraid of men is usually equated and treated as a manifestation of Goddess Durga. While Dan Brown's The Da Vinci Code popularised the idea of 'sacred feminine' only recently, Bengal has lived with the tradition of worshipping women as the embodiment of power for centuries. However, this year the power of women is being felt not just in Bengal but across the country.
Mahalaya proclaims the end of 'Pitri Paksha' and marks the beginning of 'Devi Paksha' when Ma Durga rolls up her sleeves and readies herself for the final destruction of evil on Earth. Today, with the #MeToo movement finally making a mark in India, the phenomenon is resounding more than it ever did with women's heroism and battle for survival.
The past week has been excruciating albeit not surprising, with scores of women exposing men (mostly colleagues and former bosses/superiors) of sexual harassment at workplace and elsewhere. Multiple accounts of sexual harassment have surfaced wherein women have accused their male friends, colleagues or counterparts of inappropriate sexual advances, unsolicited touches, mental harassment and gas-lighting, subjecting them to a vicious circle of victim-blaming and trauma.
Exactly a year after the 'Me Too' movement highlighted the lingering yet widespread abuse in the Hollywood film industry, the Tinseltown of India has finally taken its baby step to break its complacency with Bollywood actresses steadily coming up with their horrific stories of sexual harassment. But, not just Bollywood, women at large have seemingly decided to out the predators around them on social media.
Irrespective of the fact that women have previously also called out oppressors and habitual sexual offenders to no remedy, the movement gained stronger grounds only recently after senior journalists, writers and actors were charged with allegations of sexual harassment by women in their respective fields.
The #MeToo movement needed a trigger. The trigger that was brought by Hollywood's Alyssa Milano in 2017, was brought in by actor Tanushree Dutta in India. Since then, prominent names in the film industry like veteran actor Nana Patekar, filmmaker Vikas Behl and several senior as well as mid-level journalists were accused of sexual harassment by women, the charges corroborated by other victims. Many of these journalists enjoy positions of seniority and privilege in their organisations.
Today, women have a lot to be angry about and the deluge of confessions and accusations is proof of that pent up anger. But are they finally being heard?
Most victims of harassment, whether physical, verbal or even mental, have taken it upon themselves today to confront the endemic misogyny widespread in all aspects that concern them rather than just mutely bearing the trauma. But, to what end? What happens to the sexual offenders who continue to live their respective lives with unwavering dignity and are still thriving in their jobs? What about those who are still being defended by virtue of their power and influence?
On October 7, women across the world watched with absolute disgust as Brett Kavanaugh, an accused sexual offender, took an oath to the office as a US Supreme Court Justice. The swearing-in came amid scores of protesters breaking through barricades and staging a sit-in protest on the US Capitol steps.
Dr Christine Ford put her career and reputation at stake, endured and probably will have to continue to endure an onslaught of harassment and hate to tell her story, whereas her abuser is being rewarded with holding a position in the highest court of America.
The whole #MeToo campaign began to promote empowerment through empathy. An attempt to solidify the sorority of women and use it as a weapon – a weapon to thwart the perpetual subjugation at the hands of the male ego.
It's about time women must collectively shed the intra-animosities and turn to become the incarnation of inspiration, of power and prowess and invoke their own inherent 'shakti' as weapons of non-cooperation.
Equipped with the weapon of knowledge, let women, like Goddess Durga, take the reins to heckle the outstanding menace of misogyny right on its face and to reclaim the rights and those voices that the society has deprived them of.
Get the best of News18 delivered to your inbox - subscribe to News18 Daybreak. Follow News18.com on Twitter, Instagram, Facebook, Telegram, TikTok and on YouTube, and stay in the know with what's happening in the world around you – in real time.
Read full article