#MeTooIndia: Dear Men, Here's a 10-Step Guide on How Not to Apologise if You Have Been Accused
A quick guide for men who want to say the right things to all the #MeToo survivors.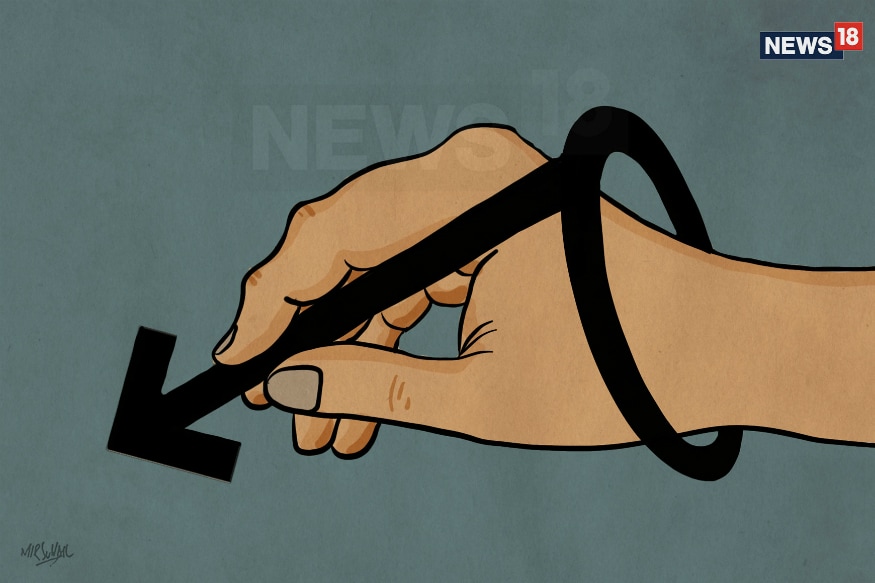 Illustration by Mir Suhail/ News18.com
With India's #MeToo moment finally here, women have been coming out in scores; braving the family, peers, society and personal apprehensions to come out with their stories of abuse. Women, together, are outing their perpetrators in the open. Unfortunately, many of us are in direct/indirect acquaintance with these men. And while several organisations have pushed for an immediate investigation into these accusations, the outrage has put several, if not all, men into an awkward position--or so most claim.
With the outrage enveloping the Indian social media space, the news-feed is cluttered with stories of #MeToo, careless excuses and shoddy apologies. Peeping outside my bubble of male privilege, I freeze from watching bazillions of men being accused of harassment. SO. MANY. MEN. There are the usual 'What, Why, When and How' circling in my head. And obviously, too many of these men are acquaintances, colleagues, and even friends.
While the stories of #MeToo flood the cyberspace and question many men of repute, it is easy for the male spectators to scream in indignation, easily misinterpreting their own inadequacies and dubiety for the social, cultural, economic, political, and sexual exploitation of an entire gender.
To all the men who feel victimized in the #MeToo episode, here's a dummy guide, from a fellow male, on what not to say to women right now.
1.) IT IS NOT A WITCH HUNT
"Oh, it's a witch hunt. Oh, they're targeting me. Oh, it's a right-wing conspiracy..." it is not a witch hunt, dear men. Period. Survivors of assault and harassment are not looking to accuse anyone and every one of abuse. It takes great courage to come out in the open with a story of abuse and greater strength to openly accuse your perpetrator. A man's absurd obligation to compensate for their lack of proper explanation and/or justification to a woman's accusation by conveniently blaming a conspiracy theory speaks volumes of one's innocence.
2.) DO NOT USE MENTAL ILLNESS OR BAD BREAK-UP AS AN EXCUSE
Men and women both suffer from mental illnesses. But justifying your abuse with "My mental illness made me act up" is misleading and untrue. Mental illness is not a safety net to justify abuse. Any abuse or harassment on your part is a consequence of your own actions and toxic sense of entitlement. Break-ups are unfortunate. But assigning the responsibility of your actions to them is.. juvenile. Your former partner did not have anything to do with you harassing a person. It was you. Learn to take accountability of your actions.
3.) DO NOT JUSTIFY YOUR MISTAKES WITH "I ASSUMED..."
"I assumed that she was ok with it. I assumed it was consensual. I assumed she was into it..." DO. NOT. ASSUME. When in doubt, ASK. Learn to ask for consent. Learn to ask whether your actions are making a person uncomfortable.
4.) DO NOT TRIVIALISE A #METOO STORY WITH "THIS ISN'T HARASSMENT"
While women come out with their stories of #MeToo, a certain section of men is coming out in defense of the accused with, "Hey, this is not even harassment." Now here's the deal, dear men. You are not the victims here. The survivors are. They get to decide whether they felt uncomfortable or harassed by a predator or not. You do not. Living in a society where the rule book on sexual harassment is decided upon by the male majority, ignoring woman as always, how do men get to be the ones who decide what constitutes as a harassment for women? Men can never be on the same wavelength as women as far as harassment goes. Men should not get to write the rule book on harassment of women. Men can't even begin to empathise with the same. At best, men must learn to acknowledge its very apparent existence. Any other kind of 'socio-psycho analysis' of harassment coming from men is skewed and not needed. Thank you very much.
5.) DO NOT ASSUME THAT ALL MEN WILL GET ACCUSED OF HARASSMENT
A growing whisper among men during the ongoing #MeToo episode is that they're worried of getting accused of harassment; worried that their actions with a woman may be 'misconstrued' and portrayed as something vile on social media. Here's the thing, dear men. "Arre yaar, I hope I don't get accused of Me Too also. I'm so scared, yaar." If you have ever, and I repeat, ever made a woman feel uncomfortable or unsafe, ignored her consent or assumed it, defended an accused's actions or kept mum about them, you have every right to worry for yourself. It is quite possible that your name might not come up right now. No, you do not heave a sigh of relief. It's a survivor's story to tell but your secrets are not safe. It's never too late to apologise and take complete accountability of your actions.
6.) DO NOT HIJACK #METOO WITH #HIMTOO
Real life is nothing like the MTV VMA Awards and neither are you Kanye West. Don't pull a "Imma let you finish but women rape too. Men are victims of harassment too. Men are victims of false-rape accusations too." All your accusations are true. Harassment is never, and can never be, gender-specific. However, do not hijack the #MeToo podium by interrupting women and trying to take control of the narrative. Let women speak up. Let them share their stories. Men are raped, too. Do not belittle male survivors of assault by showing phony hysteria on social media platforms when female survivors are coming out to share their experiences with sexual assault.
7.) REMEMBER THAT #METOO IS NOT A PASSING FAD
A common question that is making the rounds these days is "Why are women coming out with their 'Me Too' stories now?" Well, here's some news. When survivors of assault feel that they are in a safe environment and will receive support of their family and peers, they feel comfortable opening up about uncomfortable experiences, hoping that they too will receive the support and belief of people like other survivors have. No one seeks fame through outing a sexual predator. Feed it into your systems.
8.) LISTEN AND SHARE THE #METOO STORIES
Often the best support comes through patient listening. Listen to the survivors and share their #MeToo stories on your social media handles. More importantly, learn from them. Learn not to harass women.
9.) BELIEVE ALL SURVIVORS
Sharing your moment of being harassed, molested, assaulted is no easy task. Survivors are too often slut-shamed. This is your time to believe each and every one of them.
When Donald Trump accused Christine Ford of falsely accusing Brett Kavanaugh of sexual harassment, the #BelieveSurvivors hashtag flooded the social media space, and countless people came out with reasons why they did not come out with their stories of abuse, urging everyone to believe all survivors. Sexual harassment is not a joke. "Arre, she's doing it for the attention. Arre, she is anonymous. How can this be authentic?..." A false rape accusation is a sad anomaly not the norm. Survivors think twice, thrice, infinite times before outing their abuser. It is not a joke to them. There will be stories that date back to several years, decades even. Demanding proof of abuse is an insult to the testimony of the survivor. Accusing them of concocting lies or blaming 'vested interests' is equivalent to a shoddy justification. Acknowledge the survivor's courage. Believe their story. Do not worry about their identity.
10.) NIP IT IN THE BUD
It is common knowledge that men, in the name of 'locker room talk', spit all kinds of sexist, derogatory comments about female peers or co-workers. Often, men who identify as feminists choose not to interrupt and correct these supposed friends. WRONG. Weed it out then and there. Correct your friends and co-workers. Let them laugh at you when you object but encourage them to not indulge in mindless slander of women. Nip it in the bud. DO. IT. NOW.
Get the best of News18 delivered to your inbox - subscribe to News18 Daybreak. Follow News18.com on Twitter, Instagram, Facebook, Telegram, TikTok and on YouTube, and stay in the know with what's happening in the world around you – in real time.
Read full article