'Mine Is Cerebrum': Taapsee Pannu's Savage Response to Sexist Troll Causes a Surge in Google Search
When the Pink actress was mentioned in a sleazy tweet on Twitter recently, Pannu decided to bring the troll down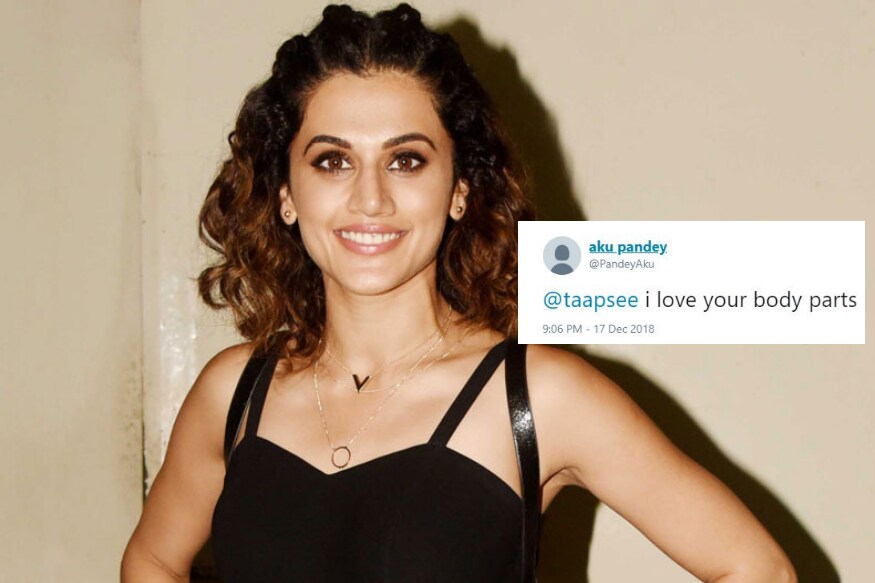 When the Pink actress was mentioned in a sleazy tweet on Twitter recently, Pannu decided to bring the troll down
Taapsee Pannu has no time for sh*t and we're glad.
Ever since the Internet went online, women have been the targets of trolls -- they face a steady and brutal harassment almost every day, and are often subjected to objectification and worse.
However, when the Pink actress was mentioned in a sleazy tweet on the microblogging site, Taapsee decided to bring the troll down and simultaneously made Twitterati run for their dictionaries.
The Twitter user by the name Aku Pandey tweeted at the actor saying, "I love your body parts."
Quick-witted that she is, Taapsee responded to Pandey's tweet by saying, "Wow! I like them too. BTW which is your favourite? Mine is the cerebrum."
Wow! I like them too. BTW which is your favourite ? Mine is the cerebrum. https://t.co/3k8YDbAL64

— taapsee pannu (@taapsee) December 17, 2018
Her response was met with applause.
Terribly mean of you to boast about a body part which the troll doesn't have

— sushant sareen (@sushantsareen) December 17, 2018
Aap ne ladke ki bolti band kr di.. Feel proud aaj ki girls ko aise hona chahiye.. Keep it up ❤❤

— Vivek Singh(INDIAN) (@VivekRaghuwansi) December 17, 2018
Daper reply... U nailed it

— Jyotsna Shambhavi (@JyotsnaShambha2) December 17, 2018
Contender for comeback of the year. pic.twitter.com/MYfz8XyKJV

— Enganche (@drzal_af) December 17, 2018
Perhaps. He doesn't hv cerebrum taapsee.

— Syed Intekhab ul Haque (@intekhab_dr) December 17, 2018
But the fun had only begun. While many hailed her savage reply, others quietly opened a new tab on their browsers to know what "cerebrum" meant.
Don't believe us?
Taapsee's response actually caused a surge in the Google search for the word.
This was pointed out by Twitter handle @iam_rahool.
You actually caused a surge in @GoogleIndia 's search trend last night and today ( after your tweet at 9 pm ) for 'cerebrum' looks like Mr Pandey and his friends were busy trying to figure out what it meant pic.twitter.com/QtHrFKY4ZB

— Rahul (@iam_rahool) December 18, 2018
This isn't the first time the Bollywood actress has given it back to online trolls.
Last month, a Twitter user tried to troll the actor and said, "you need a crash course on being a celeb.. every other day u act like Rishi Kapoor, picking twitter fights and flashing slangs at trolls."
While most of the actors would have chosen to ignore it, Taapsee went ahead and gave a reply. She wrote, "When are u starting the enrolments ??? Btw just to help your ignorance Rishi Kapoor is a bonafide star in every possible way! I will be happy if I can reach even half of what he is."
Read full article
Countdown To
Elections Results
To Assembly Elections 2018 Results