Mohammad Kaif has an Epic Reply to a Troll Who Asked Him Whether He is Related to Katrina
Mohammad Kaif has an interesting take on the Kaif-connection he shares with actress Katrina Kaif.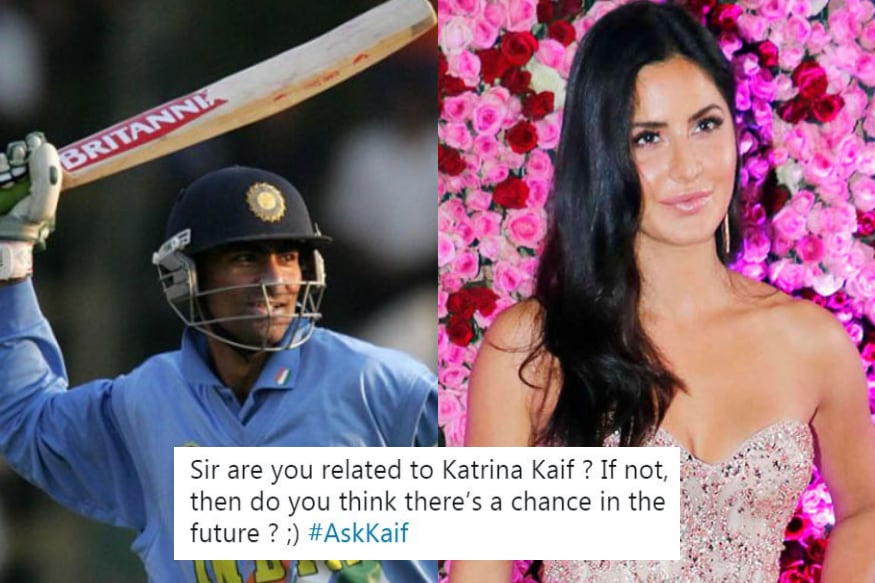 (Image: Twitter)
Bollywood actress Katrina Kaif's identity has been a media rage since the mid-2000s, with several reports coming out with their own tales surrounding the actress.
One of the many rumours surrounding her name was that Katrina is in some way related to cricketer Mohammad Kaif.
So when Kaif hosted #AskKaif session on Twitter, fans asked the cricketer regarding his opinion on MS Dhoni and Virat Kohli. But then, of course, someone decided to ask him about the Kaif connection he shares with the actress.
Sir are you related to Katrina Kaif ? If not, then do you think there's a chance in the future ? ;) #AskKaif

— The-Lying-Lama (@KyaUkhaadLega) September 13, 2018
The cricketer, of course, decided to clear the air once and for all. And no, guys, he is happily married and not related to Katrina Kaif in any way.
Not related yet :) Baaki, already happily married . But heard an interesting story of how Katrina got her surname Kaif, according to that story it has a connection with my name https://t.co/WdmVwaqsIL

— Mohammad Kaif (@MohammadKaif) September 13, 2018
Many of his fans taking note of every syllable, wondered what exactly he meant by the tweet.
POSSIBILITY MAINTAINED?
YET... aage koi gunjaes hai related hone ki :D

— Shalu (@shalu79) September 13, 2018
Did anyone notice the "yet" in his response??

— Milap Barmecha (@Milap_Barmecha) September 13, 2018
Yeah Bhaji given the name as he is a common friend. But what about " Not related yet" means there is a chance in future. Right.

— Ejaj Shaikh (@ejajshkh) September 13, 2018
"Yet" ? Sir, apko wife ko tag karna padega. Iraade thik nahi lag rahe aapke. **kiding** 😉

— Seemanshu (@Seemanshut) September 13, 2018
INTERESTING CONNECTION
Raakhi bhi bandhwa sakte hai Sir 😉😉

— Funkmeister (@GormintChorHai) September 13, 2018
AND FINALLY SOME ANSWERS
The director of first film of Katrina (Boom) Kaizad Gustad's favourite cricketer was Mohammed Kaif.Hence he gave this surname to Katrina.

— Rakesh Lenka (@rakesh_lenka) September 13, 2018
When she came to India, she changed her surname to that of her father's, Kaif, because it was of Indian origin. Her original name is Katrina Turquotte. She also claims that she changed her surname to Kaif after cricketer Mohammad Kaif as he was on top at that time! ur answer

— happy singh (@_khalnayakhumai) September 13, 2018
For all those who are wondering what he meant :) pic.twitter.com/2ObWVF6Jsn

— Khamman Ghani (@Ajeeb_n_garib) September 13, 2018
Katrina, whose real name is Katrina Turquotte, has an English mother and a Kashmiri father. According to Ayesha Shroff, the producer of Katrina's first film 'Boom', her original surname was too hard to pronounce, so they decided to call her Katrina Kazi. But ultimately decided on Katrina Kaif because Mohammad Kaif was in form back then.
Got your answers now, we hope.
Read full article