Municipal Corporations

9/10

TRS

8

INC

0

BJP

1

AIMIM

0

OTH

0
MUNICIPALITIES

114/120

TRS

96

INC

9

BJP

3

AIMIM

2

OTH

4
Refresh Data
'Monopoly Cash is Complete': New Lavender 100 Rupee Note Has Left Twitter Colourful
These jokes are note funny.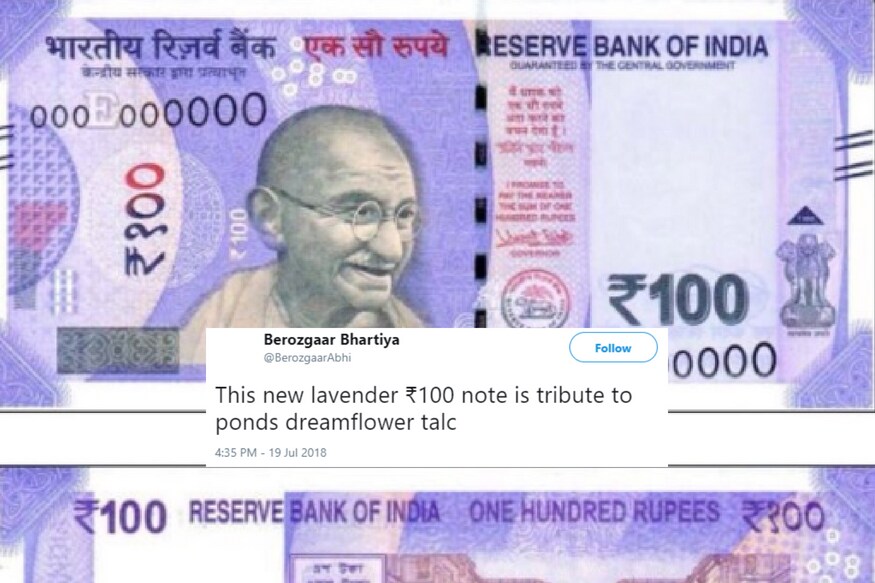 These jokes are note funny.
The Reserve Bank of India is set to introduce new Rs 100 denomination notes.
The new notes, in the Mahatma Gandhi (New) series, will bear the impression of Gujarat's historic stepwell 'Rani ki Vav', depicting the country's cultural heritage. The base colour is Lavender and it joins the family of fluorescent blue, yellow, magenta, dark green coloured notes.
The new Rs 100 note will be smaller than the previous version and slightly bigger than the Rs 10 note and will weigh less than the old Rs 100 note. Though, the current Rs 100 notes will continue to be legal tender.
While the printing of the lavender-coloured note has already begun, people on Twitter cannot stop comparing it to those in the board game of Monopoly.
Almost there guys. Government is silently showing support. Well done. pic.twitter.com/Usl0odtpOR

— Ivan Mehta (@IndianIdle) July 19, 2018
This new lavender ₹100 note is tribute to ponds dreamflower talc

— Berozgaar Bhartiya (@BerozgaarAbhi) July 19, 2018
There's a new ₹100 note coming out soon and looking at all the new bills, my designer mind thinks maybe, just maybe, this is a terrible case of CMYK gone RGB. #Rupee #100RupeeNote pic.twitter.com/gPTxGWEebi

— Binit (@undermyhood) July 19, 2018
Dear makers of the board game #Monopoly:

Can you please change your currency - it looks suspiciously like the new Indian notes!

And stay off lavender, pink & saffron - perhaps they have stolen your colour scheme? https://t.co/3sYdSzt31V

— Rakesh Sharma (@rakeshfilm) July 19, 2018
"New 100 Rupee note released by RBI"Everything is colorful.#SpecialOne #PoweringIndia pic.twitter.com/qde7X0Osod

— Anita Chauhan (@anita_chauhan80) July 19, 2018
News coming out that there's a new Lavender ₹100 note. Good job @RBI. Glad to see that we've completed the set 💁🏻‍♂️ pic.twitter.com/axYhqcTVmP

— Rishab Menghrajani (@rishabmeng16) July 19, 2018
The new set of #Indian currencies remind me of Teletubbies! There is reddish pink, green, yellow and now the new 10 #Rupee note is going to come in Lavendar. Powerpuff girls printing them in Dexter's laboratory?

#India #poweringindia #incredibleindia #RBI

— Abhimanyu Rathi (@adrathi22) July 19, 2018
Gujarat's historic stepwell 'Rani ki Vav' imprinted on the new bill got many cheering.
Take a look at the 1000 year old step well of Gujarat that now makes it to the new ₹100 note pic.twitter.com/aKjieuhALq

— Devdutt Pattanaik (@devduttmyth) July 20, 2018
Wow Rani ki Vav on the new ₹100 note. This is located in Patan on the banks of Saraswati River in North Gujarat which is the district in which my native town is located. pic.twitter.com/fonuzlIWm1

— Yusuf Unjhawala 🇮🇳 (@YusufDFI) July 19, 2018
Banks will have to make changes in ATMs to accommodate the new notes as was the case with new notes of other denominations. Several new micro-security features have been added to the new Rs 100 note, which will be visible only under ultraviolet light.
Get the best of News18 delivered to your inbox - subscribe to News18 Daybreak. Follow News18.com on Twitter, Instagram, Facebook, Telegram, TikTok and on YouTube, and stay in the know with what's happening in the world around you – in real time.
Read full article