MrBeast aka Jimmy Donaldson, a popular face and account on the YouTube platform, is a brand of his own. His videos of giving away ridiculous amounts of money to strangers have a separate fanbase. In his videos, he has given away diamonds, islands, cars, gold bars, sold millions of MrBeast burgers, given away bags of cash to unknown people. His subscribers occasionally show up in his uploads and return home richer. During the pandemic, MrBeast arrived with several trucks full of food supplies and replenished food banks.
And now, he has surpassed Felix Arvid Ulf Kjellberg popularly known as PewDiePie in terms of worldwide YouTube popularity.
Yep. To put this into perspective, MrBeast is currently followed by 54 million subs on YouTube while PewDiePie, the second-most subscribed channel on the platform, has close to 110 million subscribers. That's more than the double subs that PewDiePie enjoys over his non-rival account.
A look at the past 2 years on google trends comparing both the content creators side by side just by their YouTube names shows MrBeast experiencing the rare bout where he overshadowed PewDiePie in worldwide search. PewDiePie still leads the race, though, but it's a development many may consider big for Jimmy and YouTube community in general.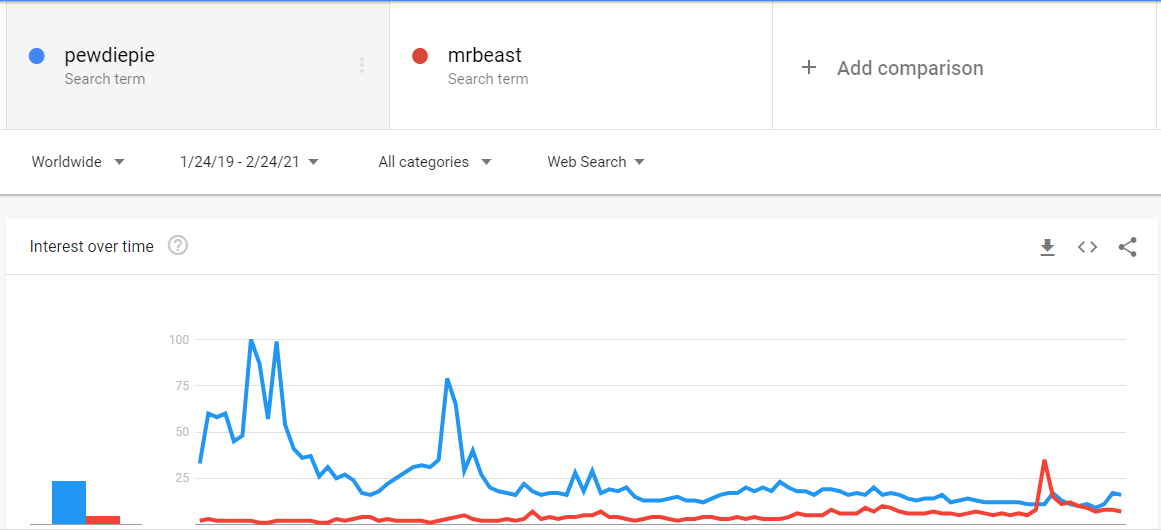 This was pointed out by a Twitter user in a post that was acknowledged with a "like" by MrBeast's official Twitter account.
MrBeast recently surpassed PewDiePie in worldwide YouTube search popularity for the first time.

PewDiePie has a slight lead at the moment 12-11 pic.twitter.com/QJAtY99mmD

— YT Battles 📊 (@pwnyygaming) February 23, 2021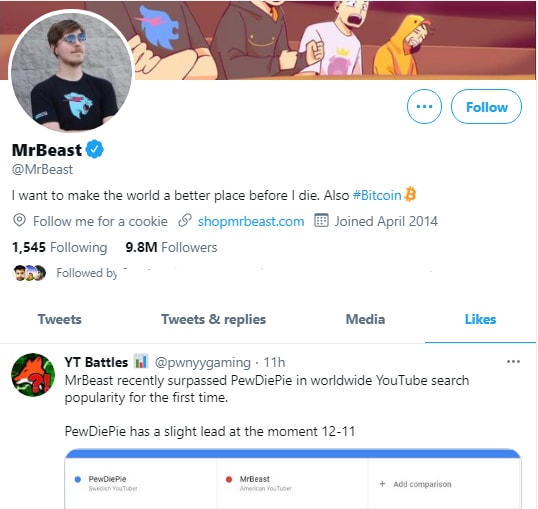 But does this mean a change in dynamics between PewDiePie and MrBeast?
Not really. Not only their content and audience are different but MrBeast was among the top creators who helped the Swedish YouTuber in staying ahead of T-Series, a production label in India, when the two channels locked horns for the most-subbed throne.
See the ridiculous rise in blue (PewDiePie) graph in 2019-2020? That's when PewDiePie's popularity peaked across the world and MrBeast was key in his growth.
The mostly one-sided beef between 1 vs 2 YouTuber channels saw MrBeast buying billboards and showing up at the Super Bowl game between New England Patriots and Los Angeles Rams with his friends in 2019, wearing 'Subscribe to PewDiePie' shirts to support Pewds.
Although the meme faded away after T-Series won the round, MrBeast stuck by it.
In a more recent MrBeast video, he bought 120K lottery tickets worth $1 million or INR 7,48,05,000 and decided to buy an island with whatever amount the tickets fetched him.
The total earnings came to about $720,000 (Rs 5.4 crore) and in a subsequent video, Jimmy along with his friends and crew visited the island and took part in challenges to win the island, one of which required the contestants to be subscribed to PewDiePie. The one who didn't wasn't was instantly eliminated form the challenge.
Reacting to this, PewDiePie gave MrBeast a "shoutout" of a lifetime.
Amused as he was, PewDiePie said, "He lost because he wasn't subscribed. If that's not a good reason to subscribe this channel right now. You could win an island. Literally."
Praising MrBeast's contribution to the video-sharing platform, the gamer and comedian further said: "Can we talk about the fact that MrBeast gave away a f***ing island? How does he? (laughs) Legit it's impressive. He's pushing boundaries on YouTube that nobody even knew there was. I love that."
Read all the Latest News, Breaking News and Coronavirus News here