Mumbai Police's Message on Peace and Diversity Shows the True Spirit of the City
'If you can see it, you can feel it.' - Mumbai Police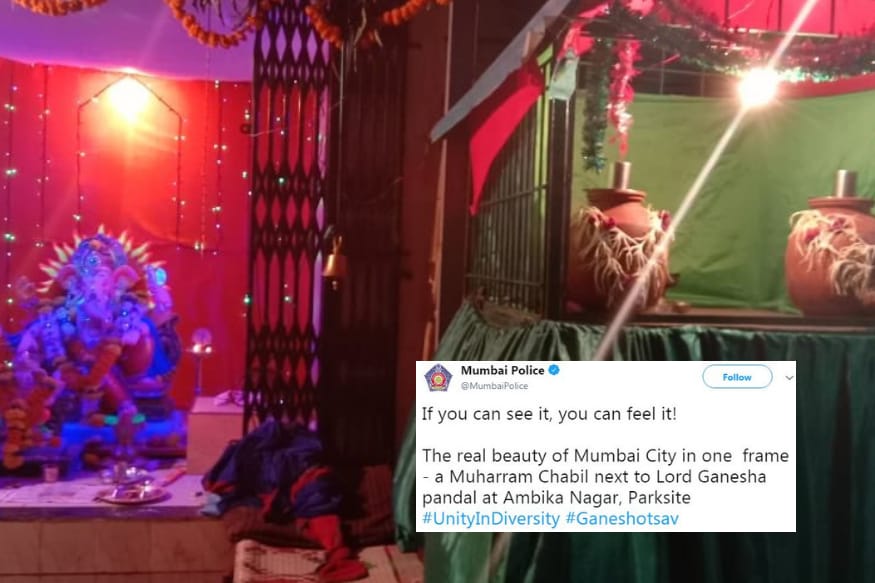 (Image: Twitter/@MumbaiPolice)
"We fight, we break up. We kiss, we make up"
--India, a land of many religions is often found embroiled in many Hindu-Muslim debates, but regardless of it all, we Indians are known to rise up above all differences and do what we do best - spread love and showcase unity.
Highlighting the brotherhood and 'unity in diversity' was Mumbai Police, who shared a heartwarming image of a 'Sabil' (public fountain) set up to quench the thirst of passing pedestrians next to a Ganesha pandal in Ambika Nagar, Parksite, putting the spotlight on the real spirit of Mumbai.
If you can see it, you can feel it!

The real beauty of Mumbai City in one frame - a Muharram Chabil next to Lord Ganesha pandal at Ambika Nagar, Parksite #UnityInDiversity #Ganeshotsav pic.twitter.com/6az6ETX8Bu

— Mumbai Police (@MumbaiPolice) September 20, 2018
Mumbai, which is already enveloped in the festivities of Ganesh Chaturthi, also celebrates Muharram on Friday.
And Twitter being Twitter, could not stop itself from gushing at the image and salute the spirit of Mumbai.
That is why It is Called Mumbai.😍

— parii Khurana. (@Priyank10113924) September 20, 2018
Truly National Intergration, and this should be the spirit of the entire Nation. Psst.. it's "Sabil" means path or way and even a public fountain - to serve water to the thirsty, in remembrance of the Martyrdom of Imam Hussain. n not Chabil pls.

— Aliabbas mundrawala (@akmsafar) September 20, 2018
यही तो खूबसूरती है इस देश की साहेब !

— Abhishek Pandey (@Impandey_96) September 20, 2018
Mera Bharat mahaan.

— ALI (A.S.) MAULA (@AShirazi110) September 20, 2018
"I am proud to belong to a religion which has taught the world both tolerance and universal acceptance. We believe not only in universal toleration, but we accept all religions as true."

~ Swami Vivekananda#VivekanandaSpeech1893 https://t.co/wpFrB9vFBy

— Sanat Kumar Dey (@SirSanat) September 20, 2018
Cool. But nothing can beat this . Its in my hometown Vadodara @ourvadodara pic.twitter.com/7pXqxjvM2E

— Rahul (@rahulshah51183) September 20, 2018
The true face of INDIA, lets keep our unity intact always.....

— Saquib K Hussain (@hsaquib) September 20, 2018
When i can see this?: The real beauty of Mumbai city in one frame - A Maha-aarti of lord Ganesha next to Masjid!? When?

— Aalok Pradhan (@Aalok_Pradhan) September 20, 2018
Very true. This is the true spirit of Mumbai and people through out India. It's the politics and politicians that divide and play in the name of religion. Next generation needs to be taught about this and treat all religion equal. I support #UnityInDiversity

— Kjul D Shah (KD) (@KjulShah) September 20, 2018
We MUMBAIKARS belive that HUMANITY is the biggest RELIGION

— IMRAN ALI HASAN KHAN (@IMRAN_VASILKHAN) September 20, 2018
The jewel of this great country is Mumbai. And the reason mumbai is an mayanagri is this spirit of mumbai.

But there is one more reason why mumbai is way ahead of all, the reason is @MumbaiPolice

Mumbai police is the reason 2.2cr ppl can work worryfree to fullfill thier dreams

— Akshay Shah (@Sarcasticakshay) September 20, 2018
That is the dignity of the individual and the unity and intercity of our Nation. https://t.co/yU1KJqwNjV

— S.M.Krishnan (@SMKrishnan03) September 20, 2018
Read full article
Countdown To
Elections Results
To Assembly Elections 2018 Results