GET Stock

Quotes


Nagpur Police Just Beat Everyone in The Twitter Battle of Radhika Apte Memes
Nagpur and Ahmedabad police apt hai.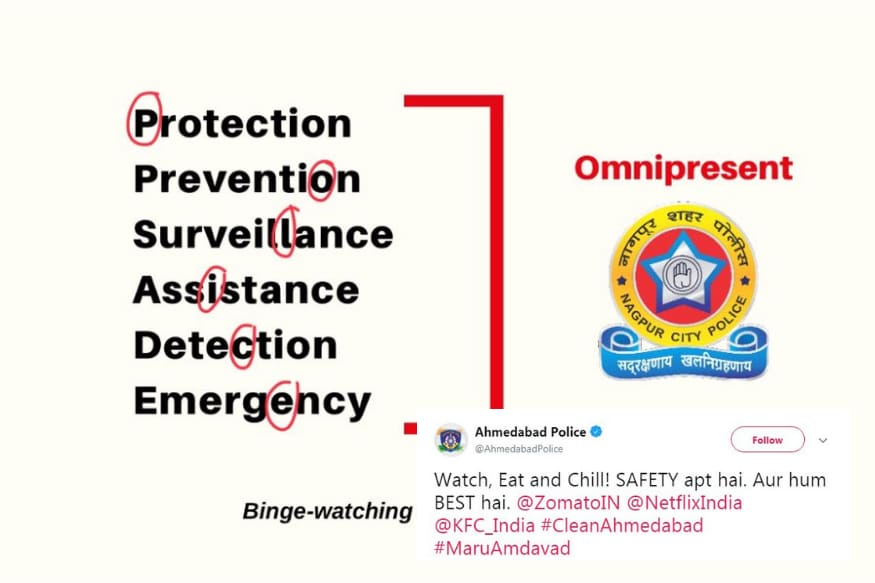 (Image: Twitter)
Everyone, and we repeat, EVERYONE wants to be a part of the Radhika Apte meme fest. Started by Netflix as an apt response to those who thought the actress was everywhere on the streaming service, it didn't take long before it turned into a viral Twitter meme.



And you thought only Radhika is versatile 😜 pic.twitter.com/nqfHikbeeU


— Zomato India (@ZomatoIN) August 29, 2018
But Netflix India decided to not give up its crown after all.
Well, she is everywhere. pic.twitter.com/XcEw0OjtHf — Netflix India (@NetflixIndia) August 29, 2018
The police departments in Nagpur and Ahmedabad decided to up their cool quotient and came up with their own renditions of the Radhika Apt(e) memes and won the Internet for the day.
Nagpur Police tweeted 'We are binge-watching our territory 24x7', letting everyone know once and for all that the police too is just as 'omnipresent' as Radhika Apte.



We here are binge-watching our territory, 24x7...@NetflixIndia @ZomatoIN pic.twitter.com/XkDeErwPbH


— NagpurCityPolice (@NagpurPolice) September 1, 2018
Radhika may be apt, but so is Ahmedabad police because they want you to obey traffic rules while Netflix and Zomato fight.
Watch, Eat and Chill! SAFETY apt hai. Aur hum BEST hai. @ZomatoIN @NetflixIndia @KFC_India #CleanAhmedabad #MaruAmdavad pic.twitter.com/35RZfaqKaX — Ahmedabad Police (@AhmedabadPolice) August 30, 2018
Twitterati could not stop itself from praising the quick-witted humour of the police departments.



Sense of humour is omnipresent. #nagpurpolice #zomato #Netflix #Police #humour https://t.co/O6X9WGAC8z


— Priyal Ray (@Priyal92) September 2, 2018
Hahaha, it is so cool to see social media banter from such unexpected quarters. #Respect #SenseOfHumourWins https://t.co/KqXuVl6UAV — Renu (@ray_nu_ka) September 1, 2018
Amazing to see the social media team of my hometown following the online banter and adding to it. Sense of humor is very important in such a serious profession. Salute to police for giving this task to you guys and gals — kunal vaidya (@kunal_vaidya) September 1, 2018



#Nagpur police being sarcastic on twitter. Though they have a point here 😬 https://t.co/qhf2Wuh5Y7


— Ankita Deshkar (@deshkar_ankita) September 1, 2018
I wish my police was this cool — ArcFactom (@arcfactom) September 1, 2018



This is such an in thing! The department is up to date with the technology and trends ! Awesome 👏🏻 @NetflixIndia must check out


— Gaurav Singh (@Gaur_ravrathi) September 1, 2018
Nailed it @NagpurPolice 😎 Thank you for your service 🙌🏻 — iAm@k$#@y (@IndiariseAks) September 2, 2018



Example of creative Police. Keep it up.


— Sam (@snehalafrica) August 31, 2018
pic.twitter.com/pEelqAcEvA — Vishal Solanki ツ (@ivishalsolanki) August 31, 2018



dont know who is taking care of this handle but you are amazing 😅😂nailed it totally 😎😎


— देव राजपुरोहित 👑 (@Devisinh) August 30, 2018
Read full article