Where are the Women? Twitter Asks After Yet Another All-Male Bollywood Delegation Meets PM Modi
Narendra Modi recently met with actors, directors and executives of the Indian film industry to discuss matters that are pertinent to the film and entertainment sector. Participants included Akshay Kumar and Karan Johar among others.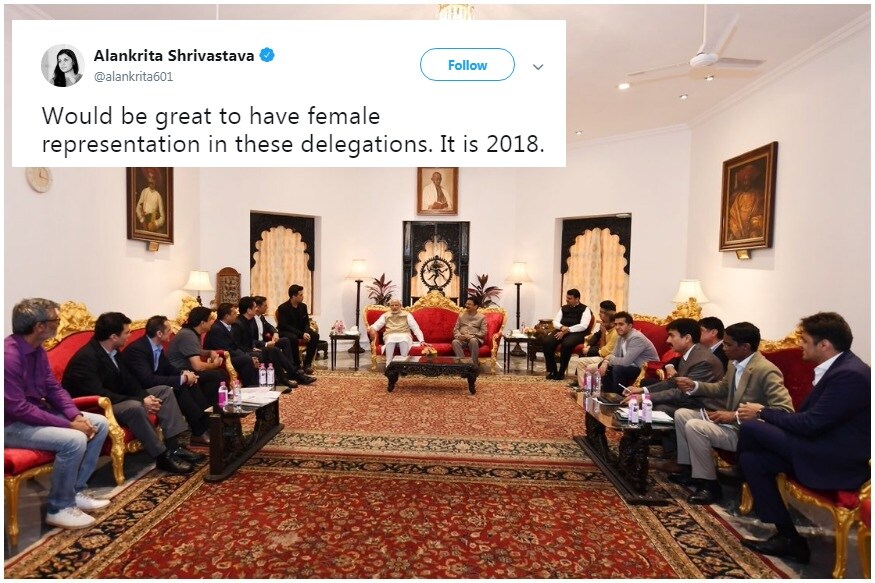 (Image Source: Twitter/@narendramodi)
Prime Minister Narendra Modi recently received flak on Twitter for meeting with an all-male delegation of producers and executives from the film industry. He shared a picture of the meeting on his Twitter handle and was instantly criticised for not having a single woman in the meeting.
Had an extensive and fruitful interaction with a delegation from the film and entertainment industry. The delegation spoke about the strides being made by the film and entertainment industry, and gave valuable inputs relating to GST for their sector.

https://t.co/ulQMtxTJQj pic.twitter.com/n4Dn38EJLr

— Narendra Modi (@narendramodi) December 18, 2018
In his post, the PM called the interaction "fruitful" and "extensive". He also said that the delegation spoke about the "strides being made by the film and entertainment industry. Actors such as Akshay Kumar were also part of the interaction. He even shared a post about the meet and thanked the PM for his presence and for discussing issues pertaining to the film industry.
Heartfelt thank you to the honorable Prime Minister @narendramodi ji for taking out time to hear us at length, discuss issues pertaining to our industry and assuring positive consideration of suggestions. pic.twitter.com/ShGfr0Jlvu

— Akshay Kumar (@akshaykumar) December 18, 2018
However, many such as filmmaker and writer Alankrita Srivastava, Saumya Baijjal and many others noted that no women were part of these discussions.
Where are the women?? Is female representation not a necessity? Seriously? Women create and contribute in this industry as much as men. And the truth is that we have it much harder in every field!! It's 2018 folks. #Gender #WhereAreAllTheWomen @narendramodi @akshaykumar https://t.co/S4RGH6IQqo

— Saumya Baijal (@saumyabaijal) December 19, 2018
Would be great to have female representation in these delegations. It is 2018. https://t.co/HoxGbptgwX

— Alankrita Shrivastava (@alankrita601) December 18, 2018
And there's NOT a single woman film-maker, director, writer, actress in this frame. The Boys still rule Bollywood. #bollywood https://t.co/2l3e1FjwYM

— Mistress of Vices (@cyclopsee) December 18, 2018
Where are the women of the industry? https://t.co/KGMcg8J2J9

— #MeTooIndia (@IndiaMeToo) December 19, 2018
And not one woman to represent the Indian film industry! #WhereAreAllTheWomen https://t.co/sEDnK6vOFY

— Sameera Khan (@samjourno123) December 18, 2018
Not even a single women in meeting. Is hindi film industry lead by male only ? Cc @ReallySwara

— md shaquib asfaque (@beingshaquib) December 18, 2018
.@akshaykumar @narendramodi so after all that lip service to #feminism you could not find even one woman to represent the film industry? https://t.co/TTSohe7MGv

— Ishmeet Nagpal (@IshmeetNagpal) December 19, 2018
A very sad moment for the women of India where the PM meets with a delegation of film industry where women are objectified but never a part of any delegation. Who curated the list of invitees? Shouldn't the person be questioned?

— Shalini (@Shalshandle) December 19, 2018
Goes on to tell the prevelsnt sexism in film industry. Our cabinet has a woman Defense minister, so spare your concerns for the gov, and look at the film industry. Which has a history of objectifying women by doing "gandi baat" from "9-12".

— Siddharth Dalmia (@Siddharth_DA) December 19, 2018
Members of the film fraternity such as director Nikhil Advani retweeted these tweets. Among those present in the meeting were Bhushan Kumar, Chairman and Managaing Director of T-Series, actor Ajay Devgn and directors Karan Johar, Vikas Sidhwani and others.
This is not the first time the PM has been criticised for holding meeting with all-male panels (or manels). A smaller delegation from the film industry itself had met the PM earlier in October. This group included Aamir Khan, Rajkumar Hirani, Siddharth Roy Kapoor and Ritesh Sidhwani among others.
What?! No women in this gathering? Entertainment industry has women as an intrinsic part of it. How do they dream of nation building without involving women in the process? Disappointing. https://t.co/bXRQjNm9ET

— N (@_morphiine_) October 26, 2018
however, some noted that it was not the PM's fault and that he could not be blamed for no women being present as he was not the one to choose the delegation.
Get the best of News18 delivered to your inbox - subscribe to News18 Daybreak. Follow News18.com on Twitter, Instagram, Facebook, Telegram, TikTok and on YouTube, and stay in the know with what's happening in the world around you – in real time.
Read full article