NASA Offers Help to 'Avengers' Fans After their Plea to Rescue Tony Stark From Space
Iron Man is stuck in the outer space and NASA has provided a helping hand.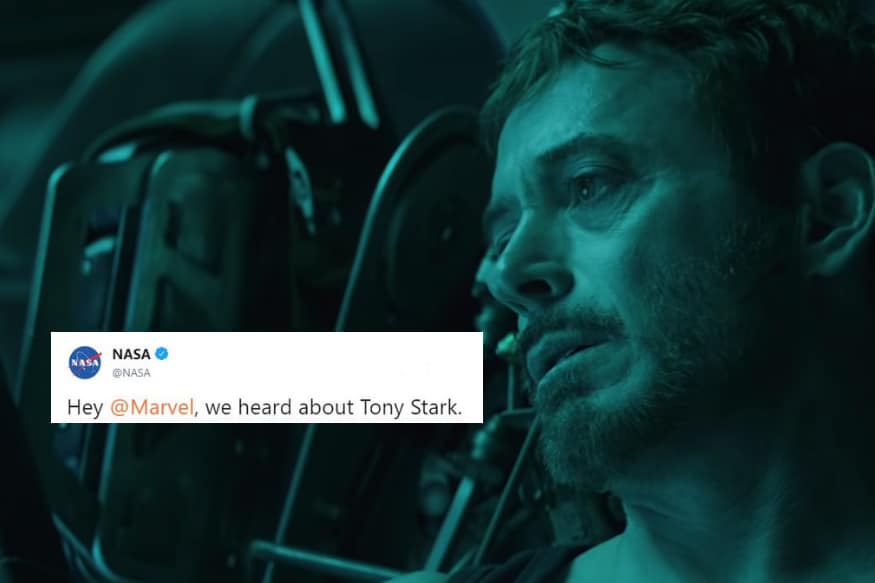 Image credits: Marvel Entertainment / YouTube
Expect geniuses at NASA to come to the rescue even when it involves a fictional character from a movie.
It's only been a few days since the first trailer for the much-awaited Avengers 4: Endgame released and fans have been pleading with The National Aeronautics and Space Administration (NASA) to bring their hero back to Earth.
In case you didn't get to watch the trailer, the last film Infinity Wars had ended on a cliffhanger like no other with Thanos killing 50 percent of humanity at random with the help of the Infinity Stones. Many Avengers too were killed.
The trailer starts off from where Infinity War ended. It begins with Tony Stark recording a message for Pepper Potts while he travels, seemingly through space, in a craft on which resources appear to be running out.
"Dear Miss Potts, if you find this recording don't feel bad about this, part of the journey is the end.
Just for the record being adrift in space with zero promise of rescue is more fun than it sounds.
Food and water ran out four days ago, oxygen will run out tomorrow morning and I mean it, when I drift off I will dream about you, it's always you."
Tony Stark's heartbreaking message has obviously left fans teary-eyed and, in an attempt to get their Iron Man back from oblivion, they have taken the case to NASA. After getting hounded by fans of the superhero franchise, the real-life space agency took to Twitter to offer some advice.
"Hey @Marvel, we heard about Tony Stark. As we know, the first thing you should do is listen in mission control for "@Avengers, we have a problem."
But since Iron Man doesn't seem to have a communication device, NASA suggested that the Avengers on earth use all their resources to scan the skies for the missing hero.
Hey @Marvel, we heard about Tony Stark. As we know, the first thing you should do is listen in mission control for "@Avengers, we have a problem." But if he can't communicate, then we recommend ground teams use all resources to scan the skies for your missing man pic.twitter.com/zavXrsPljq

— NASA (@NASA) December 9, 2018
Thanks to a sharp-eyed Twitter user, fans wonder if Thor could be a part of the rescue.
The THermal Operations and Resource (THOR) officer is truly one of Mission Control's mightiest heroes. They ensure the operation of multiple @Space_Station subsystems which collect, distribute & reject heat from critical equipment and payloads for the success of the mission

— NASA (@NASA) December 9, 2018
NASA's intervention comes days after helpless fans, who had watched the trailer, asked for their assistance.
dear @NASA, PLEASE please find Tony Stark that poor guy is floating somewhere up in space and is running out of oxygen. WE NEED YOUR HELP.

— (@Nahdizzle) December 9, 2018
what are u doing nasa Tony Stark's in space go save him he's dying. pic.twitter.com/Fr5073MCSI

— Bobert Duckey Jr (@juzahoneybunnie) December 9, 2018
Hello Mr @NASA can you please rescue Tony Stark he's stuck somewhere in outer space and his food and water supply ran out four days ago his oxygen levels are depleting WE DONT KNOW HOW LONG HE HAS BEFORE HE DRIFTS OFF PLEASE pic.twitter.com/nlsISwYAVK

— adie (@yeheypizza) December 9, 2018
@NASA please save Tony Stark pic.twitter.com/fjM9EIz2w4

— 砂日の出 (@HinodeSama) December 9, 2018
And people were over the moon after NASA listened to their pleas.
When I got a new phone I didn't even considering redownloading Twitter. Today, @NASA addresed to @Marvel about finding @Iron_Man and I knew I had to get twitter again just for this moment in 2018. I know im a nerd but im just keeping up with the time.

— Ralia Cortinas (@RaliaCortinas) December 9, 2018
How amazing is it when NASA Tweets @Marvel about Tony Stark lost in space! I ❤️ it! https://t.co/S6RSUzKhOW

— Julie Youngberg (@AnJewelsBrand) December 9, 2018
Avengers fans had even reached out to Elon Musk.
HEY @elonmusk Tony Stark is stranded and dying somewhere in space. NASA wont save him. Please can you?ps look out for a purple space daddy wearing a blinging glove

— Steve Thorner (@Draco_MalfoyII) December 9, 2018
And the good news is that even Musk is on board now.
Machete!!

— Elon Musk (@elonmusk) December 9, 2018
Here's the trailer, in case you missed it:
Get the best of News18 delivered to your inbox - subscribe to News18 Daybreak. Follow News18.com on Twitter, Instagram, Facebook, Telegram, TikTok and on YouTube, and stay in the know with what's happening in the world around you – in real time.
Read full article