Nauroz or Navreh? Priyanka Gandhi Trolled for Wishing Kashmiris on New Year
Many pointed out that 'Nauroz' was the Iranian New Year celebrated by Parsis across the world while the Kashmiri New Year is called 'Navreh'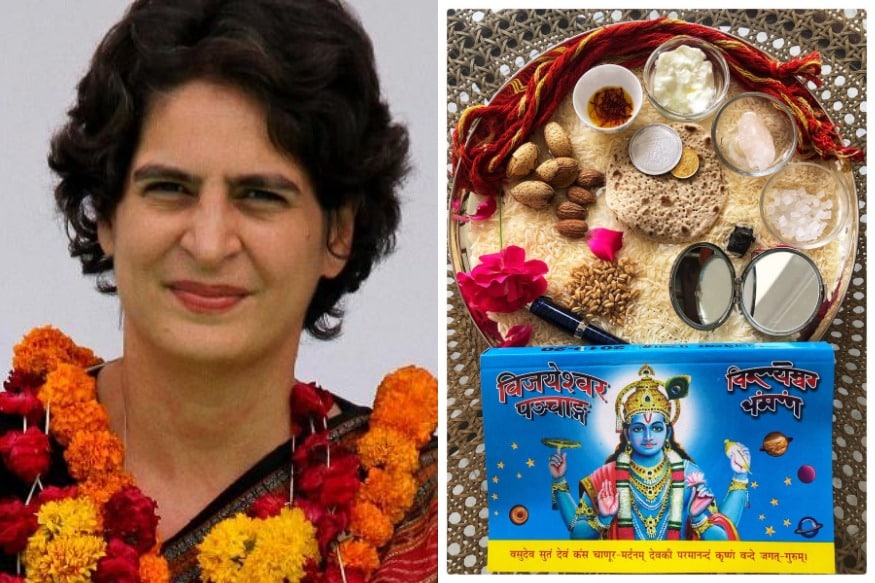 Priyanka Gandhi Vadra was severely trolled for her 'Nauroj Mubarak' tweet on the Kashmiri New Year's Day
Note: This article was first published on April 6 and has been updated after further inputs.
Ever since her formal entry into the Congress as the chief of UP East, Priyanka Gandhi Vadra has left no opportunity to woo and charm voters. Be it boat rides on the river Ganga or heartfelt tweets asking constituencies to "take care" of brother Rahul Gandhi, Priyanka has risen to every occasion with grace and effectiveness.
However, the Gandhi sibling has not had it easy, with her every move and act being minutely watched and critiqued by millions voters and political rivals, alike.
A similar incident took place on last Saturday, a day celebrated by Kashmiri Pandits' as the beginning of the New Year. To mark the festival, Gandhi, who has Kashmiri Pandit roots on her maternal great-grandfather's side (Jawaharlal Nehru's father Moti Lal Nehru was from the Kashmiri Pandit community) Gandhi wrote the following tweet:
Nauroz Mubarak to all my Kashmiri sisters and brothers!! Despite my mother's "don't forget to make the thali" messages, I had no time to make my thaali yesterday but came home after road show and found it placed on the dining table. How sweet are mom's? pic.twitter.com/Lix2hCVS8f

— Priyanka Gandhi Vadra (@priyankagandhi) April 6, 2019
The social media-savvy leader, who recently joined Twitter only to gather a over millions of followers within the first hour, reached out to her "Kashmiri sisters and brothers" with a sweet message about how her mother fixed her "Thali", a patent component of the Kashmiri New Year's Day.
However, as soon as the tweet saw light of day, Gandhi was hounded by trolls for making a "mistake". Many on Twitter "corrected" Gandhi, telling her that it was not "Nauroz" but "Navreh".
Nauroz is the name of the Iranian New Year celebrated by Parsis across the world. It was observed by Parsis on March 21.
Though she got the custom right - Navreh does include making "Thalis" (dishes full of assorted food items) that are supposed to be kept overnight so that they are the first thing one sees upon waking in the new year's morning — many including those from the Kashmiri Pandit community as well as others pointed out that she seemed to have made an "ignorant" mistake
To be fair, a similar custom is followed during the celebration of the Parsi "Nauroz" and Priyanka herself is also part Parsi on her paternal grandfather's (Feroz Gandhi) side. But social media was not as forgiving, especially so close to the Lok Sabha 2019 elections, where netizens and opposition members have their hawk eyes constantly trained on every move by any politician or party.
Dear @PriyankaGandhi, 'Nauroz' was celebrated last month. The Kashmiri new year's day being celebrated today is 'Navreh'. https://t.co/DDEUMxUkkU

— Tarek Fatah (@TarekFatah) April 6, 2019
Your Grandfather Late Mr Firoz Jahangir Ghandywas a ParsiYour Great Grandfather Late Mr Jawahar Lal Nehru (creator of the universe) was a Kasmiri Pundit and you don't know the difference between Nauroz and NaurehPlease get some common sense and brain first

— Pavan (@Pavan99552375) April 6, 2019
It's NAVREH not NAVROZ...Plz stop cracking jokes as u will never b Kashmiri Pandit.

— Suraj Raina #KP4Modi (@surajraina001) April 6, 2019
Hey Ignorant lady ,isn't Nauroz a Parsi new year ??Btw it's Navreh today (Kashmiri Hindu New Year ) https://t.co/H2bXFmGwMZ

— The Notorious B.E.E (@chatpataka100) April 6, 2019
Lol. Nauroz was half a month Ago and is celebrated by Parsis. You're confusing it with Navreh. #fail

— V (@vkmonx) April 6, 2019
This is what happens when you pretend to be what you are not . She doesn't understand the difference between nauroz and Navreh. My new year started with this joke. Huh ! https://t.co/UJCIl6D1oc

— Rakesh Roshan Bhat (@RakeshRoshanBh1) April 6, 2019
Better Correct it mam.As Nauroz is Iranian New year and has already gone.We kashmiri pandits call it NAVREH celebrated on first day of fortnight of month Chaitra.Still Thanks for wishes.

— Ashish Raina (@ashraina1) April 6, 2019
However, it seems that trolls were too quick to dismiss Gandhi's tweet as a number of Kashmiri Pandits eventually said that it was fine for Gandhi to tweet 'Nauroj Mubarak' on Navreh.
"See the correct name is Navreh which is mostly used. But Kashmiri Pandits who migrated out of Kashmir more than 100 years ago use 'Navroz'. As you would know, Navroz is also the Persian New Year. Hence the controversy and debate," journalist Aditya Raj Kaul, who is a Kashmiri Pandit, told News18.
"I would say she used a term which she would have heard and been told my her family etc. But if it's correct or incorrect is debatable," he added.
Vilas Bambroo, a Kashmiri Pandit who migrated along with his family in the 90s and settled in Indore, added further perspective. "Some refer to the the nine-day period that starts on the day of Navre and 'Nauroz'. It's kind of like Nav Ratri in North India. It's also common for migrant Kashmiris to refer to it in that way," Bambroo said.
A similar point was made by yet another Kashmiri Pandit and former judge Markandey Katju, who wrote started his Facebook post on the day of the festival with "Navroz - Today is Navroz or Navreh for Kashmiri Pandits".
But not all agreed. Amit Raina, who works with Roots in Kashmir, a Kashimiri Pandit youth organisation, said that the Kashmiri New Year was called Navre, not Nauroj. "Nauroj is the Iraninan New Year, Navre is the Kashmiri Hindu one," he told News18.com over the phone, adding that it was incorrect on Priyanka's part to call it 'Nauroj', at least from the perspective of Kashmiris. "Maybe for the Nehru family, the two things could be similar due to Feroze Gandhi's Parsi heritage. But to Kashmiri Pandits, it is definitely not the same."
Sanjay Tickoo, the president of Kashmiri Pandit Sangharsh Samiti (KPSS), an organisation that looks after the affairs of the Pandits who remain in Kashmir, was more reflective. "Does it even matter? Yes, to Kashmiris living the valley, it is Navreh. some Kashmiri migrants who moved out long ago might as well call in Nauroj," Tickoo said.
These controversies are inane, Tickoo added, stating that the problems faced by the remaining Kashmiri Pandit families, or the issues that remain in the state of Jammu & Kashmir, will not be solved by such issues. "It's a non-issue, it doesn't matter to us here what she said," Tickoo said.
An investigation into the matter conducted by AltNews, also found that several Kashmiri-Pandit organisations and associations in North India regularly used 'Nauroz' to refer to Navre in newsletters, articles and events.
It also looked through letters exchanged between Jawaharlal Nehru and his daughter Indira Gandhi, which contain several references of "Nauroz", meaning that a festival by that name was observed in the Gandhi family for years and it was possible that they had adapted to the alternate usage of word to signify Navreh.
Get the best of News18 delivered to your inbox - subscribe to News18 Daybreak. Follow News18.com on Twitter, Instagram, Facebook, Telegram, TikTok and on YouTube, and stay in the know with what's happening in the world around you – in real time.
Read full article