Netflix India Cannot Stop Gushing Over Radhika Apte. Here's Proof.
A beautiful love story.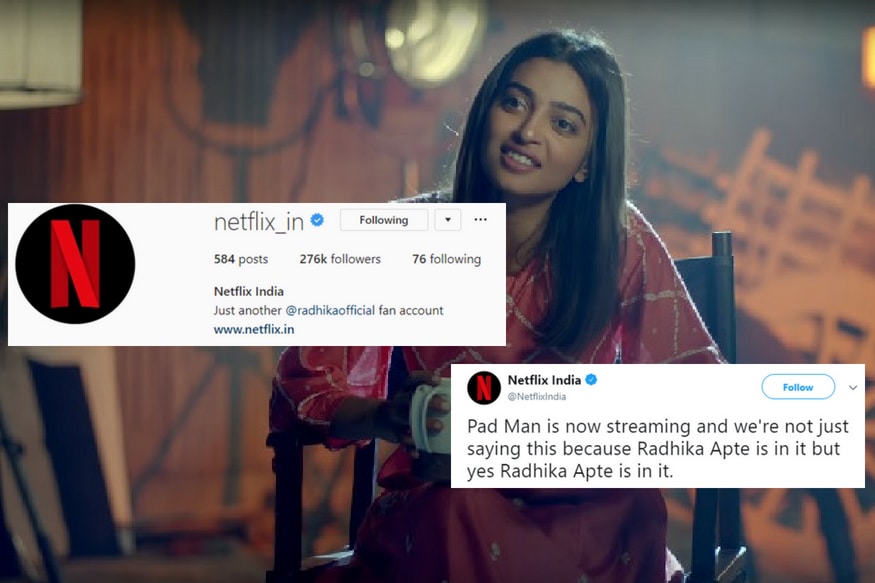 Image credits: Netflix India
Netflix has been subject to social media trolling in the recent times for having "too much" of Radhika Apte in its originals but that isn't stopping it from obsessing over the actress.
With three releases this year -- Kalindi in Lust Stories, Anjali Mathur in Sacred Games, and Nida Rahim in Ghoul, Apte has become a regular fixture on the online streaming giant Netflix.
However, Netflix cannot stop gushing over the Padman actress. Yes, the biographical-drama film that revolves around awareness on menstrual hygiene is streaming on Netflix and Apte got a special mention in a tweet on Tuesday.
"Pad Man is now streaming and we're not just saying this because Radhika Apte is in it but yes Radhika Apte is in it," wrote the official Twitter account of Netflix India.
Pad Man is now streaming and we're not just saying this because Radhika Apte is in it but yes Radhika Apte is in it.

— Netflix India (@NetflixIndia) August 28, 2018
Of course, the streaming platform didn't stop there. Netflix India also decided to tweak its Instagram bio and express its love to their go-to actress.

Its recent post on Instagram just goes on to prove how hard Netflix is crushing on Apte. "We had a crush so intense, we wrote her multiple letters. #TATBILB"
Earlier, memes and jokes were made at the expense of Netflix and Apte for her frequent appearances and her seemingly 'similar' expressions in the roles she has portrayed in the recent times.
*Netflix office*

Director : we have to cast Nawazuddin Siddiqui

Producer : book his dates

Director : and Radhika Apte

Producer : we have booked her years

— Pakchikpak Raja Babu (@HaramiParindey) August 27, 2018
Netflix using Radhika Apte. pic.twitter.com/fzBSGU15vc

— SAGAR (@sagarcasm) August 27, 2018
When you open Netflix. pic.twitter.com/PrHbsidvKM

— Mask ishan (@Mr_LoLwa) August 27, 2018
radhika apte behaves like we're all collectively responsible for her breakup

— shooti (@shrutithenaik) July 6, 2018
Radhika Apte always has the expression of a person whose phone was recently stolen.

— Shakti Shetty (@Shakti_Shetty) July 8, 2018
In response to these memes, Netflix India released a satirical video Omnipresent on Monday which showed Radhika Apte mocking Radhika Apte.
"Vid calls me one day and says that Radhika what if you play every character in this film. That got my attention. Because that is a challenge I cannot turn down," Apte says. From playing a repressed villager to a virtuous social activist to a corporate oppressor, Apte is seen playing every character in the fictitious movie.
Whatever the role, Radhika apt hai. pic.twitter.com/H5vAI81qMG

— Netflix India (@NetflixIndia) August 27, 2018
Netflix India later blessed us with a poster of the Radflix Original Film.
Get the best of News18 delivered to your inbox - subscribe to News18 Daybreak. Follow News18.com on Twitter, Instagram, Facebook, Telegram, TikTok and on YouTube, and stay in the know with what's happening in the world around you – in real time.
Read full article