Netflix Moves on from Radhika Apte, Comes Up With a Hilarious Meme on Teacher's Day
Is Radhika not apt enough, Netflix?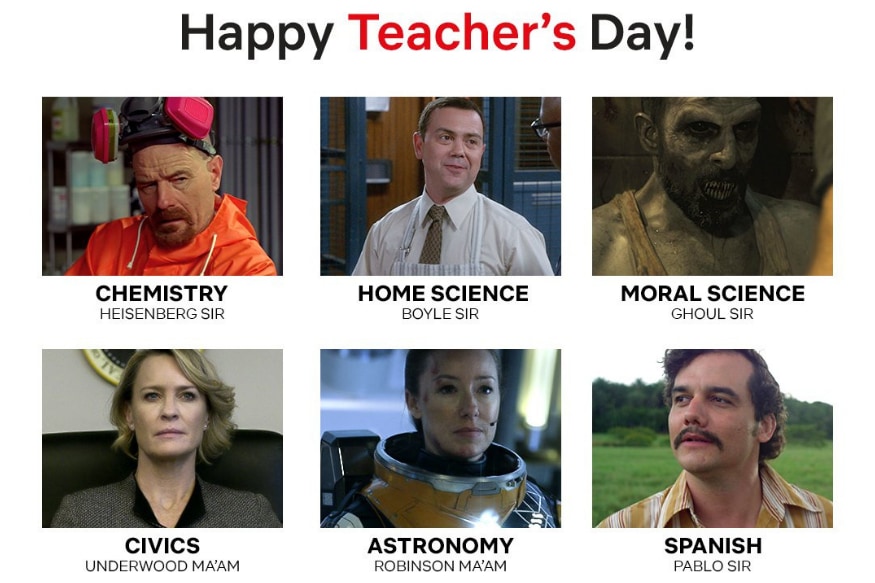 (Image: Twitter/@NetflixIndia)
The memory of singing 'Goooood morninnnngg, teacher!' in perfect synchronisation brings a bright smile on all of our faces, reminding us of the good ol' days and the joy that they brought to us.
Since it's Teacher's Day today, the internet is flooded with #TeachersDay messages on social media, with users either wishing their favourite teachers or reminiscing about them.
Netflix of course does not follow the regular tradition. So to celebrate the occasion in its own quirky way, Netflix came up with a meme, and no, for once it does not have Radhika Apte in it.
"Good moooorning teacher." pic.twitter.com/alfefR7sFN

— Netflix India (@NetflixIndia) September 5, 2018
The meme includes (Walter White) Professor Heisenberg from Breaking Bad who teaches chemistry, (Detective Charles) Boyle sir from Brooklyn Ninety Nine for Home Science, Ghoul sir from Ghoul for Moral Science, (Claire) Underwood ma'am from House of Cards for teaching Civics, (Maureen) Robinson from Lost in Space. The meme also includes Pablo (Escobar) sir from Narcos for teaching Spanish, Rick sir from Rick and Morty for Quantum Physics, Kanta Bai ma'am from Sacred Games for Business Studies, and Lara Jean ma'am from To All The Boys I've Loved Before for English.
The internet of course would not let Netflix win so easily. Some came up with their own improved versions of Netflix's film. FINALLY. THANK YOU!!!  
Good Morning Netflix pic.twitter.com/mHHuieMCvF — RoflGujju_ (@RoflGujju_) September 5, 2018
And of course Netflix isn't over Radhika Apte.
BRB applying to this school.

— Netflix India (@NetflixIndia) September 5, 2018
And, sports by Parulkar sir. PS: Cricket to be precise! 😂 pic.twitter.com/IFfO39dZtn — Sohan Bhat (@sohan_ub19) September 5, 2018
Hey Netflix, How about Prodigal science? pic.twitter.com/LsVwX8difD

— Prayag Tripathi (@prayagtrip) September 5, 2018
I would have topped my 10th board if I had these teachers back then ..😂😂😂 — Little Saffron Bird (@lilsaffronbird) September 5, 2018
Biology teacher. pic.twitter.com/CoypAM4Fwn

— Gaurab Chakrabarty (@grbchk) September 5, 2018
DUH
Radhika apte can perform all these characters now.. — $uDh¡R 🌟 (@Sudhir0306) September 5, 2018
Happy Teacher's Day Trivediji

Thank you Gyan chodne ke liye

- Ganesh Gaitonde pic.twitter.com/JQ3MXJ2zrO

— Kunal Trivedi (@KayTee_speaks) September 5, 2018
YAAAAS
Principal of the school? Radhika Apte Ma'am. — Garg Ankit (@graciousgarg) September 5, 2018
EVERYONE WANTS TO KNOW THIS, NETFLIX
But why Gaitonde is not here? He's omnipresent (सर्वशक्तिमान, अपन ही भगवान) he can teach all the subjects 😎

— AYAAN (@4u_ayaan) September 5, 2018
You forgot philosophy teacher, Mr. Gaitonde.@NetflixIndia 😂 — Tejan Gupta (@superlazymutant) September 5, 2018
Get the best of News18 delivered to your inbox - subscribe to News18 Daybreak. Follow News18.com on Twitter, Instagram, Facebook, Telegram, TikTok and on YouTube, and stay in the know with what's happening in the world around you – in real time.
Read full article