Netflix Will be Playing Ads While You're Binge-Watching and the Internet Has Lost its Chill
'You have become the very thing you swore to destroy.'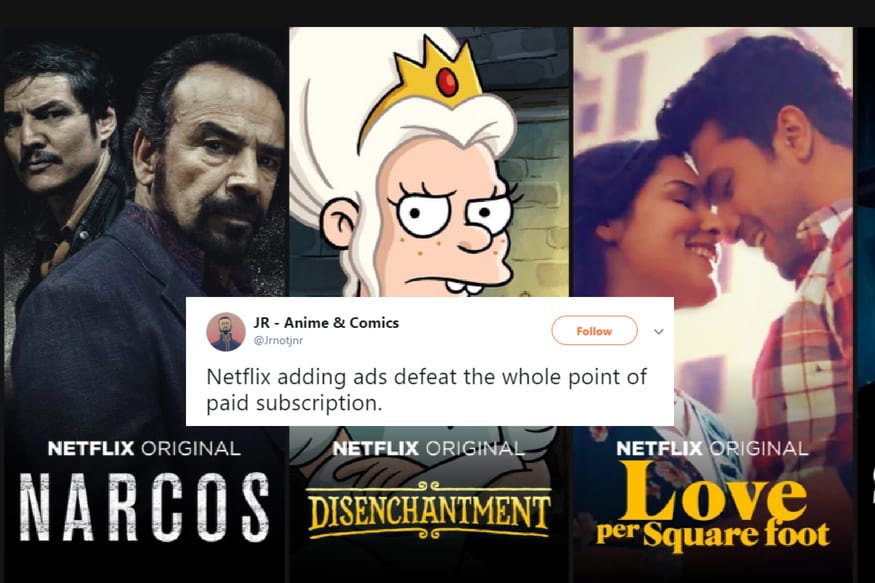 Image credits: Netflix
Yes, you'll now be spammed with that annoying ad while you binge-watch your favourite show on Netflix.
According to Ars Technica, the online streaming giant confirmed that it is, in fact, testing out a new video ad feature for select users for its original shows and movies. And, unfortunately, these promo videos are going to play while you're completely immersed in your screens.
"We are testing whether surfacing recommendations between episodes helps members discover stories they will enjoy faster," Netflix said.
To no one's surprise, the feature has left Netflix subscribers, especially the ones personally interrupted by the video promos, raging in anger.
"We're already paying for their service, so it's absolutely appalling that they're trying to slip commercials in. If I wanted commercials, I'd just get cable!," wrote one Twitter user.
"I was already watching netflix, why would I need convincing to watch Netflix? What is next? Cancel a show when someone actually stops a bingewatch for this shit?" wrote another.
Why is netflix trying to show me trailers in between episodes? 😫 pic.twitter.com/JYhOUWJ8iM

— Pilot Jones (@TeeNicki) August 19, 2018
When you see Netflix is starting to roll out ads in between episodes pic.twitter.com/NAgrKmSir7

— Beta Salmon (@TheBetaSalmon) August 20, 2018
The point of me watching shows on Netflix is so that I can watch ten thousand episodes of shows uninterrupted. These trailers playing in between episodes are really just killing it for me. I hate it.

— Breanna (@BreannaNikole12) August 18, 2018
Hey @netflix I really don't need to see the same trailer over and over again between every single episode. In fact I would prefer to just go to the next episode

— Why Is That Podcast (@WhyIsThatPod) August 19, 2018
Netflix adding ads defeat the whole point of paid subscription.

— JR - Anime & Comics (@Jrnotjnr) August 18, 2018
I have no problem cancelling Netflix. I killed my cable long ago to get away from ads. If I am forced to watch ads I will just stick with dvds vhs reading books and listening to music. Life can be simple. Terminating all tv ain't that difficult.

— Aljosephx (@oneconsciousman) August 20, 2018
Irked users who spotted the feature took to Reddit to vent their anger.
"Free service with ads, or paid service without. Pick one, or get cut like cable," wrote one user. "This just happened to me as well for the show I am a killer. I was watching Bob's burgers. What the f**k, Netflix," wrote another.
However, the customers can chill as these ads are skippable and the feature isn't permanent yet.
"We are testing whether surfacing recommendations between episodes helps members discover stories they will enjoy faster," Netflix told Verge.
The company also said that the testing is limited to a segment of people and to see if the feature benefits them before eventually rolling it out for all.
But if you are that unlucky subscriber who has been chosen to be spammed with trailers, you can still opt out of the feature by trying the step posted by this Twitter user.
‼️‼️‼️‼️To my pals who use Netflix:

They're trying introducing ads (commercials for other Netflix shows) between episodes, and will likely keep them if users interact with them.

If you disagree with this, go https://t.co/OQqFsZLTrT to opt out.

— Drea 💪🌱 (@DreaTheRobot) August 18, 2018
Read full article
Countdown To
Elections Results
To Assembly Elections 2018 Results