Neymar's New Batman and Spiderman Tattoos Have Caught Twitter's Attention
Batman, spiderman... Neyman?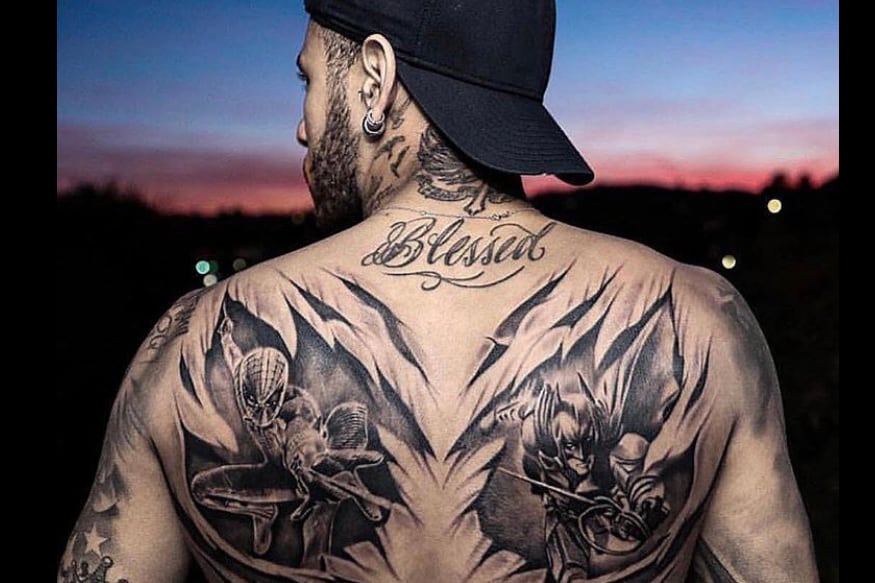 Batman, spiderman... Neyman?
Brazilian footballer Neymar da Silva Santos Júnior, commonly known as Neymar Jr. or simply Neymar, has always been a fan favorite.
The 26-year old, who plays as a forward for French club Paris Saint-Germain and the Brazil national team, is hailed as a star by many, and people liken him to a superhero all the time.
A recent tattoo reveal by the footballer shows how the fan theories may not be far off.
In an Instagram post shared by the tattoo parlour, the football star showed off his back tattoo - of Batman and Spiderman. In a V-shaped formation, Neymar has Spiderman and Batman tattooed on either side of the V.
The particular artwork version of the characters he picked is also significant - the Spiderman is from the original Spiderman trilogy, and the Batman is from
The Dark Knight Rises
, which are also arguably fan favorites.
However, this is a very obvious Marvel x DC crossover, which fans do not usually approve of. Twitter has been abuzz with reactions since the reveal.
Can't believe Neymar even considered getting DC related tattoo I mean the Spider-Man one is amazing tho

— Lea (@McuRodriguez) October 24, 2018
Neymar got giant tattoo of Spider-Man and Batman on his back. Told y'all them the top 2 super heroes of all time ‍♂️

— Reese (@swervepacino) October 23, 2018
No way did Neymar get a Spider-Man and Batman tattoo on his back. Wow.

— DANNYƎL (@DannyelRMCF) October 23, 2018
Neymar you crazy boy pic.twitter.com/PbVqmr4Tbv

— BR/ NJ (@brazil_legend) October 23, 2018
Batman
Spiderman
NeymaN ⚽#Neymar #Tattoo #Inkjob pic.twitter.com/X6BDCkdaWL

— gazzetta.gr (@gazzetta_gr) October 24, 2018
Neymar's day

Training ✔
Make a big ass tattoo in the back✔
Take photo like a gangster ✔
Sipping tea and watch movie before sleep ✔

He's so strange I love it pic.twitter.com/PgwOLsoxwR

— BR/ NJ (@brazil_legend) October 23, 2018
Neymar wanted to score a hat-trick against Napoli and remove his shirt to showoff his new tattoo.
Result : Napoli 2 Goals - 2 Tattoo Neymar.

— Murali SB (@iMuraliSB) October 25, 2018
When you realise that Neymar's Spider-Man tattoo is that of the Andrew Garfield Spider-Man pic.twitter.com/2XSTT4S95A

— George Aldridge (@aldridge96_afc) October 24, 2018
my heartfelt congratulations to Neymar, a grown adult, who has recently shown off his new Batman and Spiderman tattoos

— ཊལབསརངཧ (@David_Rudnick) October 25, 2018
Neymar's new back tattoos are dope.

— Alessandro Marotto (@AMarotto05) October 23, 2018
Neymar's new tattoo

— Supri (@SupriyaKaur) October 24, 2018
Not all the response has been positive though.
Disappointed but not surprised by Neymar's tattoo pic.twitter.com/jbDIgkTX8A

— liv (@BEYF0UR) October 23, 2018
Earlier in September, Neymar had also shared his love for comic books by sharing the first issue of his own comic.
Dream come true !
Get the first issue of Inked at https://t.co/dvdnq0kdR7 pic.twitter.com/Wj4DAltR2Q

— Neymar Jr (@neymarjr) September 12, 2018
Neymar has just shown off his Batman tattoo. How did he get it? Didn't he fall on the floor of the parlour, writhing, the moment the tattoo artist touched him?

— Budhaditya Roy (@budhadityaroy) October 25, 2018
Read full article
Countdown To
Elections Results
To Assembly Elections 2018 Results