'Nobody Molested Her': Poonam Pandey Relentlessly Trolled after FIR Against Husband Sam Bombay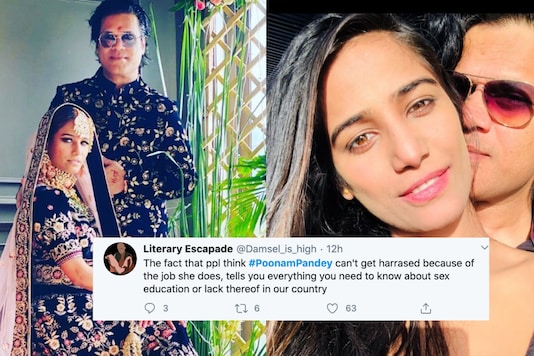 Poonam Pandey and Sam Bombay had been married for 13 days | Image credit: Twitter
On Wednesday, Poonam Pandey started trending on Twitter with many attacking her for allegedly faking the FIR in order to extort money out of her newly-wed husband Sam Bombay.
Last Updated: September 23, 2020, 14:05 IST
FOLLOW US ON:
In a shocking incident, Bollywood actor Poonam Pandey filed an FIR against her husband Sam Bombay for molestation and assault. Pandey, 29, who was shooting for a film in Goa, filed a complaint claiming he had molested, threatened and assaulted her. The incident occurred in South Goa's Canacona village, just 13 days after the actress tied the knot with Bombay.
Bombay is a Bollywood producer, editor and director, became viral after Pandey announced that the duo was dating. Recently, the duo got married in a hush-hush ceremony on September 1 and shared the announcements on social media.
The police FIR by Pandey against Bombay has nevertheless led to a stream of sexist and misogynistic comments against Pandey, who has often been in the eye of controversy for her comments.
On Wednesday, Poonam Pandey started trending on Twitter with many attacking her for allegedly faking the FIR in order to get extort money out of Bombay. Even though Canacona Police confirmed that Pandey had been subjected to mandatory medical tests at the time of filing the FIR against Bombay, many alleged that the model and actress was indeed lying.
Despite being an alleged assault survivor, many accused Pandey of falsely using Section 498(a) of the Indian Penal Code which punishes a husband or relative for cruelty toward a woman. Pandey, who is known for her "bold" photoshoots, became an easy target for misogynistic bile.
The incident brought back and older debate about the rights and consent of married women in India when it comes to their husbands. Incidentally, marital rape is still not a recognised criminal offence in India despite repeated calls for the same.
Yet others made crass memes and jokes.
Some, however, came out in support of the actress.
Pandey, who shot to fame in 2012 after she promised to strip in Wankhede Stadium if Indian won the cricket World Cup, has not issued any official statement about the matter. Nevertheless, the relentless trolling of a woman who filed an FIR after allegedly getting assaulted and molested shows the collective degeneracy of most Indians, both men and women. Even before the police or a court of law could prove or refute Pandey's claims, social media trolls have already started acting as judge, jury and executioner.
Next Story