Not Everyone's Going 'Balle Balle' To Justin Trudeau's Impromptu Bhangra
Trudeau's dance moves have got people talking.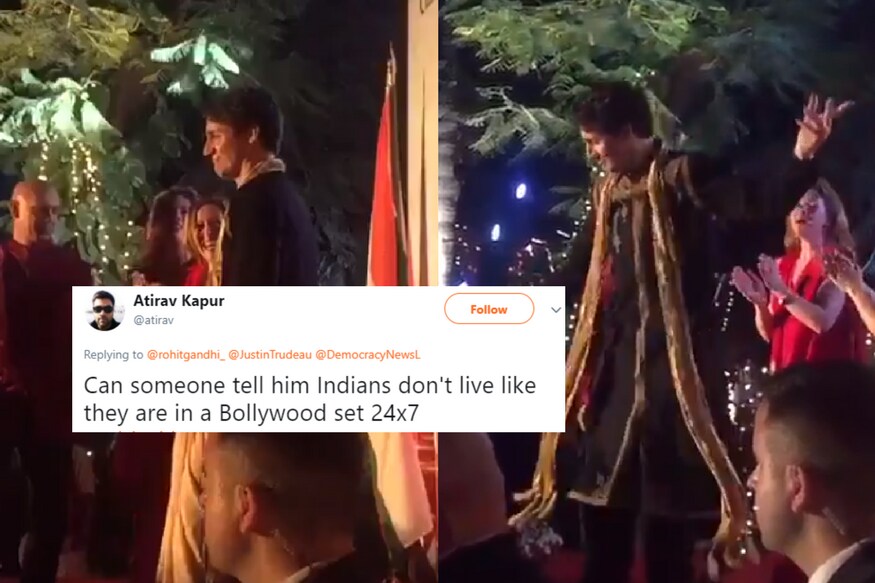 Photo credits: @rohitgandhi_ | Twitter
46-year-old Canadian Prime Minister Justin Trudeau who is on a week-long visit to India accompanied by his wife Sophie Gregoire and their three children has checked all the to-do desi things on his list.
From posing in front of the Taj Mahal to rubbing shoulders with Bollywood celebrities to playing cricket with legend Kapil Dev to wearing glittering sherwanis--Trudeau has done it all.
On Thursday evening, dressed in a black sherwani (who would have guessed it), Trudeau broke into impromptu Bhangra while dancing to the beats of dhol , as he stepped on the stage at Canada House in Delhi.
The video of his bhangra moves was uploaded on Twitter which soon went viral.
Canadian PM @JustinTrudeau makes an entrance at the Canada house in New Delhi. Truly in the spirit of India. @DemocracyNewsL pic.twitter.com/ph19O7ysB4

— Rohit Gandhi (@rohitgandhi_) February 22, 2018
While there were some who appreciated Trudeau's dancing skills and his on-stage charm.
It's official, I think we should keep him. You can take ours https://t.co/sGs5kUyoRN — Jairaj Singh (@JairajSinghR) February 22, 2018
Damn, those are pretty awesome bhangra moves. Not easy to do. https://t.co/ic9jbd6EBK

— Krishan Partap Singh (@RaisinaSeries) February 22, 2018
This is the Spirit of Multiculturism which was introduced by his dad Pierre Elliot Trudeau. Canada is a country at peace with itself and with the world around. One of the world's top ten democracies — Ajay Singh (@APS080) February 22, 2018
Many others came out criticising Trudeau for his Indian trip. Especially, the folks from his country. "His cultural appropriation and embarrassing behaviour is making us all cringe so hard," wrote one Twitter user.
Please Please Please India keep him

— jacquie (@jacquie_1959) February 22, 2018
Can someone tell him Indians don't live like they are in a Bollywood set 24x7 @vidurkhanna — Atirav Kapur (@atirav) February 22, 2018
Speaking on behalf of all Canadians, I am SO sorry for his behaviour on his vacation. His cultural appropriation and embarrassing behaviour is making us all cringe so hard.

We're very sorry.@CFRASnow @AndrewScheer @theJagmeetSingh

— Marek Tymowski (@MarkTymowski) February 22, 2018
‍♂️ This isn't multiculturalism. It's a desire to be popular like a rockstar. It's the equivalent of Modi breakdancing on his trip to Canada. Trust me, not everybody loves this guy. — Ashish Anand (@ashishanand) February 22, 2018
Are you serious @JustinTrudeau? Are you trying to get a feature role in a Bollywood film?

— Don Jacyshyn (@djacyshyn) February 22, 2018
Stop embarrassing pic.twitter.com/Quv77rbnex — Working Canadian (@Travellincanuck) February 22, 2018
I can't believe my taxes are paying for this business tri...er, vacation. 8 days with the family with one short meeting. He or the Liberal party must pay for the other seven non-work days.

— Randy Huard (@HuardRandy) February 22, 2018
*Moonwalks outta here*
Get the best of News18 delivered to your inbox - subscribe to News18 Daybreak. Follow News18.com on Twitter, Instagram, Facebook, Telegram, TikTok and on YouTube, and stay in the know with what's happening in the world around you – in real time.
Read full article