CBFC (Central Board of Film Certification) came into existence only to certify movies in India. But who would have thought that the board would take upon itself to "purify" all movies even if they weren't from India? Well, that's exactly what has happened.
The board is often criticised for its conservative outlook-- they had a problem with the word 'intercourse', and  'cow', they refused to certify 'Lipstick Under My Burkha' for various reasons that included "women's fantasies", and even released a list of words that were banned.
The list is endless.
Now, record-breaking superhero flick Black Panther has become our CBFC's latest victim.

A reference to Lord Hanuman, that Marvel had specifically planted to please Indian fans, was reportedly removed from the movie.
In one of the scenes, M'Baku, leader of a tribe called "Jabari" made a reference to Lord Hanuman and said "Glory to Hanuman", reported The Quint.
Much to the disappointment of the Indian fans, the word "Hanuman" was bleeped out by the CBFC.
Many fans believe that it was done to avoid "hurting sentiments" (never heard that before ever) because the "Jabari" tribe is known for worshipping the gorilla god and the gorilla god has been called "Man-Ape" in the comics, the report further states.
The much amused movie fans who noticed the *beep* took to Twitter.

Needless to say, the scene from Black Panther wasn't the only one that our sanskaari censor board couldn't digest.
1) The Hateful Eight (2015)
Quentin Tarantino's "ultra-violent" flick The Hateful Eight was recommended several cuts before it finally hit the Indian theaters.
A total of 1.34 minutes was slashed from the original movie. The cuts included muting of words such as "bitch", "son of a bitch", "whore", "mothefucker" wherever it occurred. Not just that, the visuals of blowjob were deleted. CBFC couldn't stand the vomitting scenes and visuals of chopping of hands were reduced by 50%. To rub salt on wounds, the censor board added two minutes of anti-smoking disclaimers throughout the film. Here's the entire list of cuts.
2) Deadpool (2016)
Deadpool, the superhero, had all the tricks up his sleeves but saving his movie from 7 cuts in Indian release wasn't one of them.
According to a TOI report, reference to male and female reproductive organs were removed. To ensure minimal nudity, a scene at a strip club was modified. A lovemaking scene was chopped, and the Censor Board also disapproved a poster in which a lady had been shown touching her private part. Speaking to DNA, the then board chief Pahlaj Nihalani justified the cuts that were made. "We have made very general cuts. If you look at what has happened to Deadpool in China, it was apparently banned because any number of cuts was seen to hamper the storyline of the film. I can assure you the cuts we've requested in no way affect the storytelling."
3) Spectre (2015)
Ardent fans of James Bond faced a setback when the Censor Board chopped scenes from 2015 release Spectre.
The film cleared by the Censor Board with a 'UA' certification underwent four changes including both verbal and visual. The visual cuts... you guessed it... included kissing sequences between Daniel Craig and the leading ladies Monica Belluci and Lea Seydoux. The cuts caused an uproar on Twitter and the upset fans gave us our very own #SanskariJamesBond.
4) Blade Runner 2049 (2017)

When the controversial censor board chief Pahlaj Nihalani's tenure came to an abrupt end, there was a new ray of hope for the Indians.
However, Nihalani's replacement noted lyricist Prasoon Joshi, carried on his legacy.
In 2017, CBFC ordered that scenes showing nudity, even if generated through computer graphics, be cut from sci-fi Blade Runner 2049.
The nude characters were robots. ROBOTS.
"Blade Runner 2049 is a futuristic saga where women are shown to be created through artificial intelligence. They can't be shown with clothes on," a source told DNA.
The argument fell on deaf ears as CBFC insisted that nudity wouldn't be allowed in any form, even if generated through computers and didn't involve a human being.
5) Baywatch (2017)

When the news of Priyanka Chopra's Hollywood debut Baywatch broke out, the fans were worried about how would Central Board of Film Certification react and what cuts it would demand.
The film was finally cleared with an 'A' certificate with a total of 5 cuts.
After much discussion over the beachside skin-show in the film, CBFC decided to give it a go ahead with four verbal and one visual cuts and to everyone's amusement, not a single beachwear shot was cut.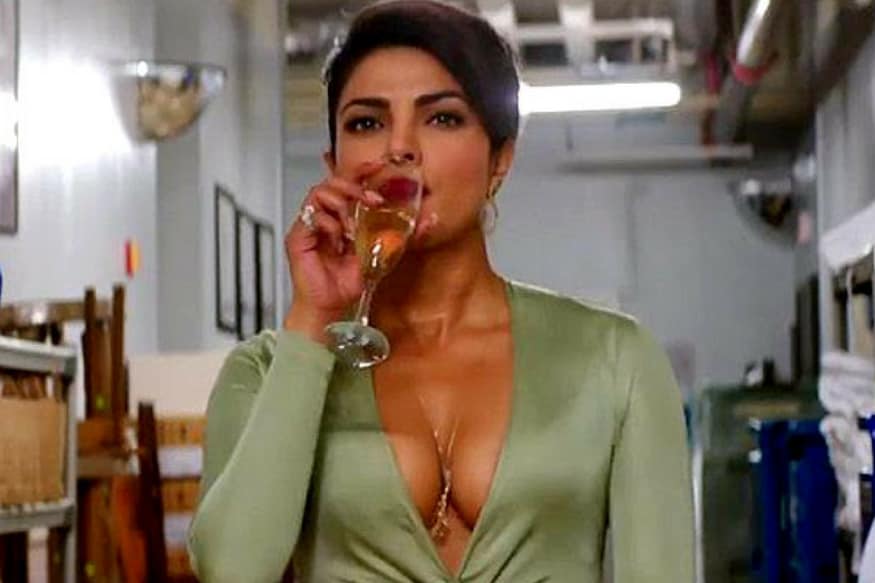 According to a report in DNA, Pahlaj Nihalani, the then chairperson of CBFC, was quoted as saying, "There was no rationale to cut the bikini images. For one, the series ran on satellite television in India for years and contained lengthy shots of women in bikinis. Secondly, Indian filmmakers really need to stop making such a big issue about bikinis."
"Go to Goa or Mauritius. The beaches are carpeted with women in bikinis. What is the big deal about such shots?," he asked.
He further mentioned that what CBFC had to work upon were the cuss words and filthy language.
"Baywatch is crammed with cuss words and filthy language. We deleted portions where we thought the smutty language was unnecessary. But we've allowed the bad language in several dialogues because we felt cutting them took away from the flavour and intention of the words."
"I'd like to stress that we've given an 'A' certificate, not just for the bikinis, but for the strong language as well," he added.
While there a bunch of Hollywood movies that didn't even get to see the theatres in India after CBFC imposed a complete ban on them. Let's not even get there.