NYT Journalist Shares Candid Image a Year After Harvey Weinstein was Accused of Sexual Harassment
It has been a year since the Harvey Weinstein accusations came to light.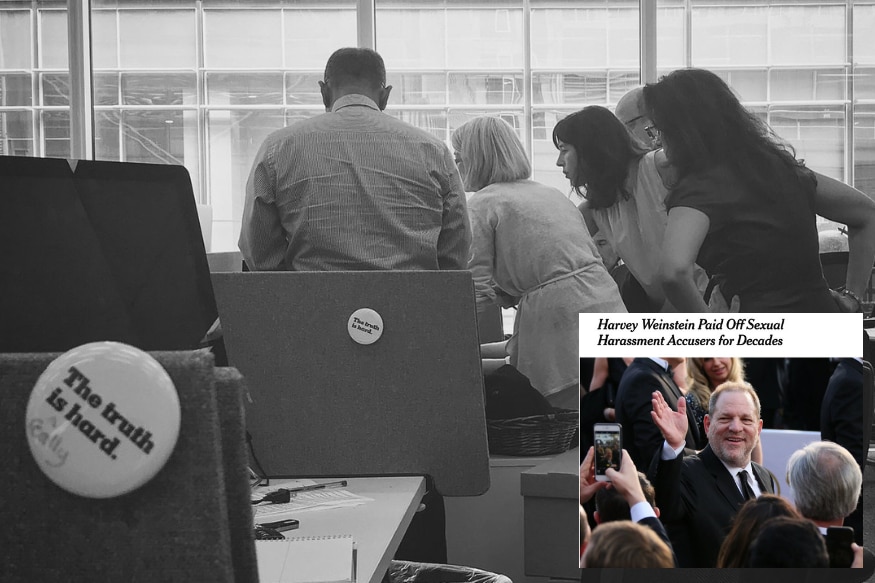 (Image: Twitter/@jodikantor)
Although it was activist Tarana Burke who was originally responsible for starting the #MeToo movement in 2006, the campaign picked much of its momentum after The New York Times published an article accusing film mogul Harvey Weinstein of
paying off sexual harassment accusers for decades
. The article, which triggered the #MeToo hashtag (started by American actress Alyssa Milano) which in turn triggered a storm of accusations against many powerful men, turning it into a global movement.



If you've been sexually harassed or assaulted write 'me too' as a reply to this tweet. pic.twitter.com/k2oeCiUf9n


— Alyssa Milano (@Alyssa_Milano) October 15, 2017
On Friday, New York Times journalist Jodi Kantor, who along with journalist Megan Twohey had published the article accusing Harvey Weinstein of sexual harassment, took to Twitter to share a candid photo of a group of NYT journalist huddled around a computer as they were about to publish the article.

This was us, exactly a year ago today, about to push the button on the Weinstein story, unsure of what would happen next. pic.twitter.com/WNljiNySXy

— jodikantor (@jodikantor) October 5, 2018

Jodi wrote that as they stood there, they were unsure of what would happen next. However, the article started a revolution against sexual harassment and allowed survivors of sexual abuse a powerful platform to share their stories. And after the image went viral on Twitter, people thanked the journalists for allowing the coverage of sexual assault to increase by many folds and giving women a platform to speak up.



Here are some very tangible results that your work prompted. Media coverage of sexual assault is up 30% since that day, for one thing. More excellent findings on the effects of #metoo on media coverage in my new report here: https://t.co/8V9EQ7mzqd pic.twitter.com/IWNjuZYC74


— Lauren Wolfe (@Wolfe321) October 5, 2018

One year ago. https://t.co/o3icQYhG6N pic.twitter.com/Kd9ElZ8ezB

— Evan McMurry (@evanmcmurry) October 5, 2018




One year ago today, @jodikantor & Megan Twohey broke the story that Harvey Weinstein paid off women who accused him of sexual harassment, which helped @TaranaBurke's #MeToo movement break open.

Amazing but also heartbreaking to think about this today.https://t.co/4rsTDrKgMD


— Leah Litman (@LeahLitman) October 5, 2018

This photo and tweet give me chills. The pen is mightier than the sword. Always. Journalism forever. https://t.co/468kjYL8sh

— Theodore Kim (@TheoTypes) October 5, 2018




"Since the NYT reported allegations of serial predation by Harvey Weinstein a year ago, at least 425 prominent people across industries have been publicly accused of sexual misconduct" https://t.co/jZYXz0IFUZ pic.twitter.com/jEnQ1tj3Ai


— David S. Joachim (@davidjoachim) October 5, 2018

I remember exactly where I was when the Weinstein story dropped. I was sitting on the floor in the press area at NYCC 2017. How many reporters can say their work had the kind of impact that changed an entire year? https://t.co/wzorhbrMiX

— alanna (@AlannaBennett) October 5, 2018




What if @mega2e and @jodikantor never published their Harvey Weinstein investigation a year ago today? Where would we be today if #MeToo never caught fire? https://t.co/Dhj8Cjc8Lv


— An Phung (@AnHaiPhung) October 5, 2018

So happy you did. You saved lives. A huge cultural shift. Thank you.

— Marci Liroff (@marciliroff) October 5, 2018




Thank you for taking that step @nytimes. Progress is messy and not linear. So, here we are a year later, walking back to 1950. Thank you @senjudiciary for listening to women. Ugh!


— RBChessi (@rbchessi) October 5, 2018

Thank you, from the bottom of this mother's terrified and broken heart. #MeToo

— Katrina Hagen (@KatrinaHagen2) October 5, 2018




Powerful, you investigative reporters are priceless‼️


— Billie Garner (@billiegarner) October 5, 2018

So proud of you for making this bold move. And grateful. Thank you.

— Jill W Klausen formerly @jillwklausen 🌹🐶🐈✡️✏️ (@WinningWordsPro) October 5, 2018




Congrats for that earth-shattering story!


— Anne Thompson (@akstanwyck) October 5, 2018

With that push of a button, you gave all the survivors around the world a mighty stage to stand together on. Thank you for pushing that button. The truth is hard. Let's keep getting louder about it every single day together, on this stage, for as long as we live. #MeToo

— Shipra Roma (@shiprara) October 5, 2018




I love these newsroom moments. Nerves but mad teamwork and solidarity.


— Stephanie Buck (@StephMBuck) October 5, 2018

Thank you. You showed what bravery looks like and gave strength to those whose voices had been silenced and controlled for too long

— Ruby Marez (@rubymarez) October 6, 2018




It's moments like this that prove why the media will NEVER be the "enemy of the people".


— Jon Punshon (@jonpunshon) October 6, 2018

What you all did was huge. Has it really only been a year? It feels like so much longer because of everything that's happened inbetween. Thank you for bringing this to light.

— Licorice Lich (@licoricelich) October 5, 2018

Read full article
Countdown To
Elections Results
To Assembly Elections 2018 Results