Ola Driver 'Blacklisted' After Harassing Woman Passenger in Bengaluru
Akanksha Hazari outlined how the ride-sharing service had failed to ensure her safety, charged her for the ride and then failed to action against the accused despite repeated complaints.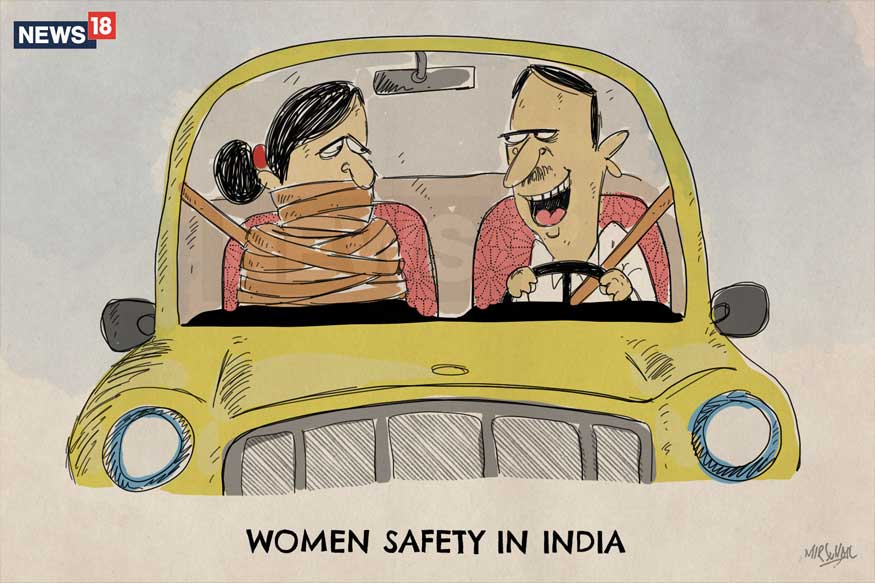 (News18 Creative by Mir Suhail)
Recently, a woman took to Twitter to narrate the harrowing experience she had inside an Ola cab in Bangaluru.
In a Twitter post, Akasksha Hazari wrote how she was harassed by her Ola driver on her way back from Bengaluru airport. She said she boarded the cab at 11.30 pm but the driver refused to follow her instructions and tried to take a sketchy short-cut, allegedly to avoid paying toll.
When told otherwise, the driver got into an altercation with the woman and asked her get off the cab in the middle of the road which Hazari described as narrow, unlit and near deserted save a few loitering men.
2nights ago, Dec 10 night, bet 11-2am I was harassed & nearly assaulted on an @Olacabs ride from Bangalore Airport>City. I am sharing my story because after 3days of followup, I have received no update & in fact been charged for the scariest ride of my life.This is what happened

— Akanksha Hazari (@AkankshaHazari) December 11, 2018
According to Hazari's tweet, the driver soon started to make phone calls in Kannada which panicked her further as she did not understand the language and couldn't be sure who the man was calling. She pressed the emergency button located inside the cab and someone from Ola's support staff contacted her. He promised her that he would be tracking the ride. But when the cab stopped again, there was no response from the support team. In fact, even when she pressed the button again, no one contacted her. The distressed victim also called the police who failed to come to her rescue.
It was finally after Hazari contacted Ola's customer support system through the app that she could get through to an entirely new set of executives who were unaware of her situation. Finally, one of the executives convinced the driver to complete the trip and the former stayed on speaker phone throughout the ride by way of a virtual escort.
In her tweet, Hazari outlined how the ride-sharing service had failed to ensure her safety, charged her for the ride and then failed to action her complaints despite repeated complaints.
According to a report by The Indian Express, the Ola driver has been blacklisted.
The incident elicited horrified responses on social media with many raising questions against Ola's safety measures to protect customers, especially women. even Bengaluru Police responded to the tweet and said they are following up on the complaint.
Your complaint has been forwarded to Police Inspector of Bengaluru International Airport Police Station for necessary action in this regard. Contact number of Police Inspector 9480801421 and Police Station number 080-22001102.

— BengaluruCityPolice (@BlrCityPolice) December 11, 2018
Seems cab services are consistently customer unfriendly and rude across all cities.. have experienced and heard rude behaviour cases in mumbai as well, but not as scary as yours.. best part is u 'completed' trip safely(?) and unhurt.. hope authorities play their part now.

— Girish Kale (@kgirish27) December 12, 2018
@ola_supports @Olacabs @bhash Its very easy to take that route and put someone in trouble. Ola must introduce something like `Patrol service`. You should station the patrol vehicles near airport or such remote areas, where finding help is very tough, to reach who are in trouble

— Kishore kumar (@ankishorekumar) December 13, 2018
I have experienced this myself too!! The cab drivers always tries to take that road rather than the toll road (mind you, the toll is included in passenger fees). Also, without exception ALL the cab drivers are continually yapping on phone in Bangalore, while driving. @Uber_India

— Kaushik Ganguly (@Kaushik09092859) December 12, 2018
So sorry that you had to go through this . It's getting very unsafe for travellers especially for women and am shocked with the indifference from Ola

— Lakshmi Sharath (@lakshmisharath) December 12, 2018
Agree that Ola cabs need to screen and select better drivers or perhaps even recruit women drivers to alleviate the concerns shared by all women passengers in the county

— Jag (@Jagz1975) December 11, 2018
(News18 has contacted Ms Akanksha Hazarika and her response is awaited.)
Read full article