Municipal Corporations

9/10

TRS

8

INC

0

BJP

1

AIMIM

0

OTH

0
MUNICIPALITIES

114/120

TRS

96

INC

9

BJP

3

AIMIM

2

OTH

4
Refresh Data
'I am no One's Burden': What it is to be a Woman, Blind and Single in Delhi
Poonam is completely blind. She was born premature, that led to her loss of eyesight.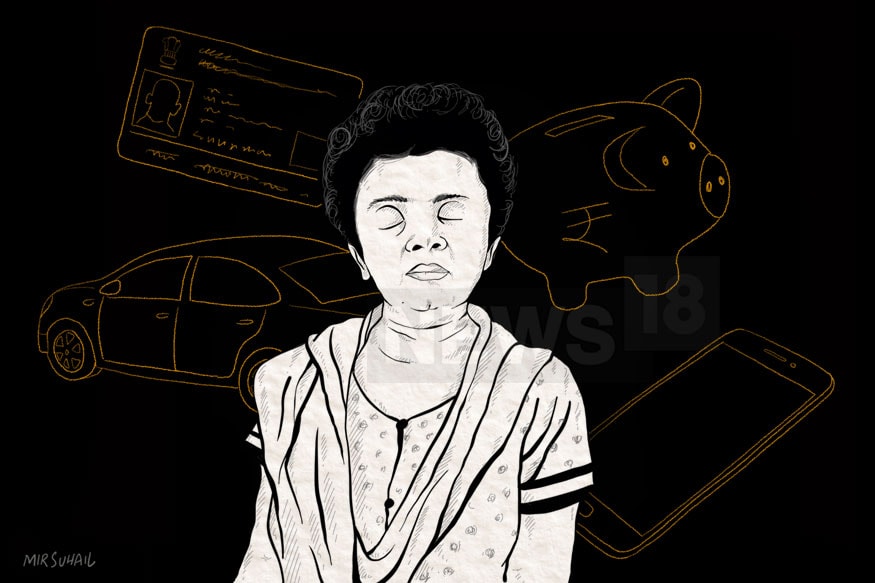 Illustration by Mir Suhail/News18.com
Poonam Pardesi (38) has lived alone since the age of six. First, it was a special school at Dadar in Mumbai, then it was an 'Integrated Education' school. She graduated from Ruia College, got her masters in social work from Tata Institute of Social Sciences (TISS) and went on to work in Mumbai and then, Delhi.
"I can do everything on my own, I don't need anyone's help," Poonam told me as we sat in the visitor's room of the YWCA hostel in Ashoka Road. She has been living here for the last 11 months, not surprisingly, alone.
I knew that Poonam is extremely confident the moment I met her. When I spotted her walking towards me as I stood at the entrance gate — I felt a sense of guilt in making her come to fetch me. I rushed up, held her hand that was gripping on to the support stick, and introduced myself. She moved her hand away, and I instantly knew she didn't want my help—she's never needed any help.
"My parents would never take me along with them when they attended someone's wedding or any other social ceremony," said Poonam. "They would leave me at my grandmother's house or at a neighbour's for weeks when they had to go somewhere. They never said it, but I knew they were embarrassed," she said.
She feels her disability is the reason for her parents' embarrassment. Poonam is completely blind. She was born premature, that led to her loss of eyesight.
However, Poonam also feels that without her parents' support and encouragement, she wouldn't have been able to make it to some of the best educational institutions in the country. "My father did a lot of running around for me. My mother constantly told me that without an education I will not be able to become independent," she remembers her parents' words that has still stayed with her.
But, for Poonam, blindness isn't quite a big deal. "I have never seen the world. So it doesn't matter. I don't feel I am missing out on anything," she said with a smile on her face. She isn't faking it.
But that's not how the world sees her.
When she was trying to get admission in Ruia College, the college authorities were quite reluctant to offer her a seat in the Arts department with the other students. Poonam put her foot down. She told them, "Just because I am blind doesn't mean I have to be a music teacher or a telephone operator." And she didn't join either of those professions.
In Delhi, Poonam works as a programme officer in a French organization called AidIt Action. Unlike the previous job that she had in Mumbai, where she had to be out on the field working as a project coordinator in an NGO that dealt with disability rights, here she has to stay glued to her computer for long hours.
"I don't like stepping out in Delhi much. There's not much walking space and that restricts mobility for me," she said. You can tell Poonam is a true blue 'Bombay girl'. Soon after dissing Delhi, she reminiscences about her time in Mumbai where she was comfortable taking the local trains, BST buses, and wouldn't need company to have her favourite cutting chai.
But even getting that first job in Mumbai wasn't easy for Poonam, despite her high grades. "No matter how much you know, you have to keep proving that you are good enough for the world," she said. For a year after Poonam completed her Masters, she had to run from pillar to post searching for a job. "They didn't want to hire me because I am blind. But there's nothing I am incapable of. It's all about the mindset," she said.
That 'mindset' wasn't just limited to the companies that didn't want to hire her. When Poonam moved to Delhi in 2013, she found herself a home in South Ex where she lived as a 'paying guest'. "No one wanted to share the apartment with me," she said. Poonam remembers how she would be taunted — "Arrey, ye to andhi hai. Iska kheyal to humey rakhna parega (This woman is blind. I will have to take care of her)" — that, she said, would be the first reaction of the potential 'paying guests'.
Once, a young woman who was visiting the place also asked the landlord, "Ye andhi hai to isko sunai bhi nahi deta hoga, (She is blind, so she must be deaf as well)". Poonam was standing in the corner of that room. And, she heard everything.
She remembers the time when someone who had finally decided to move in was chatting with her friend on the phone when the conversation went like this — "I live with a blind woman. Please don't tell my parents about this." Poonam was shocked to know that someone's family would be bothered because she was blind. "But then, you get used to the jibes and the taunts," she said.
She has found a way to deal with it — often cracking jokes on her 'blindness'.
When she is arguing over something, she often gets to hear, "Dikhta nahi hai par kitna bolti hai (She can't see but she talks so much)" — she has a response to it, "Mooh se bolti hoo, aankh se nahi (I talk with my mouth, not my eyes)."
As we keep chatting about the effects demonetization, Supreme Court's decision on Aadhaar and Irrfan Khan's health, her phone buzzes — "News alert". I realize that Poonam doesn't let her disability come in the way of her life. "It's an everyday challenge. But technology is such a boon, it helps me battle those hurdles," she said.
She owns an iPhone with a screen reading software, uses Paytm to transfer money, WhatsApp to chat with her school friends and the new people she meets in the city has at least three news applications installed on her phone that constantly keeps her updated. "I was on Facebook but then I deleted my account. There would be too many notifications," she said.
"I will send you a message on WhatsApp now," she tells me as she swipes her phone that, in its Siri's voice, tells her where she has landed — "Calendar, Maps, Photos… WhatsApp." This is when something miraculous happens. She types in my phone number while saying it aloud. I had called her twice in the last two months before this meeting. She hadn't saved my number; she remembered it by heart. "I have a good memory," she laughs at my amusement.
For Poonam, the 'everyday battles' extends to even being told that she can't open a bank account. The first time when she was trying to open her own account, she was made to wait for over an hour at the branch. When she finally walked up to ask why she is being made to wait, they asked her to "bring someone" with her. She immediately dialed in Prasanna Kumar Pincha's digits, who was then the Chief Commissioner for Persons With Disabilities. The matter got escalated, and Poonam finally had an account with the State Bank of India. "I am aware of my rights, so it's easy for me. But for many, when they are told they can't open a bank account, they will believe it," she said.
The harassment doesn't end there. On one of the occasions where Poonam had booked an Uber to get to South Ex from Saket, the driver stopped the car at a different location. She chided the driver for "trying to act smart" and threatened to dial 100. "He thought I wouldn't know, but I could tell that this was a quiet neighbourhood. I know what South Ex sounds like," she said. As she talks about the times Uber drivers have tried to cheat, another woman enters the visiting room, carrying her suitcase. She greets Poonam with a "Hello!" Poonam immediately recognizes her voice. "Arey Harpreet, kya chal raha hai?" she asked.
"My sense of hearing has developed because I can't see. I depend mostly on my ears," she said.
Poonam is struggling with a new problem — Aadhaar. While she got the unique identification number years ago, she's now having to run to and from banks to get it linked to her insurance account. The bank has been telling her that because her 'current' and 'permanent' addresses are different, she needs to provide more documents. "They are just harassing me. Every time I visit the bank, they want me to bring someone with me," she said. Poonam, said, that many are of the opinion that "if you are blind, you can't be educated." She has had a first-hand experience of this too. Once, when her father was trying to book a railway ticket for Poonam in the 'disability' quota, she had to sign on a form. When her father took it to the officials, they declared it 'fake'. "How can a blind person sign? There should be a thumb mark here," an official had told her father.
While Poonam doesn't mind talking about a lot of things — poetry, hypertension, the terrible 'handicap' compartment in Mumbai local, her best friend from school — what she wants to avoid is the question of love. "My family has assumed that I will never get married. There's never been any conversation around it," she said. This is the only time the very chirpy Poonam sounds upset. When I ask her if she has ever fallen in love, she starts giggling. "Am I blushing?" she asked me. She sure is.
Get the best of News18 delivered to your inbox - subscribe to News18 Daybreak. Follow News18.com on Twitter, Instagram, Facebook, Telegram, TikTok and on YouTube, and stay in the know with what's happening in the world around you – in real time.
| Edited by: Ahona Sengupta
Read full article