OPINION | Priyanka Chopra Spoke Eloquently On Women Rights, But Failed To Break The Glass Ceiling
In her own words, Priyanka is 'feisty' and 'opinionated' but when it came to talking about breaking a glass ceiling¸there was something missing. She forgot to be fearless, quite conveniently.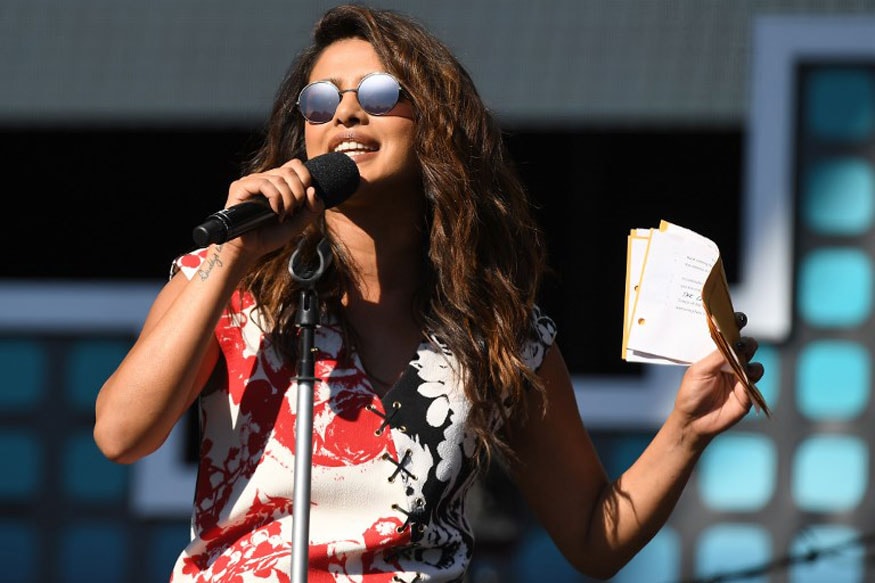 File photo of actor Priyanka Chopra speaking during an event. (AFP)
New Delhi: A lot of women found their voices this year – be it Salma Hayek's essay detailing a history of predatory behaviour by Hollywood producer Harvey Weinstein or Rose McGowan, who said she was "blacklisted" by Hollywood because she "got raped".
The numerous women who came forward to narrate their unforgettable memories of being sexually assaulted, even in 'safe' spaces, with a simple hashtag, #MeToo, talked one important thing — women are abused wherever there are powerful men.
So when Penguin decided to get Priyanka Chopra at their prestigious annual lecture as their speaker, it wasn't quite a surprise. She was the first woman that Penguin picked in the eleven years of the event.
Last year, creator of the incredible Wimpy Kid series, Jeff Kinney, gave the lecture; in 2015, Ruskin Bond spoke about the 'joy of writing', and the year before that it was Dan Brown talking about science and religion.
So when Penguin's Twitter handle said Priyanka Chopra was to give a lecture about chasing dreams and breaking the glass ceiling, it filled our hearts with a little joy. Finally.
While the critics on social media were quite disappointed that Penguin chose a Bollywood actor to speak on women empowerment, instead of say, a writer or publisher but let's admit it, Priyanka has herself broken the glass ceiling in more ways than one.
With one foot in Bollywood and the other in Hollywood, the actor has been privy to numerous things that goes behind the backdoors of show business, sexism and racism included. In her own words, Priyanka is 'feisty' and 'opinionated' but when it came to talking about breaking the glass ceiling, there was something missing. She forgot to be fearless, quite conveniently.
Amid huge applause, Priyanka took the stage to talk about chasing dreams. There she was looking gorgeous in her red coloured suit, but more importantly the confidence in her resonated.
In a 20-minute long lecture, the actor decided to tell the audience how to become Priyanka Chopra. Yes, you read that right. She listed out the apparent mantras which included 'surround yourself with good people' and 'fail, fail and fail till you rise like a phoenix' almost sounding like Deepak Chopra. You won't be chided for thinking she had memorised lines from a self-help book.
To be fair, Priyanka did touch upon a lot of relevant issues. A slight brush on wage gap when she stated that no actor was to be questioned on the number of zeroes they have on their cheques. She spoke about racism – the time she used to be called 'brownie' and 'curry' in school, and said she felt proud to be on the top 10 of Forbes' Celebrity List. The actor did raise an important question though, "Why aren't there other females there on the list?"
But that was that.
On the question of marriage, she claimed she'll get married once she finds a man who appreciates all that she has achieved. Yet again, reinforcing the stereotype that a man is indeed needed to 'appreciate' the woman.
She threw-in some more clichés. "Mere layek bhi koi milna chahiye na? (I should get someone who is worthy of me)" she quipped, and yet again, we got reminded of the numerous times successful women have been told that it's difficult to find husbands for them.
When the anchor asked the actor about the ban on Padmavati, Priyanka squirmed. She said she has called director Sanjay Leela Bhansali and actor Deepika Padukone to show her support but there was no way the 'feisty' actor was going to cross the line. Instead, she decided to blame the media for asking her to comment on Padmavati for the sake of TRPs. "Why aren't these questions asked to politicians? What can I do as an actor?" she asked, resulting in thunderous applaud.
When asked if she has ever faced harassment in Hollywood, an industry that has suddenly woken up to the fact in the last couple of months, Priyanka again evaded the question. Instead, she decided to crack a joke talking about her biggest problem with Hollywood, "Everyone arrives on time".
The question moved to Bollywood, and we were all hoping that this is when Priyanka will represent women's voice. After all she's so opinionated, right? Asked why most Indian actresses have so far declined to rally against sexual predators in Bollywood after the Harvey Weinstein scandal in the US, Priyanka said that those like author Shobhaa De who talk about it should take the lead in calling out names. "I am very feisty, so people get scared…"
While she did claim that she has been thrown out of films because the director or the producer's girlfriend had to be fit in, she stopped short of taking names.
Priyanka spoke about everything, but still there was a deafening silence.
| Edited by: Aditya Nair
Read full article
Countdown To
Elections Results
To Assembly Elections 2018 Results