Our Favourite Pakistani TV Reporter Chand Nawab is Back...And He Still Can't Finish His Damn Line
Karachi ke log - eid manalo, aur abhi humare lajawab paan bhi try karlo?
Karachi ke log - eid manalo, aur abhi humare lajawab paan bhi try karlo?
If you have not been living under a rock, you definitely know of Chand Nawab. 
The Pakistani journalist who became an inspiration for Nawazuddin Siddique's character in 'Bajrangi Bhaijaan' and later turned into a meme after he gave us some serious journalism goals-- sign off in the perfect manner even if you are faced with hurdles like-- a crowd of people.
Standing at a crowded station, Chand Nawab tries to let people know that "Karachi ke log - Eid.., Eid manane, manane- ke liye... "
He finds it very difficult to finish the sentence as his attempt at the piece to camera constantly keeps failing, thanks to the people who kept pushing him, shoving him and walking into the frame. This video had gone viral in 2008.
Now, guess what? Chand Nawab is back with yet another iconic video. No surprise that it has already going viral!
In the new video, the journalist is trying to tell his audience that Karachi's paan is very famous, and a delicacy in Pakistan.
"Paan humari sakhafat hai" he states, and then signs off, and instantly puts a paan in his mouth.
But it simply doesn't stop there: he continues messing up his lines and he tries over and over again.
This time, the crowded railway station has been replaced with a fancy paan shop and there are no people who push past him to deter him from his lines, but Chand Nawab doesn't need more people to mess up his fact, he manages to do it all by himself.
He fumbles his lines multiple times - all while still trying to stuff the paan into his mouth.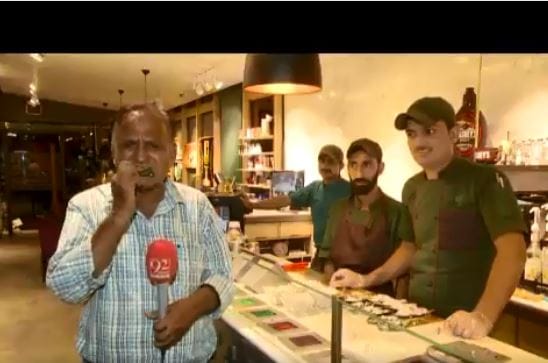 Along with what you expect out of a usual P2C, this time, he also gives out directions to the staff behind the counter - instructing them to hand him a paan when he finishes his line.
That never happens, though.
However, as the video started going viral, prominent Pakistani people on the Internet started to appreciate it.
Journalist Reham Khan also loved it.
I love the Karachi heavily accented Urdu & paan too. Surely Karachites know best how to pronounce their city's name. https://t.co/tjgZSCXVgj

— Reham Khan (@RehamKhan1) June 28, 2018
Earlier this year in February, Chand Nawab had made a comeback promoting Ali Zafar's film, but this appearance is not only a massive throwback to his original, but also a reminder that Chand Nawab is the same exact person, even if it is ten years later! Watch the video here:
Chand Nawab rocks yet again but this time not for 'apno mein Eid manane' pic.twitter.com/6mgBMrr5bT

— Fazil Jamili (@faziljamili) June 28, 2018
Get the best of News18 delivered to your inbox - subscribe to News18 Daybreak. Follow News18.com on Twitter, Instagram, Facebook, Telegram, TikTok and on YouTube, and stay in the know with what's happening in the world around you – in real time.
Read full article