Amarinder Singh Joins Outrage Against Doormats, Rugs with Golden Temple Image for Sale on Amazon
After uproar, retail giant Amazon takes down pages listing doormats and rugs with the image of the Golden Temple.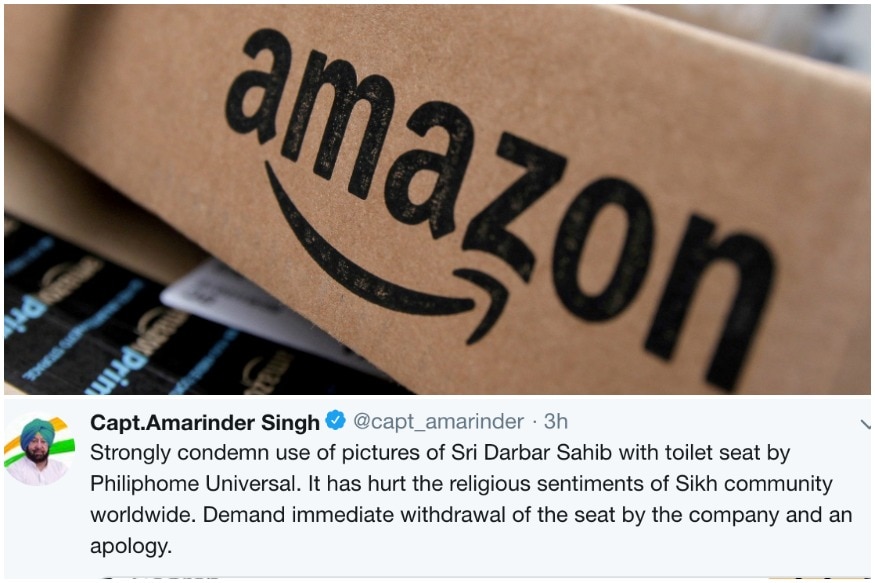 Doormats and rugs with images of the Golden Temple appeared on sale on Amazon | (Source: Reuters/Twitter)
New Delhi: Punjab Chief Minister Captain Amarinder Singh on Wednesday disapproved strongly of the doormats and rugs with the image of the Golden Temple being sold on Amazon.
Images of the toilet seat covers with the Golden Temple motif appeared on Amazon recently, drawing a strong reaction from the Sikh community. Even Singh took to Twitter and called out the retailers, Philiphome Universal, for selling the derogatory items.
Strongly condemn use of pictures of Sri Darbar Sahib with toilet seat by Philiphome Universal. It has hurt the religious sentiments of Sikh community worldwide. Demand immediate withdrawal of the seat by the company and an apology. pic.twitter.com/LE4yKOkxjp

— Capt.Amarinder Singh (@capt_amarinder) December 19, 2018
A prominent Sikh body also asked the online retail giant Amazon to prohibit the sale of culturally inappropriate and offensive merchandise.
"It has come to our attention that several sellers are posting products onto your platform that culturally appropriate the imagery of the Golden Temple and spiritual imagery of other eastern cultures," The Sikh Coalition's Senior Manager of Advocacy & Policy Sim Singh said in a letter to Amazon CEO Jeff Bezos and Senior Vice President & General Counsel David Zapolsky.
The civil and legal rights organisation said that in the hours since the outrage broke out, several pages have been removed from the website. The products seem to have been removed from Amazon's website as a message that "Sorry, we couldn't find that page" appears when running a search for the items.
Singh said that using religious or spiritual imagery on products that come into contact with unhygienic surfaces is offensive to all faiths that originated in the East. The Golden Temple is no such exception and should never appear on rugs, bathmats, and toilet seat covers. Such items are deeply offensive to Sikhs everywhere and other followers of Eastern religions.
The Sikh Coalition asked Amazon to permanently prohibit sale of such objectionable material and hoped that Amazon will do more to ensure that similar products do not appear on its platform.
"We request that you notify your sellers and affiliates to refrain from publishing culturally inappropriate and offensive merchandise on your platforms," Singh said.
The group also asked individuals to send a direct message to Amazon explaining why these products are offensive to the Sikh community.
(With inputs from PTI)
Read full article
Countdown To
Elections Results
To Assembly Elections 2018 Results