'Padmavati' Trailer Has Caused An Online Goosebumps Epidemic
The much-awaited 'Padmavati' trailer is finally out and social media has collectively lost its sh*t.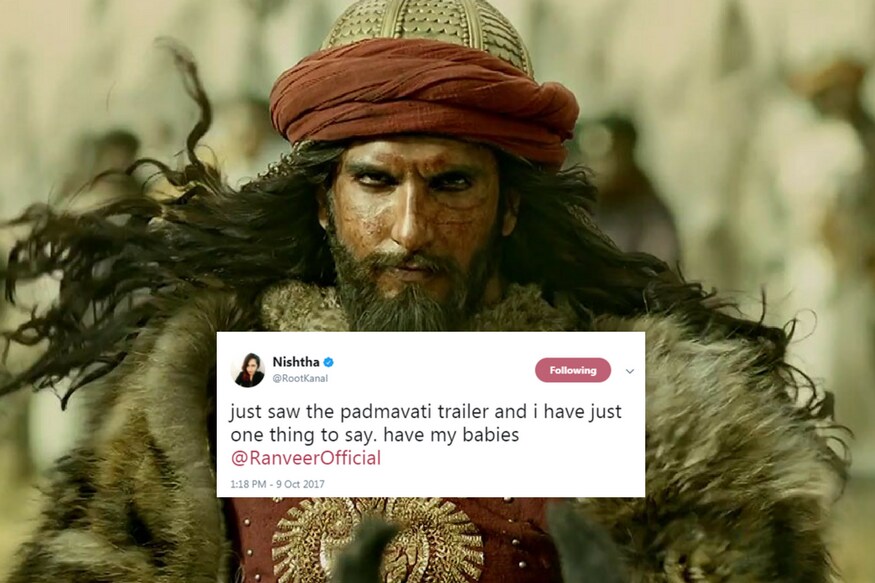 Photo credits: Sanjay Leela Bhansali
Sanjay Leela Bhansali's 'Padmavati' is undoubtedly the most-awaited movie of 2017. Starring Deepika Padukone as Rani Padmini, Shahid Kapoor as Rawal Ratan Singh, and Ranveer Singh as Alauddin Khilji, the filmmakers of the period saga finally dropped the trailer at 13:03 on Monday and it looks breathtaking.
Bhansali whose previous outings such as Devdas (2002), Black (2005), Goliyon Ki Rasleela Ram-Leela (2013), Bajirao Mastani (2015) have been a visual delight has now set high expectations amongst the fans with the Padmavati trailer.
The film set to release on 1 December marks Bhansali's third collaboration with Ranveer Singh and Deepika Padukone while Shahid Kapoor enjoys his first outing with the able director.
#PadmavatiTrailer arrives today at 13:03. Stay tuned! @FilmPadmavati pic.twitter.com/ycims3Crhw

— Deepika Padukone (@deepikapadukone) October 9, 2017
As promised, the trailer hit the social media at 13:03 and got the audience excited.
Sanjay Leela Bhansali's Padmavati, Produced by @Viacom18Movies and #BhansaliProductions. #PadmavatiTrailerhttps://t.co/hiNZeqjS5b

— Padmavati (@FilmPadmavati) October 9, 2017
It would be an understatement to say that the people on the micro-blogging site collectively lost their sh*t, as the trailer caused goosebumps epidemic.
Padmavati trailer. GOOSEBUMPS

— Priyal (@priyal) October 9, 2017
This is the BEST trailer ever!!! Goosebump alert! December seems so far way!!!! #PadmavatiTrailer MINDBLOWING! https://t.co/6NgmiCPLwg

— Karan Johar (@karanjohar) October 9, 2017
And here's come our queen #Padmavati Another powerpacked performance is on its way! Can't wait for 1st Dec..😌#PadmavatiTrailer #goosebumps pic.twitter.com/VxOPYAVUz8

— Mac (@rozyfeb9) October 9, 2017
I think I forgot how to breathe! The #PadmavatiTrailer is pure goosebumps. #SanjayLeelaBhansali has created magic.https://t.co/xHYL3LS5hp pic.twitter.com/yfrzlZQXNZ

— Shreya Ghoshal (@shreyaghoshal) October 9, 2017
MINDBLOWN!!! Goosebumps all over. What a magnificent, smashing trailer.Speechless! @FilmPadmavati #padmavatitrailer https://t.co/IwTAP8bBLY

— Priya Adivarekar (@priyaadivarekar) October 9, 2017
What A Background Score 'Rani Sa... Rani Sa... Rani Sa... Rani Sa'. Give goosebumps all over. #PadmavatiTrailer #Padmavati 👏👏👏

— Raghav Rawat (@raghavrawat5) October 9, 2017
MIND-BLOWING leaves you with GOOSEBUMPS! No words of praise can justify this EPIC! #PadmavatiTrailer https://t.co/Ncd0AlInv3 #Padmavati

— Atul Mohan (@atulmohanhere) October 9, 2017
Just loved it @RanveerOfficial Baba waata look man such a killer 😍🔥Got goosebumps @FilmPadmavati #PadmavatiTrailer #Padmavati pic.twitter.com/eBzpHnWrhu

— Deep Valesha (@deepvalesha) October 9, 2017
While others were simply in awe with the magic Bhansali has recreated with the larger than life sets and the talented cast.
Blownnnnnnnn away by the #PadmavatiTrailer !!!!! Noooo words!!!!! Epic epic epic @shahidkapoor @deepikapadukone @RanveerOfficial !!!!!

— Alia Bhatt (@aliaa08) October 9, 2017
Stunning #PadmavatiTrailer #SLB Sir @RanveerOfficial @shahidkapoor @deepikapadukone

— Nitesh Tiwari (@niteshtiwari22) October 9, 2017
just saw the padmavati trailer and i have just one thing to say. have my babies @RanveerOfficial

— Nishtha (@RootKanal) October 9, 2017
The amazing trailer of #Padmavati is here https://t.co/7tkDnapFz7 #PadmavatiTrailer conveys so much in a span of 3 mins. Highly impressive👌🏻 pic.twitter.com/uFU23Gi2jY

— Manobala Vijayabalan (@ManobalaV) October 9, 2017
What a magnificent cinematic #PadmavatiTrailer! Superb👍🏻@deepikapadukone @RanveerOfficial @shahidkapoor @Viacom18Movies #SanjayLeelaBhansali

— Anushka Sharma (@AnushkaSharma) October 9, 2017
1 WORD For #Padmavati trailer...M-I-N-D-B-L-O-W-I-N-Gbackground Music HAUNTS you.. take a Bow #SanjayLeelaBhansaliSIMPLY OUTSTANDING

— Rohit Jaiswal (@rohitjswl01) October 9, 2017
brilliant @shahidkapoor @RanveerOfficial @deepikapadukone and the genius #SanjayLeelaBhansali #PadmavatiTrailer https://t.co/TPzbkmBXIL

— Varun Dhawan (@Varun_dvn) October 9, 2017
The film has courted controversy several times since its early days.
In January, Bhansali and his crew had cancelled the shooting of Padmavati here in the wake of the assault on him and vandalism on the sets of the movie by a Rajput group that has triggered outrage in the film industry.
Bhansali was roughed up by members of a Rajput community group, who had also stopped the shooting of the film by damaging the set at Jaigarh Fort, alleging that the director was "distorting facts" in the movie which is about Alauddin Khilji's obsession with Rani Padmavati.
Padmavati, is a fictionalised account of the life of Rani Padmini, a legendary queen mentioned in Padmavat and 1303 siege of the Chittor fort in Rajputana by Alauddin Khilji, the Turkic ruler of the Delhi Sultanate. According to Padmavat, Khilji led the invasion motivated by his desire to capture the beautiful queen Rani Padmini, the wife of Rana Rawal Ratan Singh, the ruler of Mewar. However, Rani Padmini sacrificed herself even before Khilji could enter her fort.
Get the best of News18 delivered to your inbox - subscribe to News18 Daybreak. Follow News18.com on Twitter, Instagram, Facebook, Telegram, TikTok and on YouTube, and stay in the know with what's happening in the world around you – in real time.
Read full article