GET Stock

Quotes


Pakistani Comedian's Take On Why India-Pakistan Should Not Go To War Is A Must Read
Hilarious.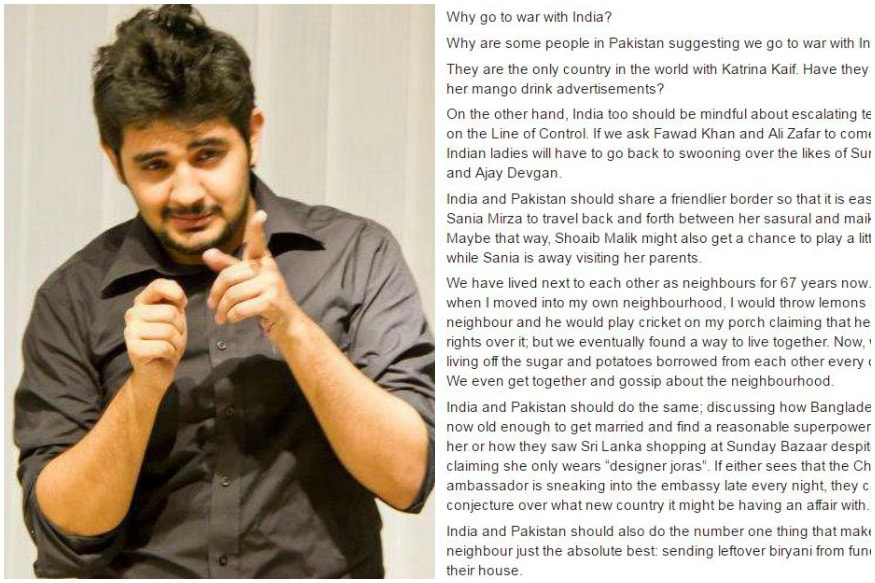 (Photo: Facebook)
For the last few days, an India-Pakistan war has been brewing on the social media. Egged on by the diplomatic standoff over the Uri terror attack, some netizens on both sides of the border want to take this war of words to the battlefield.
To them, Karachi-based stand-up comedian Shehzad Ghias Shaikh says, "Why are some people in Pakistan suggesting we go to war with India? They are the only country in the world with Katrina Kaif. Have they not seen her mango drink advertisements?"
In a Facebook post, Shaikh makes several such valid, albeit humorous, points against going to war.
"India too should be mindful about escalating tensions on the Line of Control. If we ask Fawad Khan and Ali Zafar to come back, Indian ladies will have to go back to swooning over the likes of Sunil Shetty and Ajay Devgan," he says.
Shaikh instead suggests the two countries settle scores in an Olympic-style event, incorporating a singing competition between Tahir Shah and Himesh Reshammiya.
Others areas of competition he suggests include: a spelling competition between political scions Bilawal Bhutto and Rahul Gandhi and a face-off on Coke Studio.
Trying to get a veiled message of peace across, the stand-up artiste says, "Pakistan is the Yin to India's Yang; we are the aman in their asha; we are the lawn print to their fashion; the rice to their biryanis; the Disney Prince to their Disney Princess. India, your movies taught me that "pyar dosti hai" so despite the fact that we are fighting with each other, you need to understand that kuch kuch hota hai, tum nahee samjhogay (sic)."
The 4,600 likes on his widely-shared post suggest peace does have a shot in these turbulent times.
Read his entire post here.
Read full article