GET Stock

Quotes


#PantsuitPosse Stages An Epic Flash-Mob Dance For Hillary Clinton In New York
Epic performance.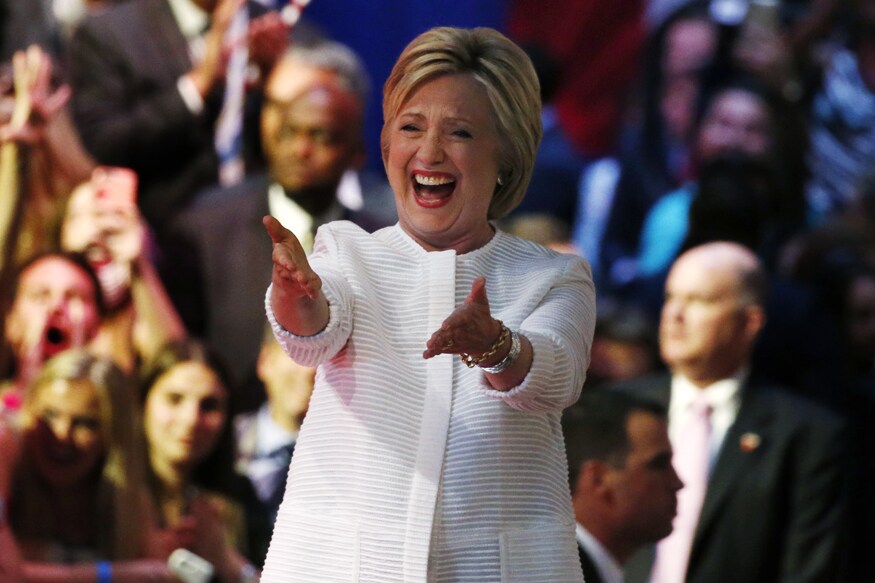 File photo of Democratic US presidential candidate Hillary Clinton (Reuters)
On Sunday, a group of around 200 people, all Hillary Clinton supporters who call themselves #PantsuitPosse, put on their power pantsuits and staged an epic flash mob in New York City's Union Square. The carefully choreographed five-minute dance performance was an attempt to support Hillary Clinton in the run-up to the presidential elections and also pay to tribute to the Democratic presidential nominee's trademark style.
The group was dressed in bright coloured, Hillary-inspired pantsuits. They were high on enthusiasm and performed a choreographed routine to Justin Timberlake's Can't Stop The Feeling.
The routine was choreographed by filmmakers and real-life partners Celia Rowlson-Hall and Mia Lidofsky.
"We just haven't seen the same kind of rallies around her and as filmmakers and artists, (Mia and I) felt that we needed to help Hillary out the way that we know how," Ms Rowlson-Hall told ELLE.
Crishon Jerome, who co-choreographed the routine, took to Facebook to list down the reasons they chose to conduct the flash mob. He wrote, "We are looking for dancers, movers, shakers, movement enthusiasts, and all those fun folks who don't want to see this country ruled under Donald (Trump) (sic)."
He said in another post, "It is time to take a stand against this bully, and all are welcome to participate. Will you join?! Even if you don't support Hillary, Dance Against Hate. Dance For Love. Dance For Equality. Dance For Art. Dance Against Injustice and Police Brutality. Dance For Our Nation. DANCE for Your Future. Dance For Your Life. Be Active. Get involved. It's Time for Change (sic)!"
The event saw people travel from far and wide to participate and extend their support to Hillary Clinton. The organisers were able to put together a fabulous show shot on a 10-camera setup and, interestingly, all of this was managed on a shoestring budget.
The crowd in front of whom the group performed cheered on and recorded and shared the performance videos on social media.
You can take a look at the official video of the flash mob here.
Also Watch
Read full article