Paresh Rawal Accidentally Tweets '#JhoothiCongress' Trend Plans, Gets Busted
BJP MP Paresh Rawal found himself in a spot after he tweeted out a Google document with instructions to trend '#JhootiCongress' on Twitter.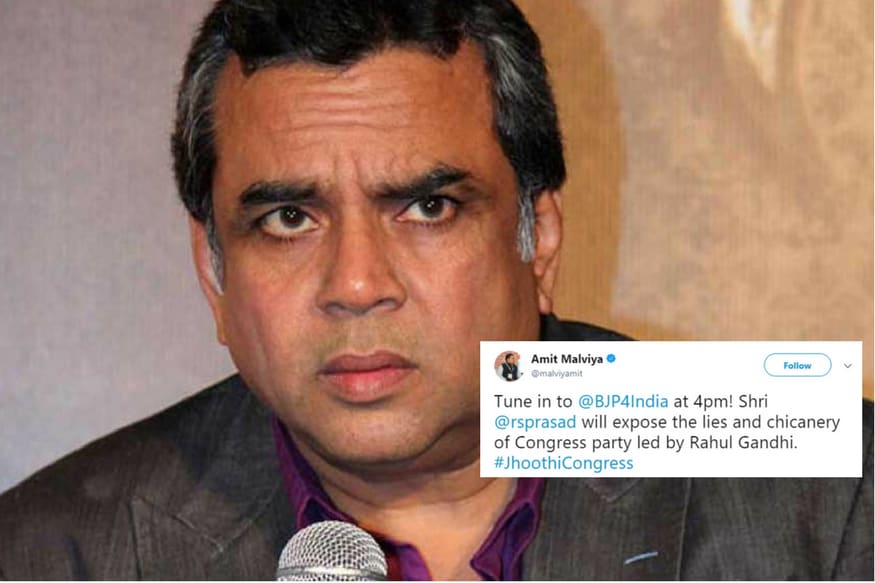 PTI
On Tuesday, BJP MP Paresh Rawal found himself in a spot after he tweeted out a Google document that carried out instructions for BJP supporters to trend '#JhootiCongress' on Twitter.
Realising his mistake soon, the MP later deleted the tweet.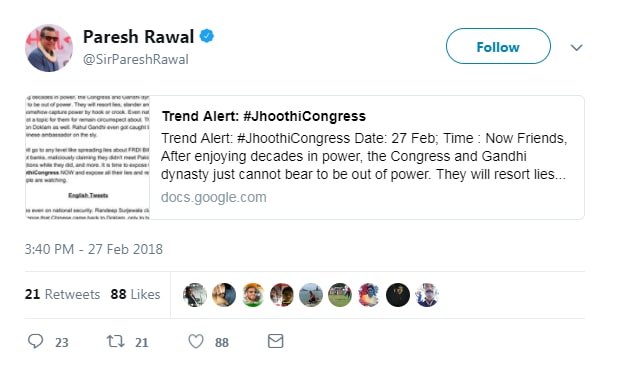 (
via moneycontrol

)
The document shared with the aim to trend #JhoothiCongress on the microblogging site read,
"After enjoying decades in power, the Congress and Gandhi dynasty just cannot bear to be out of power. They will resort lies, slander and low level cunning to somehow capture power by hook or crook. Even national security is not a topic for them for remain circumspect about. They have spread lies on Doklam as well. Rahul Gandhi even got caught trying to meet the Chinese ambassador on the sly."
"This party will go to any level like spreading lies about FRDI Bill to scare people about banks, maliciously claiming they didn't meet Pakistanis during Gujarat elections while they did, and more. It is time to expose them. Let us trend #JhoothiCongress NOW and expose all their lies and remind them that the people are watching," it further stated."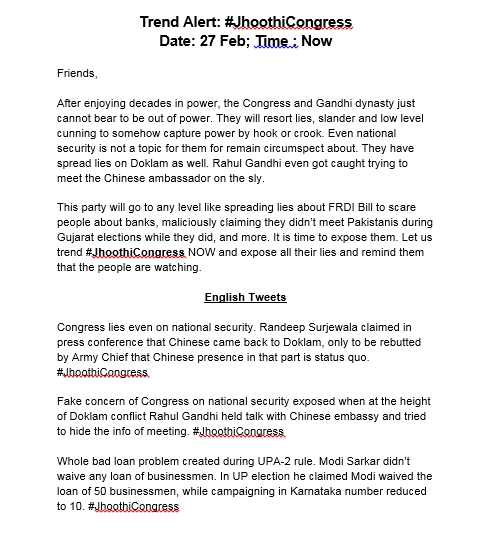 Some of the drafted tweets assumably meant to be tweeted out by people were:
Congress lies even on national security. Randeep Surjewala claimed in press conference that Chinese came back to Doklam, only to be rebutted by Army Chief that Chinese presence in that part is status quo.
#JhoothiCongress

Fake concern of Congress on national security exposed when at the height of Doklam conflict Rahul Gandhi held talk with Chinese embassy and tied to hide the info of meeting. #JhoothiCongress
The official BJP Twitter account tweeted using the hashtag #JhoothiCongress.

Shri @rsprasad will hold a press conference today at 4 pm at BJP HQ to bust the lies and fear spread by Rahul Gandhi and Congress party. Stay tuned for LIVE updates. #JhoothiCongress

— BJP (@BJP4India) February 27, 2018
While the BJP IT Cell head Amit Malviya tweeted:

Tune in to @BJP4India at 4pm! Shri @rsprasad will expose the lies and chicanery of Congress party led by Rahul Gandhi. #JhoothiCongress

— Amit Malviya (@malviyamit) February 27, 2018
Aware of Rawal's gaffe, people responded to Malviya's tweet with document's screenshots.
Find here with attached copy for payment into my Account @Rs 2/- twit pic.twitter.com/59u9WVVHR3

— R K Daharwal🇮🇳 (@DaharwalK) February 27, 2018
See the extent of IT cell propaganda.. 😂 pic.twitter.com/1Gd4HQEGuc

— Monkey Baat 🙊 (@StupidPeople_in) February 27, 2018
Last year, top BJP leaders and supporters trended the hashtag #DemonetisationSuccess on Twitter after Reserve Bank of India revealed in its annual report that 99 percent of scrapped currency notes came back into the system post demonetisation.
The hashtag later caught the eye of social media users when some pointed out that the tweets were copied + pasted to give maximum mileage to the hashtag on Twitter.
Who said Demonitisation was a disaster? Some brainless PR company got paid a LOT of taxpayer money to trend #DemonetisationSuccess.
SUCCESS! pic.twitter.com/MM8M23Npuy

— Meghnad (@Memeghnad) August 31, 2017
Read full article
Countdown To
Elections Results
To Assembly Elections 2018 Results