GET Stock

Quotes


Paris Hilton Claims She Invented Selfie With Britney, Gets Roasted On Twitter
On Sunday, Paris Hilton took to Twitter to share two photos of herself posed with Britney Spears claiming the duo had invented the concept of selfie 11 years ago.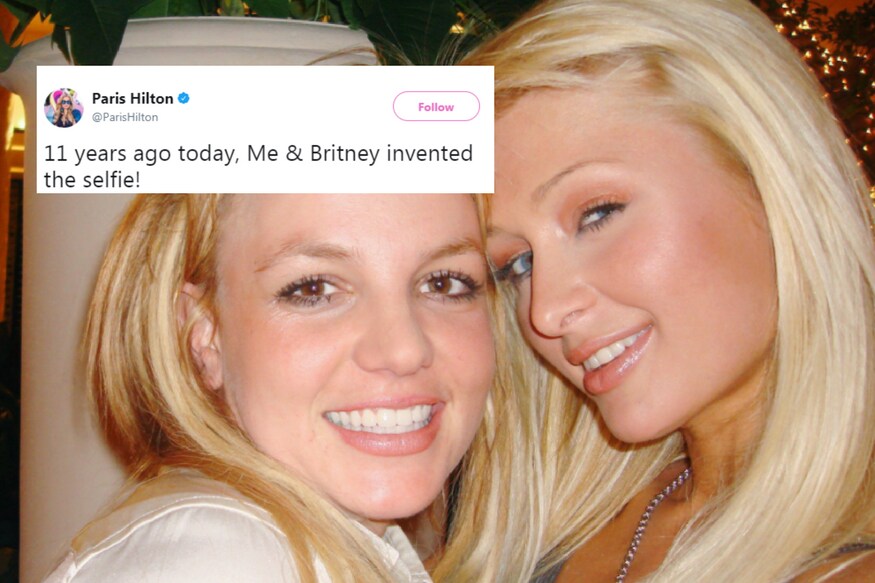 Photo credits: Paris Hilton / Twitter
No, Dhinchak Pooja didn't invent the selfie neither did the 36-year-old socialite Paris Hilton who faced the wrath of social media after she made a bold claim in a tweet she posted on Sunday.
Hilton who
took credit for inventing the selfie earlier this year
once again claimed it was indeed her and Britney Spears who had brought the concept of the selfie to life 11 years ago.
Taking to the microblogging site Twitter, attaching a couple of photos, Hilton tweeted, "11 years ago today, Me & Britney invented the selfie!" Little did she know, she would rattle a sea of social media users who went ahead and shared photos of people, including prominent figures, taking selfies long before she was even born thus dismissing her claims.



11 years ago today, Me & Britney invented the selfie! pic.twitter.com/1byOU5Gp8J


— Paris Hilton (@ParisHilton) November 19, 2017
Of course, Twitterati lost its collective calm as soon as Hilton made the claim.
Umm.

Liar. pic.twitter.com/yM9hHWzwCf

— Rodrigo רודריגו (@WalterAsensio) November 19, 2017

Madonna.



Sorry. Pre Thelma & Louise pic.twitter.com/YAFmaTJcWf


— Mulled Wine Mincer 🍷 (@Aanth) November 19, 2017
Oh hi, Bill Nye!

Sorry, @BillNyeSaves did it way before you. It was 1999 pic.twitter.com/yEHZN5BVvd

— ItsMixerOne (@mixer1av) November 19, 2017

Frank Sinatra.



Frank Sinatra selfie, 1938: #SinatraFamilyArchive pic.twitter.com/Z9URdz5oWL


— Michael Beschloss (@BeschlossDC) May 31, 2016
Here's Kramer.

oh realy because heres kramer inventing the selfie in 1995 pic.twitter.com/dtmR0Kh3lP

— Seinfeld Current Day (@Seinfeld2000) November 19, 2017

"I want to hold your... camera for a selfie."



George Harrison. 1966. pic.twitter.com/NclJMIpoK6


— George MacDonald (@geomac24) November 19, 2017
#neverforget

Let us not forget this one! (Blair Witch Project, 1999) pic.twitter.com/80Uf7Ez7nv

— André Gunthert (@gunthert) November 20, 2017

And we have gone all vintage!



IM SORRY BUT pic.twitter.com/Rvd7JEa0g0


— jolly ol laura claus (@space_orphan) November 19, 2017
The list seems endless.
Here's the pioneer himself at the 1996 Summer Olympics doing it with the disposable. 👌 pic.twitter.com/XCJaTahOyd

— Craig Sager II (@CraigSagerJr) November 20, 2017
Sorry, Hilton.

1910 one of the first mirror selfies pic.twitter.com/YU7QKNQXo8

— iLoveRoses9 (@love_roses9) November 19, 2017

BBC reported
that Paris and Britney were around 167 years too late to make that claim. In fact the oldest existing photo selfie is thought to be by 30-year-old Robert Cornelius, who took it outside his lamp shop in Philadelphia.
"He looks unsure whether the photo will work or not - unsurprising, as technology then meant that he would have had to have stood still for up to 15 minutes in order to get the shot," the report added.
Also Watch

Incredibles 2 Review: Disney Sequel Packs A Punch, Jack Jack A Surprise
Read full article