GET Stock

Quotes

Rajasthan
Poll in 1 seat deferred
'Passed Away on Pi Day 3.14': Twitterverse Mourns the Death of Scientist Stephen Hawking
'Remember to look up at the stars and not down at your feet.'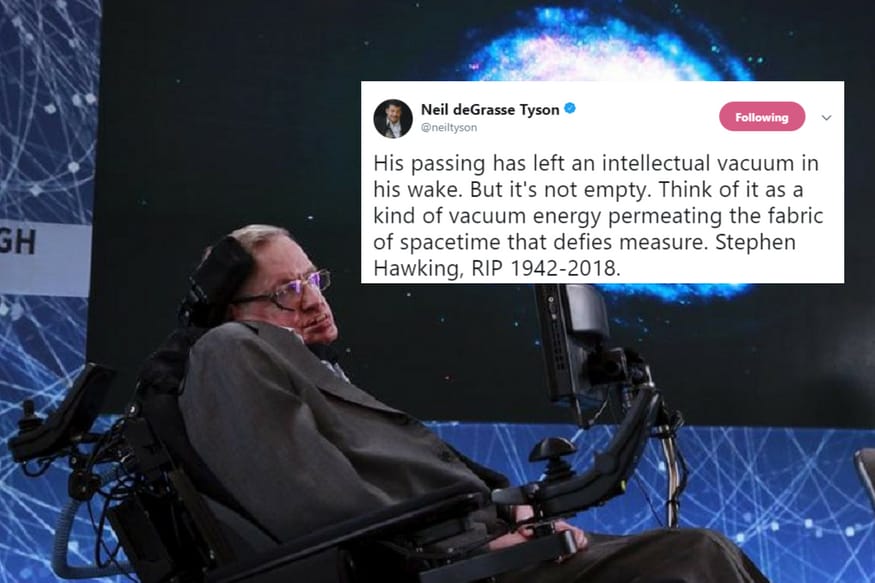 (File Photo Reuters)
Renowned British physicist Stephen Hawking, whose mental genius and physical disability made
him a household name and inspiration
across the globe, has died at age 76, his family said on Wednesday.
Hawking, whose 1988 book "A Brief History of Time" became an unlikely worldwide bestseller and cemented his superstar status, dedicated his life to unlocking the secrets of the Universe.
His genius and wit won over fans from far beyond the rarified world of astrophysics.
"We are deeply saddened that our beloved father passed away today," professor Hawking's children, Lucy, Robert, and Tim said in a statement carried by Britain's Press Association news agency.
"He was a great scientist and an extraordinary man whose work and legacy will live on for many years."
Hawking defied predictions he would only live for a few years after developing a form of motor neurone disease in 1964 at the age of 22.



JUST IN: Professor Stephen Hawking has died, spokesperson for the family says. pic.twitter.com/DncfApuXNw


— Evan McMurry (@evanmcmurry) March 14, 2018
Needless to say, Twitter users from across the globe came together to bid goodbye to the genius.

Learning of Stephen Hawking's death I legit felt a disturbance in the force -- my stomach dropped. He was a giant among men. I hope him, Carl Sagan, Einstein and Newton are all working at a chalk board together figuring it all out. Appreciate ya

— Ethan Klein (@h3h3productions) March 14, 2018




His passing has left an intellectual vacuum in his wake. But it's not empty. Think of it as a kind of vacuum energy permeating the fabric of spacetime that defies measure. Stephen Hawking, RIP 1942-2018. pic.twitter.com/nAanMySqkt


— Neil deGrasse Tyson (@neiltyson) March 14, 2018

the push alerts for Stephen Hawking are so beautiful. "He roamed the cosmos from a wheelchair" got me pic.twitter.com/J0bQRsmIGK

— David Mack (@davidmackau) March 14, 2018




"The greatest enemy of knowledge is not ignorance, it is the illusion of knowledge."
RIP Professor Stephen Hawking pic.twitter.com/UtdhuInYuj


— Gene Aversa (@gene9892) March 14, 2018

R.I.P. Stephen Hawking. Among his many profound contributions to this world was this simple sentiment: "It would not be much of a universe if it wasn't home to the people you love."

— Samantha Power (@SamanthaJPower) March 14, 2018




Stephen Hawking, Sir, may the brightest lights of cosmos guide you in your final journey.


— Rahul Pandita (@rahulpandita) March 14, 2018

On Albert Einstein's anniversary , #StephenHawking passes away ... pic.twitter.com/8Q2fHwI7f1

— Swamiji (@AOLSwamiji) March 14, 2018




"Remember to look up at the stars and not down at your feet" - RIP Stephen Hawking you fucking legend.


— Foo Fighters (@foofighters) March 14, 2018

However difficult life may seem, there is always something you can do & succeed at. It matters that you don't just give up.
R.I.P #StephenHawking 🙏 pic.twitter.com/Z8udsltUAZ

— Vijender Singh (@boxervijender) March 14, 2018




It's incredible to look at the universe and ask yourself the *big* questions.
It's extraordinary to figure out even *one* of the answers.

Stephen Hawking figured out many.
R.I.P., you theoretical starboy.


— Sorabh Pant (@hankypanty) March 14, 2018

"Things cannot make themselves possible." -- a Hawking quote to live by.

— Sandhya Ramesh (@sandygrains) March 14, 2018

Professor Stephen Hawking was an outstanding scientist and academic. His grit and tenacity inspired people all over the world. His demise is anguishing. Professor Hawking's pioneering work made our world a better place. May his soul rest in peace.

— Narendra Modi (@narendramodi) March 14, 2018
It's only been a few hours and Stephen Hawking already mathematically proved, to My face, that I don't exist.

— God (@TheTweetOfGod) March 14, 2018
March 14, 2018



"However difficult life may seem, there is always something you can do and succeed at." - #StephenHawking pic.twitter.com/NVMTYs62GJ


— CJ Johnson (@cjjohnsonjr) March 14, 2018

Stephen Hawking was diagnosed with ALS in 1963. Doctors gave him two years to live. He has died at 76.

— Philip Lewis (@Phil_Lewis_) March 14, 2018




"Look up at the stars and not down at your feet. Try to make sense of what you see and wonder about what makes the universe exist. Be curious" RIP Stephen Hawking


— Marc Fennell (@MarcFennell) March 14, 2018

'However difficult life may seem, there is always something you can do,what matters is you dont give up'
Stephan Hawking with his guide Prem Das at Jantar Mantar, New Delhi.Tributes to the genius🌸#StephenHawking#WednesdayWisdom pic.twitter.com/dE2mplx7Yv

— Geetika Swami (@SwamiGeetika) March 14, 2018




Rest In Power pic.twitter.com/8YxVAAjaEa


— Ban Violent Video Games (@lib_crusher) March 14, 2018

Stephen Hawking passed away on Pi Day. 3.14

Even in death, he parted with his awesome sense of humour. #RIPstephenhawking pic.twitter.com/I5EkBV4aMv

— Pedro Marques (@MetroManTO) March 14, 2018




"We are just an advanced breed of monkeys on a minor planet of a very average star. But we can understand the Universe. That makes us something very special." — #StephenHawking


— Diana Penty (@DianaPenty) March 14, 2018

We were on earth at the same time as Stephen Hawking.

That's kind of a miraculous thing.

We breathed the same air as the man who demystified the stars.

— Geraldine (@everywhereist) March 14, 2018




The world has lost a beautiful mind and a brilliant scientist. RIP Stephen Hawking


— Sundar Pichai (@sundarpichai) March 14, 2018

Stephen Hawking was better known for being a brilliant scientific mind, but equally impressive was his commitment to justice, from climate advocacy to Palestinian rights. His death is a sad loss for humanity. #RIP

— Omar Baddar (@OmarBaddar) March 14, 2018




IMAGE: President Barack Obama awarding Stephen Hawking the Presidential Medal of Freedom. pic.twitter.com/6rGIzoPOcb


— The Spectator Index (@spectatorindex) March 14, 2018

Stephen Hawking's awards:

- Adams Prize
- Eddington Medal
- Maxwell Medal
- Heineman Prize
- Hughes Medal
- Einstein Award
- RAS Gold Medal
- Dirac Medal
- Wolf Prize
- Prince of Asturias
- Gemant Award
- Naylor Prize
- Presidential Medal of Freedom
- Fundamental Physics Prize

— The Spectator Index (@spectatorindex) March 14, 2018

(With AFP inputs)
(Get detailed and live results of each and every seat of the state Assemblies in Madhya Pradesh, Rajasthan, Telangana, Chhattisgarh and Mizoram to know which candidate/party is leading or trailing and to know who has won and who has lost and by what margin. Our one-of-its-kind Election Analytics Centre lets you put on the psephologist's hat. Know interesting facts and trivia about the elections. Elections = News18)
Read full article
Countdown To
Elections Results
To Assembly Elections 2018 Results