Pahlaj Nihalani Is Called Out On Twitter After He Said 'Julie 2' Should Get No Cuts
Pahlaj Nihalani is making the news again, as he makes a surprising ideological U-turn about Julie 2.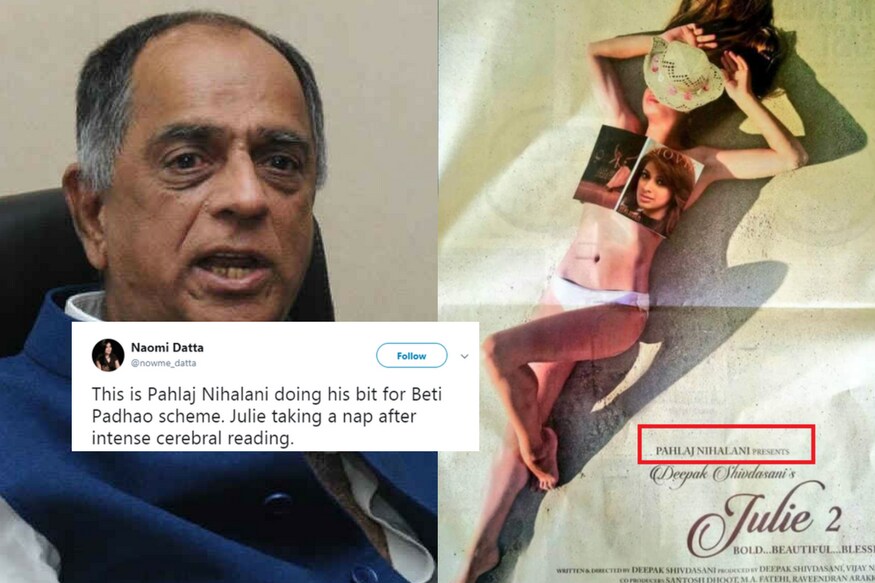 Pahlaj Nihalani is making the news again, as he makes a surprising ideological U-turn about Julie 2.
Last month, the controversial censor board chief Pahlaj Nihalani's tenure was abruptly cut short by the Centre which named noted lyricist Prasoon Joshi as his replacement.
Social media was ecstatic after the news broke out.
Dubbed the "sanskaari censor" for the arbitrary cuts he ordered in many films, Nihalani had several run-ins, both with film directors and his colleagues.
Many filmmakers had complained that Nihalani acted in a high-handed manner and infringed on their right to freedom of expression and creative pursuit.
His recent run-in was with Lipstick Under My Burqa director Alankrita Srivastava, whose movie explores female sexuality, when he demanded cuts and termed the film "lady-oriented".
Pahlaj Nihalani, the man who vowed to 'clean up' Indian cinema, returns to movies as the producer of this family entertainer. pic.twitter.com/db2PkUQheg

— Suprateek Chatterjee (@SupraMario) September 4, 2017
Now the sanskaari Nihalani is back in news. This time returning to the business with the distribution of the 'Bold, Beautiful and Blessed' -- Julie 2 – an erotic-drama thriller that marks the Bollywood debut of its female lead - Raai Laxmi.
The man who preached "Indian culture and values" during his tenure at the CBFC, is making his comeback with a movie that would not have been cleared without cuts if he had still been the censor board chief.
Guess who's onboard to release DeepakShivdasani's #Julie 2? None other but the custodian of Indian Culture in Indian Cinema @NihalaniPahlaj. pic.twitter.com/7AqSbYqb3r

— Julie 2 (@Julie2Film) September 2, 2017
When asked about Julie 2 by a popular daily, Nihalani was quoted as saying, "My family loved Julie 2, it's a bold thriller about how talented people come into the industry and then are forced to compromise. It's a good expose with a message for aspiring actors who come from across the country and don't get the right people or platform." Nihalani further added, "Julie 2 should be given an 'A' certificate without any cuts. There is no vulgarity, obscenity or even a language problem."
However, social media didn't buy into this hypocrisy and readily called him out on Twitter.
Palhaj Nihalani's new film is destroying our Culture and our Sanskaars so I've made some options for the poster. pic.twitter.com/nhON3anQcU

— José Covaco (@HoeZaay) September 4, 2017
Good to see Pahlaj Nihalani is gainfully employed again. pic.twitter.com/7283djoWyR

— Anupam Gupta (@b50) September 4, 2017
Welcome back Nirlaj Chacha. pic.twitter.com/zqPuiVm51u

— Aisi Taisi Democracy (@AisiTaisiDemo) September 4, 2017
A cinematic masterpiece will be 'exposed' on October 6 by the legendary film-maker of our times, Pahlaj Nihalani. Espousing Indian culture. pic.twitter.com/85Z3thNrEd

— SUHEL SETH (@suhelseth) September 4, 2017
What an inspiring personality indeed!Pahlaz Nihalani presentsJULIE 2(In all National Newspapers)Cheers! pic.twitter.com/Q5a4mWCwTy

— Bobby Talks Cinema (@bobbytalkcinema) September 4, 2017
The irony is that under the new CBFC, Pahlaj Nihalani is mostly free to produce whatever kind of movie he wants.As he should be.

— Sorabh Pant (@hankypanty) September 4, 2017
Now we know what Pahlaj Nihalani was visualising when journalists were asking him questions... pic.twitter.com/6j7YrXEf5m

— The-Lying-Lama (@KyaUkhaadLega) September 4, 2017
No one would have given the #Julie2 poster a second look if it didn't say "Pahlaj Nihalani presents" in that point size. Shrewd move. pic.twitter.com/atsAy6CBlN

— Aniruddha Guha (@AniGuha) September 4, 2017
Don't tell Nihalani anything. He ensured "blessed" was there in the tagline. He be so sanskari. pic.twitter.com/FWAeNlyC69

— Vivek Tejuja (@vivekisms) September 4, 2017
Udta Sanskaar. A Pahlaj Nihalani presentation. pic.twitter.com/pNTjSlXEJJ

— Naomi Datta (@nowme_datta) September 4, 2017
Am delighted that the Censor Board relieved Pahlaj Nihalani of the burdens of office so that he could give us Julie 2.😂😂😂

— SUHEL SETH (@suhelseth) September 4, 2017
This is Pahlaj Nihalani doing his bit for Beti Padhao scheme. Julie taking a nap after intense cerebral reading. pic.twitter.com/vt8q4t7Ocq

— Naomi Datta (@nowme_datta) September 4, 2017
Raai Laxmi's Julie 2 is a sequel to Neha Dhupia's 2004 release Julie. The official trailer of the movie is expected today at 1 PM and the movie is slated for an October 6, 2017, release. The movie's star cast includes Rati Agnihotri, Sahil Salathia, Aditya Srivastava, Ravi Kishen, Pankaj Tripathi and Nishikant Kamant in pivotal roles.
In case if you were wondering, here is a timeline of Pahlaj Nihalani's Controversies:
• January 19, 2015: Pahlaj Nihalani appointed as CBFC chief
• March 2015: 50 Shades of Grey not allowed to hit screens despite more than 70 cuts
• March 2015: 'A' certificate to Anushka Sharma's NH10 after 9 cuts
• March 2015: Banned Unfreedom for nudity & love making scenes
• March 2015: Muted the word 'lesbian' in Yash Raj films' Dum Laga Ke Haisha
• August 2015: Documentary The Battle for Banaras on Narendra Modi-Arvind Kejriwal battle denied approval
• November 2015: Kissing scenes in Spectre slashed because length of kisses was 'too excessive'
• December 2015: Censor board criticised for passing obscene trailers of Kya Kool Hai Hum 3 and Mastizaade
• January 2016: Gave 'A' certificate to Aligarh trailer because of homosexual theme
• June 2016: Asked the makers of Udta Punjab to drop reference of Punjab from the movie and do around 89 cuts in the film which includes, dialogues, scenes & cuss words
Get the best of News18 delivered to your inbox - subscribe to News18 Daybreak. Follow News18.com on Twitter, Instagram, Facebook, Telegram, TikTok and on YouTube, and stay in the know with what's happening in the world around you – in real time.
Read full article