PewDiePie May Not Have Made it to YouTube Rewind 2018 But His Chair Did
Jaiden Animators may have sneaked in a shot of PiwDiePie's chair in the YouTube Rewind 2018 video. Fans on social media are assuming that the chair went unnoticed by YouTube and are considering it a tribute to the star.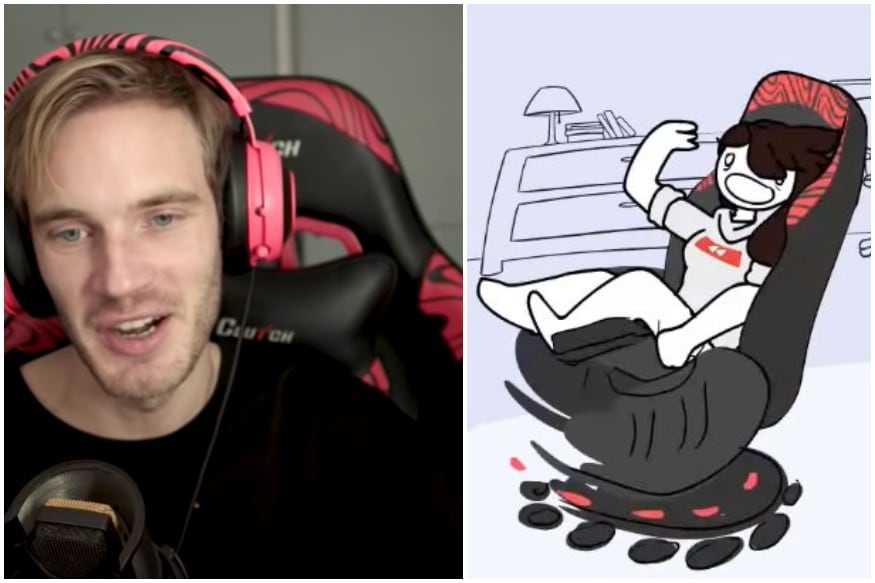 PewDiePie's fans were happy to see the chair even though the YouTuber himself did not make the cut. (Source: YouTube)
The YouTube Rewind 2018 video received a lot of flak on Friday after followers accused the channel of not including some of the big names in the world of YouTube content creation and one of the YouTubers missed most on the list was PewDiePie.
With over 75 million subscribers, Felix Arvid Ulf Kjellberg aka PewDiePie is one of the most popular YouTube celebrities of all time. For the last 5 years, he has reigned over the video-streaming site as the most subscribed channel but a recent scare from an Indian music label company, T-Series, which was set to dethrone the king, has united fellow YouTubers, who necessarily don't share similar opinions or gel well on a personal level.
However, this year's YouTube Rewind video, an annual year-ending feature of the the video-sharing portal did not feature PewDiePie. Since the video is intended to be a recap of all the viral videos, content and YouTubers of the year, many wondered how PewDiePie did not make the cut. Fans argued that apart from his regular content, the PewDiePie vs T-Series fight itself kept the netizens consumed for months.
This is not the first time YouTube has censored PewDiePie who has been accused of being anti-semitic and racist on several occasions. His show Scare PewDiePie was removed from YouTube after allegations of employing anti-Semitic imagery and the YouTuber was also removed from Google's ad platform.
However, fans of the YouTuber have noticed something that may bring some satisfaction to all those feeling cheated by YouTube's disdain for the YouTuber. as the Rewind video did the rounds, many pointed out that though PewDiePie did not make it to the video, his famed chair may have.
This year's video featured many of the animators on YouTube, a fact that was well appreciated by fans. But what YouTube may not have noticed is that one of the them, Jaiden Animators, sneaked in a shot of PewDiePie's chair. Fans on social media are assuming that the chair went unnoticed by YouTube and are considering it a tribute to the star. Many pointed out that it was not just the chair but it looked like Jaiden's room was also 'inspired' by PewDiePie's own room with similar shelves in the background.
In fact, the YouTuber reviewed the video and he himself commented that it was indeed his own chair in the video.
but pewdiepie's chair is in pic.twitter.com/3iLWn4qFe1

— tomer grosman🇧🇪 (@TomerGrosman) December 6, 2018
There's something more than just @pewdiepie chair on @JaidenAnimation part in #youtuberewind2018.. pic.twitter.com/bwpTpZxydX — レイザ (@Reiza97) December 8, 2018
The pewdiepie chair made it in, but not pewdiepie himself. SMH. pic.twitter.com/cf7A7gCU6C

— anything4views (@anything4views) December 6, 2018
Is that your chair pewds ? In youtube rewind 2018 😂 @pewdiepie #youtuberewind2018 pic.twitter.com/QNvHScNF2H — The Last Man Standing (@zimbataksenonoh) December 8, 2018
Well at least @pewdiepie chair was in YouTube rewind 2018, with it's iconic meme "but can you do this". Now this is so epic. pic.twitter.com/uiQWUw72ln

— Sarthak Dewanda (@SarthakDewanda) December 6, 2018
Well at least @pewdiepie chair was in YouTube rewind 2018, with it's iconic meme "but can you do this". Now this is so epic. pic.twitter.com/uiQWUw72ln — Sarthak Dewanda (@SarthakDewanda) December 6, 2018
When #Pewdiepie's chair is in #youtuberewind2018 instead of him. This is so sad.

*clap* *clap* pic.twitter.com/72YnKtNsf5

— Royd Rosales (@grandtimetravel) December 7, 2018
they included pewdiepie's chair :o https://t.co/oa3MAtESLD pic.twitter.com/oPHthVPyRc — Meme Central (@thissamplebot) December 8, 2018
Bit awkward when your chair makes it to YouTube rewind but you don't @pewdiepie #YouTubeRewind pic.twitter.com/urpESSIfbM

— :')) (@mcdshoe) December 6, 2018
Read full article