Photographer Slammed for Using Congo's Civil War as A Prop to Take 'Surreal' Wedding Photos
#Wanderlust gone wrong.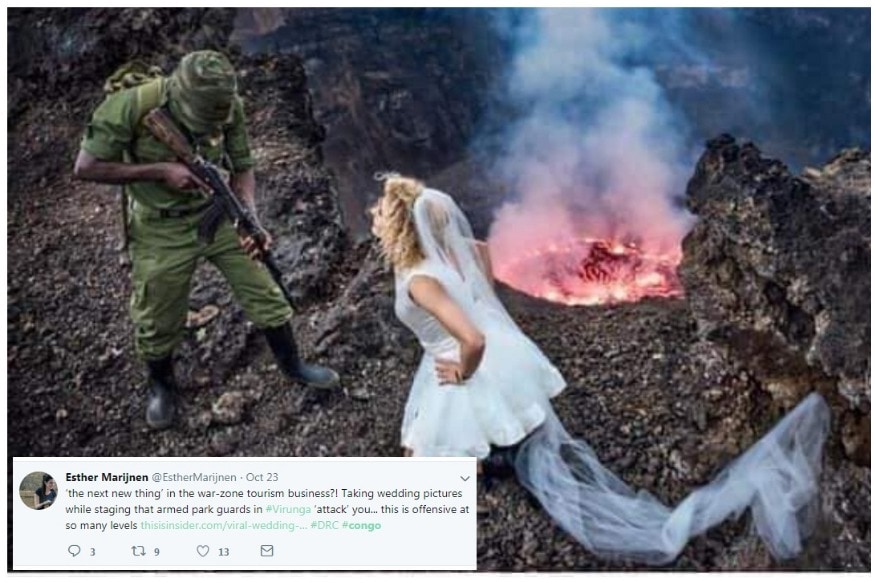 #Wanderlust gone wrong.
"Just cruising through the Congo in a wedding dress," read the provocatively careless caption. The image was of a woman in a chic wedding dress, wrapped around a dilapidated handcart in the midst of grim-faced locals. The hashtags used under the caption included #wanderlust.
Wedding photoshoots can be taxing especially for photographers and Instagram influencers. The pressure to come up with something new on Instagram is real and Instagrammers often go to great lengths to get that perfect, consummate shot. However, in their eagerness to capture exotic obscurities, Instagram enthusiasts often shed other virtues such as compassion, taste and sensitivity.
Take for example these wedding photos from 2017 which have recently sparked an outrage on the Internet, thanks to social media. Travel photographer and Instagrammer John Milton wanted to do something 'special' for his wedding. Instead of going the usual 'let the exotic backdrop do the trick' way, Milton decided to take things a step further by going to an active civil war area and take his vows there.
Images of the wedding are a horrific example of poor taste and, according to some critics, latent racism.
Taken on top of what seems to be an active volcano in the Democratic Republic of Congo, the photos feature a bride in her wedding dress, posing at gunpoint. The caption reads, "Saying our vows at the top of an active Congolese volcano with a local tribe while a civil war is brewing below is surrealism at its best."  Other photographs include one of the wedding rings hooked to a ridge on an AK-47 gun, captioned 'Blood diamonds'. According to a report in the Business Insider, the wedding did indeed take place and the photos are not fake.
Given the political instability and human rights violations that are taking place in the region, the images are in poor taste, to say the least. Many accused the photographer of using the locals as well as the conflict in Congo as props for the shoot. While the wedding took place in 2017, the images have only just caught popular attention after Cecilia Christin, a 28-year-old ESL teacher and travel blogger found the photos on Instagram and posted screenshots on her own Facebook account.
The Instagram account carrying the original wedding photos, 30.raw, has since been deleted. But Christin's screenshots went viral and soon people found a website called 'Steve Huff Photos' on which the photographer had posted the photos in 2017 after the wedding. Called 'Out of the box Congo wedding shoot with a Leica m10 by John Milton', the series also contains photographs from their honeymoon shoots in conflict-ridden Africa.
Needless to say, people on the Internet were furious at this blatant fetishization of human suffering and misappropriation of the conflict in Congo.
I really was hoping these photos weren't real. But here we are https://t.co/drtRlUBaLZ

— Rowaida Abdelaziz (@Rowaida_Abdel) October 24, 2018
When we let ourselves to be used as props.

So vexing!https://t.co/u9FuM1cenj

— Kathleen Ndongmo (@KathleenNdongmo) October 24, 2018
Stuff White People (Apparently Now) Like : Staged Wedding Photos in Congolese Civil War Settingshttps://t.co/y6CTcplo8M

— Dr. Jason Warner (@warnjason) October 24, 2018
Your weddings are all hype until you beat this one. Couple went deep into Congo and got married at an erupting volcano in a rebel heavy zone. Who are you? pic.twitter.com/pI34kkkF63

— fast fORWArd ⏩ (@He_is_Banks) October 24, 2018
'the next new thing' in the war-zone tourism business?! Taking wedding pictures while staging that armed park guards in #Virunga 'attack' you... this is offensive at so many levels https://t.co/FftXlDzrw8 #DRC #congo

— Esther Marijnen (@EstherMarijnen) October 23, 2018
Read full article
Countdown To
Elections Results
To Assembly Elections 2018 Results