Piers Morgan Makes Fun of India's Olympic Heroes; Gets Slammed
Tears for Piers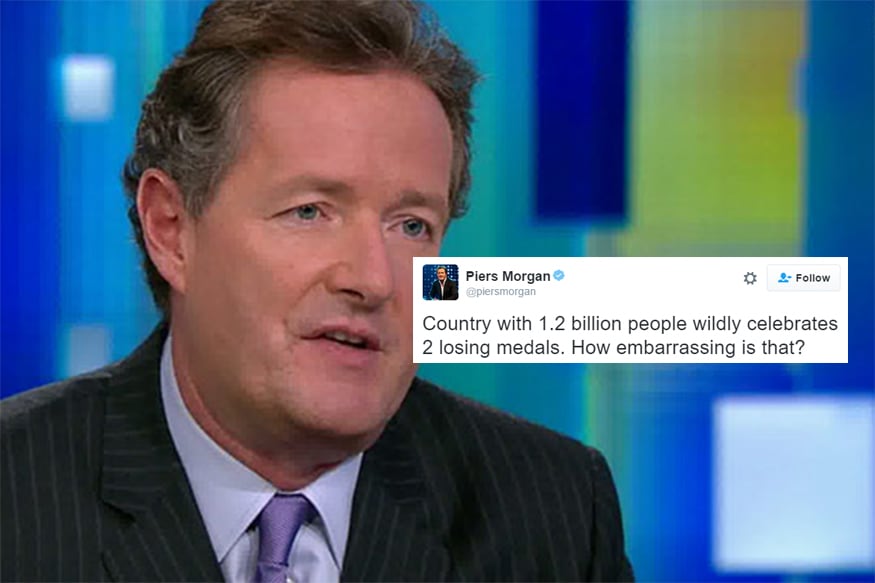 Tears for Piers
Internationally acclaimed journalist and TV personality Piers Morgan found himself at the receiving end of a lot of criticism (well, there were more expletives than any kind of constructive criticism to be fair) after yet another insensitive low-blow-ish comment he made.
Morgan, who is well known for saying controversial stuff shamed India for celebrating it's meagre olympic medal tally. In his tweet today Morgan said "Country with 1.2 billion people wildly celebrates 2 losing medals. How embarrassing is that?"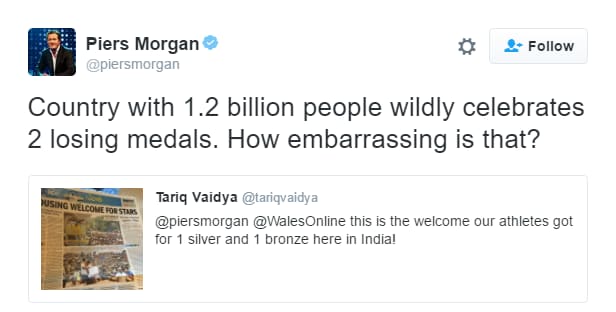 Morgan's tweet was citisized by almost everyone in his replies. He was pointed out the fact that population had no correlation whatsoever with the number of medals a country might win. He was made aware of the irony of England's rather abysmal performance in cricket, considering the fact that they were the ones who created the sport.
Whatever may it be, the replies were entertaining to say the least:
This common-sense fueled rebuttal
.@piersmorgan Piers, population size has literally no correlation to sporting success at all.

— Jack Mendel (@Mendelpol) August 24, 2016
.@piersmorgan Israel also only got two medals and the athletes were welcomed back like heroes there too

— Jack Mendel (@Mendelpol) August 24, 2016
This important life-hack
@piersmorgan pic.twitter.com/MmPYOhwNud

— [:mikefox] (@turbogeek421) August 24, 2016
These nuclear burns
.@piersmorgan LOL..2 Cricket World Cups, while England, the originator of the game, has Ghanta..How embarrassing is that?

— Aladdin (@Alllahdin) August 24, 2016
.@piersmorgan How about winning a World Cup in Cricket, poor England can't even win it once. How embarrassing is that?

— PhD in Bak*****☔ (@Atheist_Krishna) August 24, 2016
@piersmorgan So much noise about English football, yet nothing worthwhile since 1966. How embarrassing is that?

— Bodhisattva Sen Roy (@insenroy) August 24, 2016
Cricketer of Eng who invented Cricket wildly celebrates after DRAWING a series @piersmorgan How embarrassing is tht? pic.twitter.com/JyAW0H8xoU

— Sunil (@akshaykanitkar) August 24, 2016
.@piersmorgan ODI World Cup for England = Error 404 not found. pic.twitter.com/oqRDfFZjYh

— Leg Gully (@Sarcaism_) August 24, 2016
This serious allegation
@piersmorgan guess they don't have access to 💉💉💉 like team GB😏

— MGrey (@MartinaGrey1) August 24, 2016
This genuine question
@piersmorgan Everyone in those pictures seems happy, whats the problem?

— Steptoe (@Steptoesyard) August 24, 2016
This on-point observation
.@piersmorgan Your mention tab right now 😂 pic.twitter.com/fXwYDyS7n4

— Rofl Gandhi Novelist (@RoflGandhi_) August 24, 2016
This totally is like that one time Piers Morgan tried bat to Brett Lee and failed massively.
In fact, Morgan got trolled so much, he tried to redeem himself with this rather vanilla attempt at humour.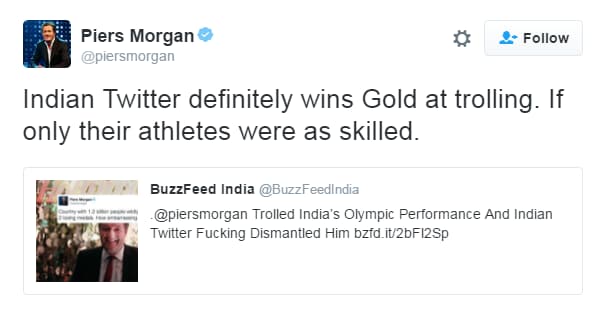 Sigh.
Get the best of News18 delivered to your inbox - subscribe to News18 Daybreak. Follow News18.com on Twitter, Instagram, Facebook, Telegram, TikTok and on YouTube, and stay in the know with what's happening in the world around you – in real time.
| Edited by: Pathikrit Sanyal
Read full article